JAKE Lever, Steven May, Michael Hibberd, Neville Jetta – the names go on.
This could've been Melbourne's backline in 2019, but it never really got going.
With injuries aplenty, the Demons back six failed to formalise, leaving Lever desperate to get stuck into the pre-season.
"It was pretty frustrating for a lot of us," Lever told Melbourne Media.
"We sat here last year probably talking about the same thing – how excited we are for season 2019 to play together, but it didn't eventuate as much as we would've liked.
"In the end, we just have to look after our own bodies and once we're out there playing footy together and training together, I'm super excited for what we actually can bring."
Not only is training over the off-season going to be enjoyable, it'll be crucial for the defensive group to learn how to work together.
"I think it's really important to make sure we're all out on the track at the same time and really work with each other, because when you're not playing you probably really underestimate the cohesiveness of the group," Lever said.
"You probably saw our best line for the year was our midfield and you look at the guys that were playing in there – they've played together for two or three years now.
"It matters because you get the consistency of players playing there every week and you know what they're going to do.
"For us, we look at the best backlines in the competition – West Coast, Richmond, those types of teams – they just play together all the time and they've probably done the training together.
"I'm really looking forward to training together, and as much as training is fun, I just love playing football, so for me, I can't wait for Round 1 of JLT to really put it on show."
At the backend of 2018, the Demons landed May as a prized recruit, with the 193cm defender expected to bolster the club's spine.
It's been well publicised that the former Suns skipper missed a large portion of footy, managing just the eight games, but Lever likes what he has seen from him to date.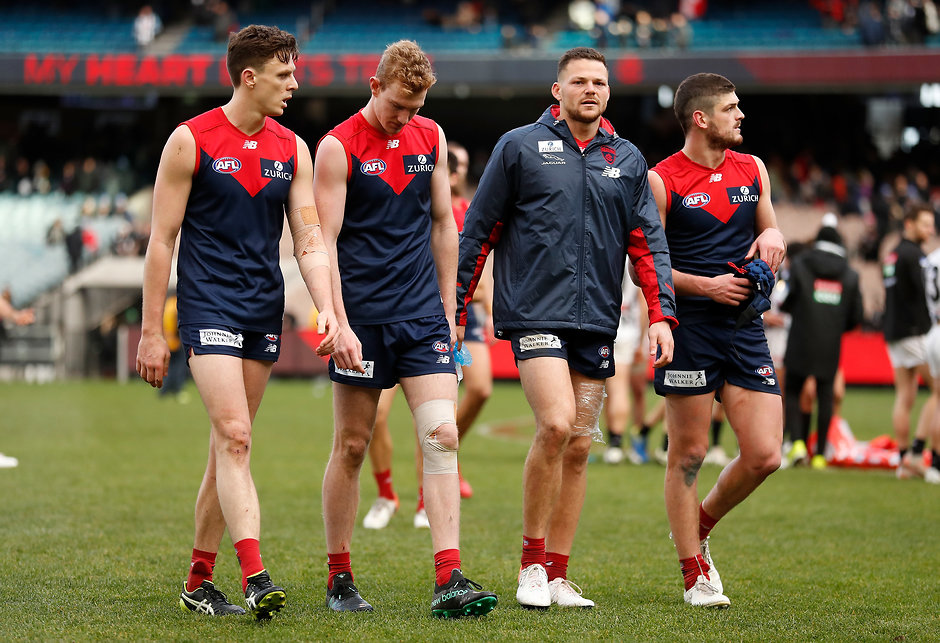 "I've only played with Maysie three or four times and I've loved every minute of it, so on a personal note I'm looking forward to playing with him," Lever said.
"I think I noticed in the games we've played together that we're probably two different types of footballers, but in terms of the will to win and the competitiveness, I think we're very much on the same page and we love playing with each other.
"I know he's such a reliable player to play with. We saw what he was able to do when he was actually playing. The game against West Coast where he hurt himself, I thought that was one of the best games I've ever seen him play.
"I think we complement each other in terms of him being the more one-on-one defender that never gets beaten, whereas I like to help everyone out and hopefully over time we can get a bit of chemistry and really start to control some forward lines.
"And obviously to play with Nev and Hibbo last year, we just started to get going and then I hurt myself, so it has been frustrating but I'm just looking forward to getting to train with them and hopefully play a lot of games together."
The new-look backline is an exciting proposition for the red and blue faithful, but of course, the boys must remain fit to get that continuity together.
While Lever has had a tough run with injury since joining the Dees ahead of the 2018 season, he hasn't been disheartened by his misfortune
"There's going to be moments where I roll my ankle and hurt my knee, but that's just a part of AFL footy," he said.
"In the position I play, I feel like I get bashed and bruised every week … but that's the AFL industry now.
"It's such a contact game, there are so many hard hits, the work ethic and the workload is so much more than even when I came in five or six years ago.
"But for me, I'm looking forward to having one or two weeks off, then just really smashing myself to get back to playing at the level I know I can.
"I know to be able to perform at a high level consistently, I just have to make sure my body's right and I'm doing all the little things I can to keep it that way."