DAIRY farmer Shelley Scott has milked 130 cows by the time most of her Melbourne teammates tumble out of bed.
For two hours every morning she must tend to the slow, steady line of cows filing through to be milked on the family farm in Victoria's western district. 
And three days a week, she makes plans for the 320km round trip that consumes 10 hours to the Demons' training sessions in a bid to chase her NAB AFL Women's dream. 
"It's challenging, but I make it work because I want to be here," said Scott, shortly after arriving at the club's headquarters at AAMI Park, across from the MCG.
"My window is now if I want to pursue it, to make it work. I don't know how long I'm going to be able to do it. That's something I'll assess later on." 
A measure of that extraordinary dedication and determination was her timetable for a recent week's regular Tuesday and Thursday workouts.
She left the farm just after lunchtime, drove for an hour to Geelong, either car pooled from there with three teammates or caught a train to Southern Cross station on the western fringe of Melbourne's CBD, before three hours of meetings, indoor training and ball work at Gosch's Paddock before setting off on the return leg. 
It was close to midnight both nights when she finally saw the lights of the family farmhouse at Gerangamete, near Forrest, in the Otway Ranges. Then she was up at 5.30am on the Wednesday and Friday mornings for the daily milking ritual. 
Scott, 28, leases 82 hectares and the dairy operations for her 130 Jersey cows on the family property, south of Colac, where her father runs beef cattle and grows potatoes. Brother David, two years younger, assists at milking time and has mechanical expertise for maintenance issues. 
"I've moved to once-a-day milking instead of morning and night so I can free up my afternoons to get down (to Melbourne). I've reduced the workload at home so I can get the work done here," she said.
Melbourne coach Mick Stinear recently offered a concession to reduce Scott's travel, allowing her to skip Thursday night training. After one go at the arrangement, she promptly discarded the plan. 
"It just didn't feel right. I was missing part of such an important planning period and I would have to catch up. This is when the whole season is being mapped out and I want to be part of it too," she said. 
"They said they will be pretty flexible as long as I let them know if I can't make it for whatever reason. But I don't want to miss out either."    
Shelley Scott in action at Melbourne training. Picture: AFL Photos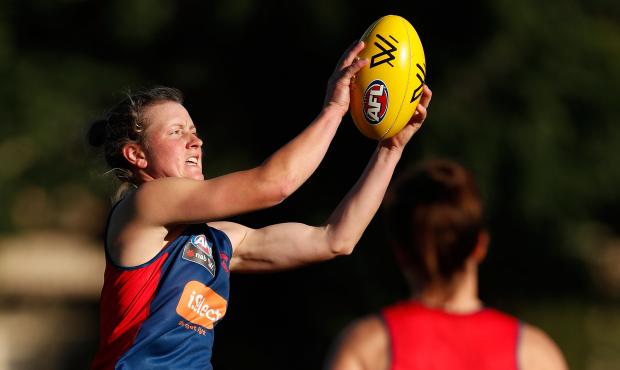 When Scott drives to Geelong, she liaises with Demons teammates Maddy Boyd, Richelle Cranston and Lily Mithen, and they decide whether to take the train or the highway to Melbourne.
"If we catch the train, we all get on at different stops. If we go the highway, we meet and jump in someone's car," she said.
A champion netballer with a club in Colac for 10 years, Scott took the footy plunge that radically changed her sporting life after the AFL announced its women's plans earlier this year. 
"Since I was a kid, I've always kicked the footy around the house and the farm. Mum and Dad saw something on TV in February about the AFL Women's (competition) and they said they would help out on the farm if I wanted to give it a go," she said. 
"I thought, 'I can't just walk in', so I looked around for some Melbourne clubs and the Western Spurs in Footscray just near Victoria University were the closest."
Scott played eight games, mainly in the midfield, for the VFLW club coached by Debbie Lee, now Melbourne's women's football operations manager. Lee loved Scott's fierce competitive spirit and untapped talent and the Demons snapped up their farmer with pick 41 in the AFL Women's Draft in October.
"I couldn't believe it, to be honest. It was disbelief at first and then excitement. I love sport and there were no real opportunities to play football where I come from. My goal was to play one game of football. And then it went from there," she said.
"I wasn't really in a position to quit farming and move (to the city). So, it was 'Righto, how can I make the two work?' So far it's going all right."
Life on the farm poses daily challenges and Scott is bracing for a busy time with her dairy herd slap-bang in the middle of the AFL Women's inaugural season.
"There will be an overlap in March with calving, so that will be difficult. It's a bridge I'll have to cross when I get there. Hopefully, I can do it well," she said.