LIBBY Birch stormed through the doors of AAMI Park on Friday morning with a beaming smile on her face, just moments after officially signing as a Melbourne player.
The bubbly 21-year-old was thrilled to be showing off her red and blue polo, as she made a strong first impression at her new home.
"I'm genuinely the most excited person on the planet right now," Birch told Melbourne Media.
"It's just an amazing opportunity to be a Melbourne Demon and I absolutely cannot wait to start with my new teammates."
Birch's positive attitude and undeniable energy is infectious and is sure to be an asset for the Dees in 2020.
The former Western Bulldog secured her move to Melbourne on the final day of the AFLW Sign and Trade Period, with the Demons also receiving pick No.77 in exchange for defender Ashleigh Guest, as well as picks No.8 and 48.
Birch, who has spent the past three seasons with the Dogs, knew instantly that Melbourne was the right fit for her.
"I'm a really passionate, team orientated player, and from the minute I walked in here I felt that warmth and that growing and developing culture," she said.
"I'm just so looking forward to being a part of that and contributing everything I can to this club."
The youngster also has a prior connection with the club – in the form of a relationship with former captain Daisy Pearce.
"Daisy Pearce actually started my football career just on three years ago," Birch said.
"She was the one that took me along to the Darebin Falcons first training session and she actually … gave me boots – I've still got them to this day.
"I trained at the Darebin Falcons and absolutely fell in love with the game and the people."
Pearce was responsible for Birch's switch to footy, as the former netballer had a change of heart when she picked up a Sherrin for the first time.
"Up until three years ago I hadn't touched a footy before," Birch said.
"I grew up wanting to be an Australian Diamond. I was always a really, really sporty kid and fell in love with netball.
"It's taught me a lot coming across to football – a lot about sport and a lot about teamwork.
"A lot of the skills have transferred, but I've also had to learn a lot along the way."
While Birch is still relatively new to the game, she didn't have to wait long to taste success, winning a premiership with the Dogs in 2018.
But the hunger is certainly there for her to go again.
"That winning is the ultimate goal, but obviously there's steps and processes behind that," she said.
"I just can't wait to do those little things to make sure I'm making an impact at Melbourne wherever I can and to make sure we're heading that way as a club in 2020."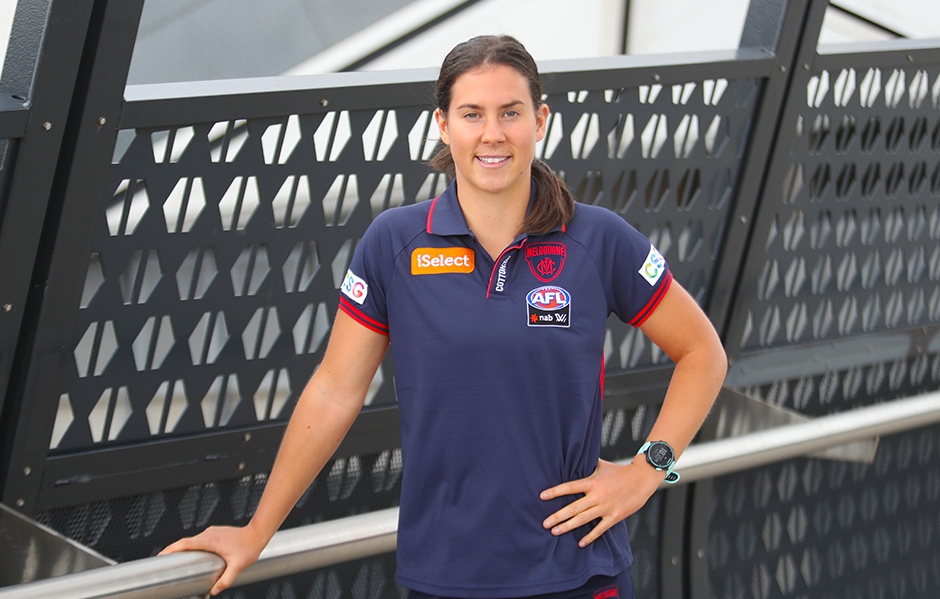 Birch played 22 games for the Bulldogs throughout the first three seasons in the league and became a reliable player in defence.
But the natural athlete is ready to take on whatever challenge her new club throws at her.
"I've been playing my past three years in the backline, so I will play anywhere the club and the team needs me to play," she said.
"But I'd like to develop my footy in all aspects of my game.
"I'm a person that loves to be challenged and to challenge people, so I think it's the perfect fit here at Melbourne and I just can't wait to grow my game further."