MELBOURNE will be a part of AFLW history in 2020, as it watches Daisy Pearce return to the field after giving birth to twins.
On the final day of the AFLW Sign and Trade Period, Pearce officially put pen to paper to announce her intent to play for the club again next season.
While the 30-year-old is still early in her recovery from delivering two babies just 10 weeks ago, she is fully committed to making her comeback to the game in 2020.
"While I was pregnant, I thought I'd be keen to get back," Pearce told Melbourne Media.
"Sitting on the sidelines and watching the team last season it was awesome to see the development of the group and that was a team I wanted to play in.
"I always said that if I felt up to it and recovered well, and the family were doing well, then I'd try to get back and that's the position we're in, so I'm looking forward to next season."
Pearce's attempt to return to the AFLW field is unrivaled in the sport, but she said the significance of her comeback played no part in her decision to re-sign.
"I always said I wouldn't do it just to prove a point," she said.
"I was disappointed to see us lose the way we did against Adelaide which meant the season was over, but I did have a moment where I thought, 'Oh good, I'm available for the next game now'.
"Not being involved wasn't something I loved doing, but it's good to know I'm back in the squad and hopefully available for the next game."
It's been just 10 weeks since Pearce welcomed her twins Sylvie and Roy to the world, yet the dual best and fairest winner has already begun her recovery.
"The body is feeling really good, although it's early days," she said.
"I'm in pretty good shape considering my body carried two babies, but I've started doing three days with (physiotherapist) Kathleen (Sakadjian) and the team in at Melbourne.
"It's great to have that support straight away – I think it's going to make a huge difference in my recovery and how I get back."
And although Pearce is focused on returning to the field, she is currently embracing motherhood and loving life with her two children.
"They're doing great, they're beautiful and I couldn't have asked for much more really," she said.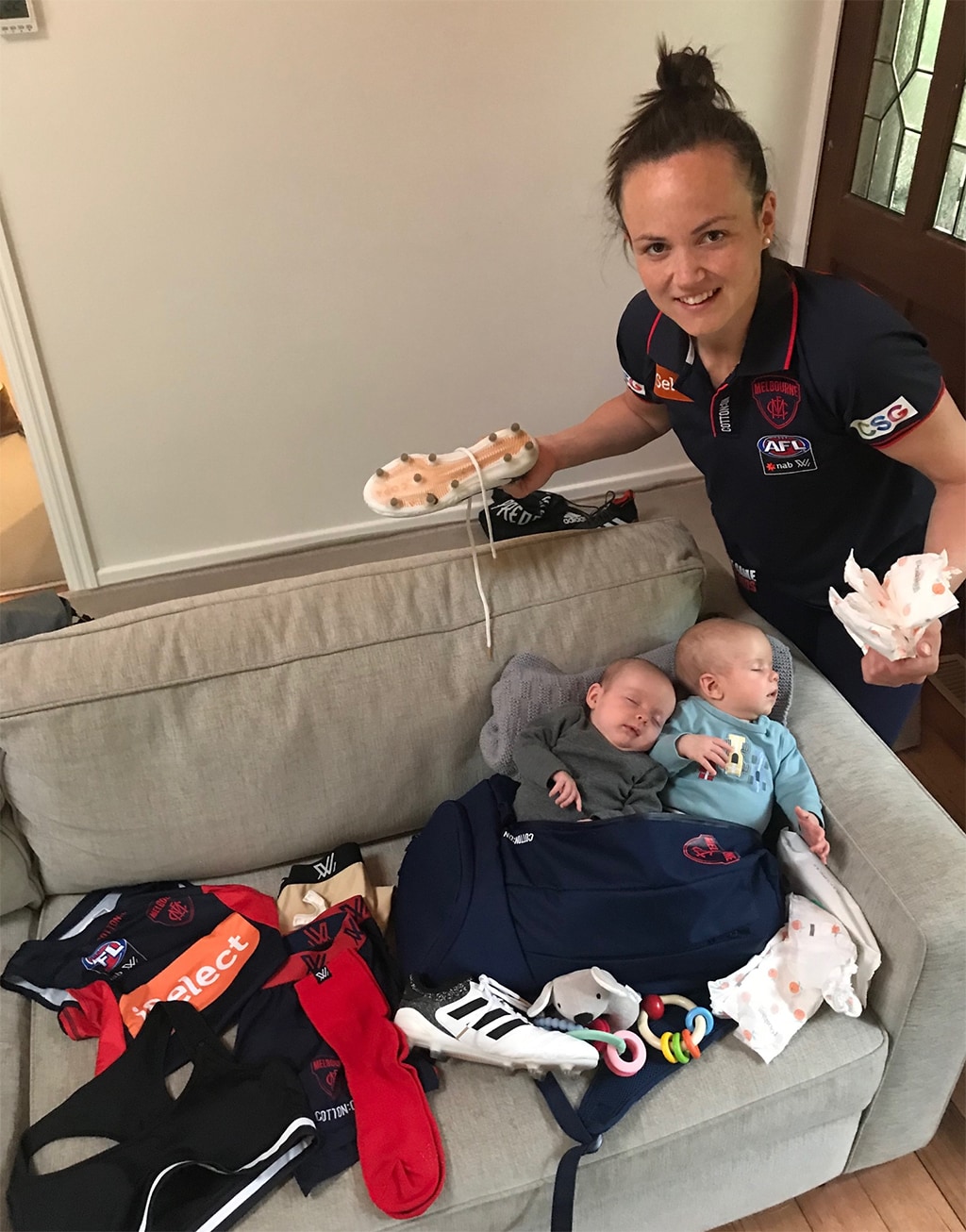 "We're all healthy and doing well and I've got great support from Ben … I wouldn't be able to do it without him no matter what physical condition I was in. And our mum's have been awesome as well.
"It's going to take a whole village to get me there but it's good and I think it will be great for them to see their mum out there going after her dreams like I am.
"It's a big ask but I think it will have its benefits as well."
Pearce becomes the 24th player to sign with Melbourne for the 2020 season, joining prized recruit Libby Birch on the list for next year.
AFLW List Manager Todd Patterson is thrilled to welcome both Birch and Pearce on board, capping off a successful period for the club.
"With the current expansion period in the league, it has been difficult to get the list into a position where it can improve from last season," Patterson told Melbourne Media.
"But we've been able to do that, so we're extremely pleased with where we stand heading into 2020."
While the Demons have had to part ways with eight players from their 2019 squad, Patterson is excited by the core group the club has been able to retain.
"We've re-signed the main portion of our list which is really pleasing for us," he said.
"It's great to see that the girls wanted to stay here, so there's a great feeling amongst the group at the moment."
Check out all of Melbourne's activity from the 2019 AFLW Sign and Trade Period below.
List changes
Arrivals: Libby Birch, pick 54, 72 and 77
Departures: Maddy Brancatisano (Richmond), Ashleigh Guest (Western Bulldogs), Cat Phillips (St Kilda), Claudia Whitfort (St Kilda)
Delistings: Jordann Hickey, Brooke Patterson, Talia Radan, Ashleigh Woodland
Re-signings:
1 Tegan Cunningham
2 Meg Downie
3 Maddi Gay
4 Karen Paxman
5 Elise O'Dea
6 Daisy Pearce
7 Bianca Jakobsson
8 Sarah Lampard
10 Kate Hore
11 Chantel Emonson
12 Shelley Scott
13 Katherine Smith
14 Lily Mithen
15 Lauren Pearce
16 Aliesha Newman
18 Casey Sherriff
21 Harriet Cordner
22 Maddy Guerin
26 Shae Sloane
28 Tyla Hanks
29 Eden Zanker
30 Shelley Heath
36 Ainslie Kemp