AFTER 15 seasons at the top level, Jordan Lewis has called time on his decorated AFL career.
The 33-year-old gathered the football department at AAMI Park on Tuesday morning and said it was "time to make it official".
"I thought I'd address the group just briefly to one, show my appreciation, and two, just to put a full stop and let everyone know that I am retiring at the end of the year," Lewis said in his farewell speech.
The former Hawk is set to add one more game to his 318-match tally this weekend, as he lines up on the AFL stage for the last time against North Melbourne at Blundstone Arena.
Since being drafted with pick No.7 in the 2004 National Draft, Lewis has developed into a great of the game, manufacturing a career that even he thought may never be possible.
"The journey has been a good one – it's been a long one," Lewis said
"It's been a lot longer than probably I would have imagined, and maybe people who drafted me would've imagined, and my parents would've imagined.
"But it's been an unbelievable one."
While Lewis has played 54 games in the red and blue, much of his career was enjoyed in the brown and gold where he won four premierships and a best and fairest award.
"I got drafted to a fantastic club in Hawthorn … and spent 13 years there," he said.
"Most of you would've hated my guts, I know the supporters would've hated my guts, I even hated my guts at certain stages.
"And then the time came for a bit of change and I didn't even know where to look to be honest."
Lewis, a fiery character on the field, saw an opportunity arise at the Dees at the end of 2016, and decided the move was a "no brainer".
"I saw that this club was really on the incline and it was something that I wanted to be a part of, and something that I thought I could add a bit of leadership and understanding and experience [to]," he said.
"Finishing up my third year it feels like I've been here for a long period of time to be honest.
"You guys have made it really, really enjoyable.
"It's been a really enjoyable environment to be around, and even though this year has been quite disappointing on the field, I think we've done a really good job to try to create an environment here that allows you to come in and feel comfortable day to day."
The challenge of shifting clubs in the twilight of your career is hard to comprehend, but in a short period of time, Melbourne has become Lewis' home.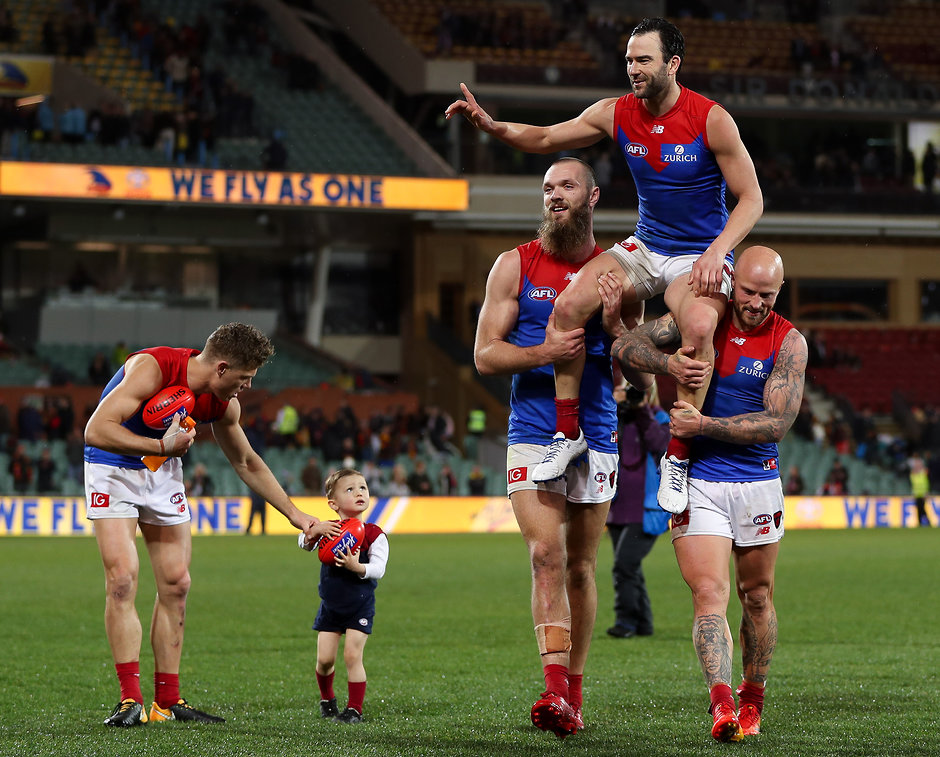 "It's quite hard coming from another club where you've spent the majority of your life, but to come here and make life-long friends has been a really good experience for me," he said.
"I'll thank my family at a later date as well, but … anyone who has got family – whether it be your own family or your mum and dad – understand the sacrifices that everyone makes for us to be able to perform on the weekend."
Throughout his struggles with injury and form in 2019, Lewis has held himself tremendously well, showing the leadership and strength that has made him such a valuable asset for the Demons.
He has been a massive contributor to the club over the past three years and in his final week, has shown gratitude to all who have supported his journey.
"From the bottom of my heart I just want to thank everyone here, and everyone at Hawthorn … that have provided me with so many memories that I will cherish forever," he said.
"It's been a pretty wild ride, but all good things must come to an end."