AFTER being recruited to the club during last year's Trade Period, Steven May managed just eight games in his debut season with the Dees.
The former Gold Coast captain battled groin and hamstring injuries, as his 2019 campaign never really got going.
While plenty was made of the 27-year-old's fitness, May says it wasn't as bad as it seemed, and he's now in a strong position to attack 2020.
"I think it was blown up a bit – people were carrying on like I was 100kgs overweight or something like that, but it's more just coming back and having my body in a condition that will allow me to play 22 games," May told Melbourne Media.
"It's not about breaking the 2km (time trial) record or that sort of thing, I came here to play footy and that's what I want to do.
"I haven't been able to do that which has been the most frustrating thing."
May knows his own game as well as anyone and is being smart about how he approaches the pre-season.
He has a specialised program designed to make him the best player he can be, with a focus on some key areas that will help take him to the next level.
"My running is a lot different – very role specific running," May said.
"A lot of repeat efforts, like two or three quick efforts then you walk for a bit rather than just running 1km – that's just not what we do in a game.
"There's still an aspect of that certain base line endurance that you need to play the game, but I think to be the best defender, being able to maximise those high intensity efforts will allow me to stop a forward getting the ball."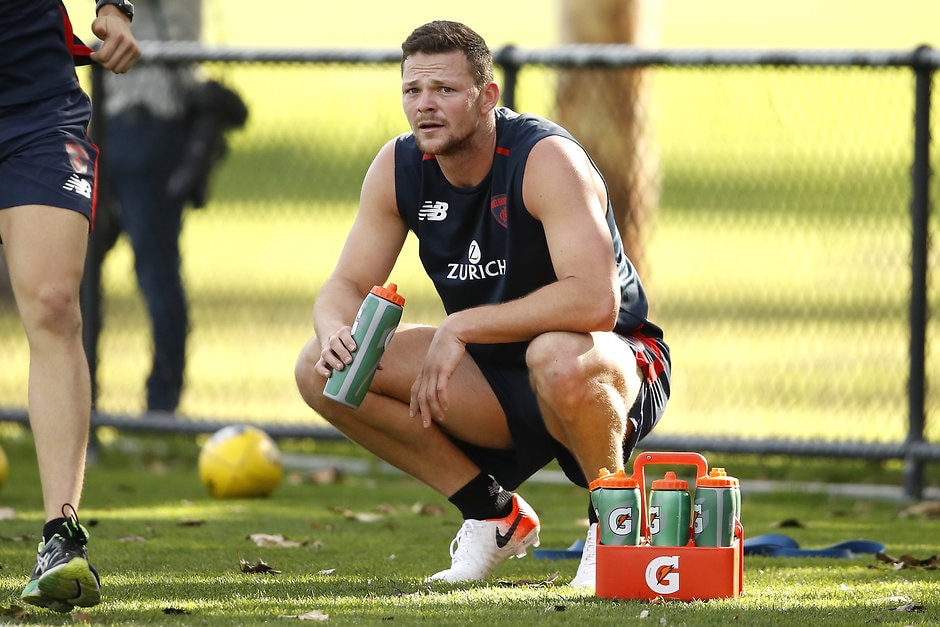 The 193cm defender is strong in the contest but says there are other areas of his game that he will focus on across the summer.
"I don't do a lot of upper body gym work because I'm already heavy, I'm already at a weight that can compete," May said.
"It's more my core, my hammys and glutes – just having that strength through your hips is huge now because there aren't too many one-on-one contests these days.
"It's more about running and defending on the lead and those sort of things.
"Gone are the days where you try to get as big as you can so you can wrestle in the goal square, because you might only get one or two of those a game."
May has had to upskill himself in a number of areas recently and has enjoyed growing into a more rounded backman.
"I used to like to get heavy and strong and big, and go down to the goal square, but now, especially with our offense as well, getting involved more offensively requires me to run more and then get back to my opponent and defend him like I normally would," he said.
"It's a challenge but I've had a lot of education around that this year.
"I'm just looking forward to having a good pre-season and putting all that together and hopefully show that next year."
The hard work will begin for May and his teammates when they return to the club in November.