SIX-TIME Melbourne premiership star Frank 'Bluey' Adams, best known for being involved in one of the most brutal collisions in VFL/AFL history, has died on Sunday night at 84 after a battle with cancer.
The popular Adams was a damaging 164-game wingman, rover and forward who in 2000 was selected in Melbourne's Team of the Century.
Frank Adams strikes a pose for the camera. Picture: Lynda Carroll, MFC Collection
He achieved many distinctions in both football and athletics, but Adams is perhaps best known for his role in a sensational incident that exploded just minutes before he won his first premiership.
Adams' sickening head-on collision with Collingwood wingman Des Healey late in the 1955 decider has become part of Grand Final folklore.
The decider had promised to be a bruising encounter and, unfortunately for the more experienced but smaller Magpie line-up, it delivered just that on a rock-hard, sunbathed MCG.
Melbourne's enforcer captain Noel McMahen ignited hostilities in the opening minutes when he crunched Collingwood superstar Bob Rose, who wasn't the same thereafter.
However, the Adams/Healey crash would make that bump look like a love tap.
Melbourne led by 13 points in the dying stages when Collingwood star Healey tried to lift his team by bursting clear and taking off on one of his long runs.
Healey, just turned 28, was in career-best form and would win his first best and fairest and share the club's best finals player award. He'd been among the Woods' best players that day, just as he had been in the club's 1953 triumph, having 20 kicks on both occasions. This time he wouldn't get a kick away.
Adams, then just 20 and in his 38th game, had warmed the bench until his coach Norm Smith mercifully decided to give the flame-haired speedster a run, as a replacement for wingman Geoff Case.
As Adams waited to enter the fray, he "crouched down on the boundary line like a sprinter ready to take off when the gun goes" – a pose that was second nature to the Demons' No.6, who was one of the fastest men to play League football and within just a few years would become Australia's professional sprint champion, also breaking the world record over 400 yards (366 metres).
Adams "rocketed" onto the field and covered about 45 metres in six seconds, reaching Healey at top speed.
Many expected Healey to evade trouble with his "famous side-step", but it never came. The Pies playmaker was blissfully unaware that Adams was hurtling towards him "like a runaway train".
Coverage of the incident in The Age, the day after the game. Picture: Lynda Carroll, MFC Collection

Field umpire Harry Beitzel, who was nearby, recalled in an interview for my 2008 book The Red Fox: "Out of the blue came Bluey, like a bullet out of a gun, straight at him. Poor Dessy didn't even see him coming."
Adams had intended to deliver a legitimate hip-and-shoulder, just as he had in the previous year's preliminary final when he ran onto the field and flattened Geelong big man Bob Wiltshire.
But this time Adams got it wrong, later speculating he might have simply miscalculated their relative speeds as he dropped his head, dipped his right shoulder and braced for contact.
The crowd of 88,053 shuddered, emitting "a tremendous but strangely hushed 'Oh'" as the pair clashed heads with such force that the disturbing crack of bone-on-bone was heard throughout the stadium.
Both players were knocked out cold, spread-eagled on the turf several metres apart.
Collingwood players rushed over to remonstrate with Adams, which wasn't possible given his motionless state, but a melee broke out regardless as tempers flared.
In the meantime, Adams hadn't been penalised so play had continued and Melbourne opportunist Ian Ridley iced the contest.
"(I) kicked the goal to seal the bloody premiership, but I don't think anybody realised it," Ridley said in The Red Fox. "No one cheered for my goal because all eyes were on Bluey and Healey sprawled out on the deck on the wing."
Enraged Collingwood fans jeered and threw various items – bottles, fruit and rubbish – at a still-limp Adams as he was carried to the changerooms.
Smith, who'd describe Adams' cameo as "the shortest Grand Final game ever", feared there would be a riot.
"If Bluey had not been unconscious, anything could have happened. I doubt if there has ever been an uglier crowd," Smith later told Truth.
"Hundreds decided Bluey had deliberately charged Des Healey to put him out of the game … How ridiculous. Would a man race at another head-on, knock himself out, to put a man out of a game already won? ... Bluey is not that sort of footballer."
Pies supporters also accused Smith of ordering the hit on Healey – an accusation no one else took seriously.
Adams remained unconscious for 40 minutes. When he came to, he gibbered: "Don't take me off, Norm, my leg's all right!" Adams was eventually taken off … in an ambulance to the Alfred Hospital, where he was diagnosed with concussion.
In the Pies rooms, due to miscommunication, it took almost two hours for an ambulance to arrive and transport Healey to St Vincent's Hospital. He too had concussion, along with severe shock, three breaks to his nose and bruising around his eyes.
But that wasn't even the worst of it for the unlucky Magpie. Some years later Healey was involved in a car accident and X-rays revealed he'd actually suffered a fractured skull in the collision with Adams.
Inconceivably by today's standards, both players were discharged from hospital on Grand Final night. Healey went straight home to bed while Adams joined the premiership celebrations.
Frank Adams and Ron Barassi finished second and first, respectively, in the 1961 best and fairest. Picture: Lynda Carroll, MFC Collection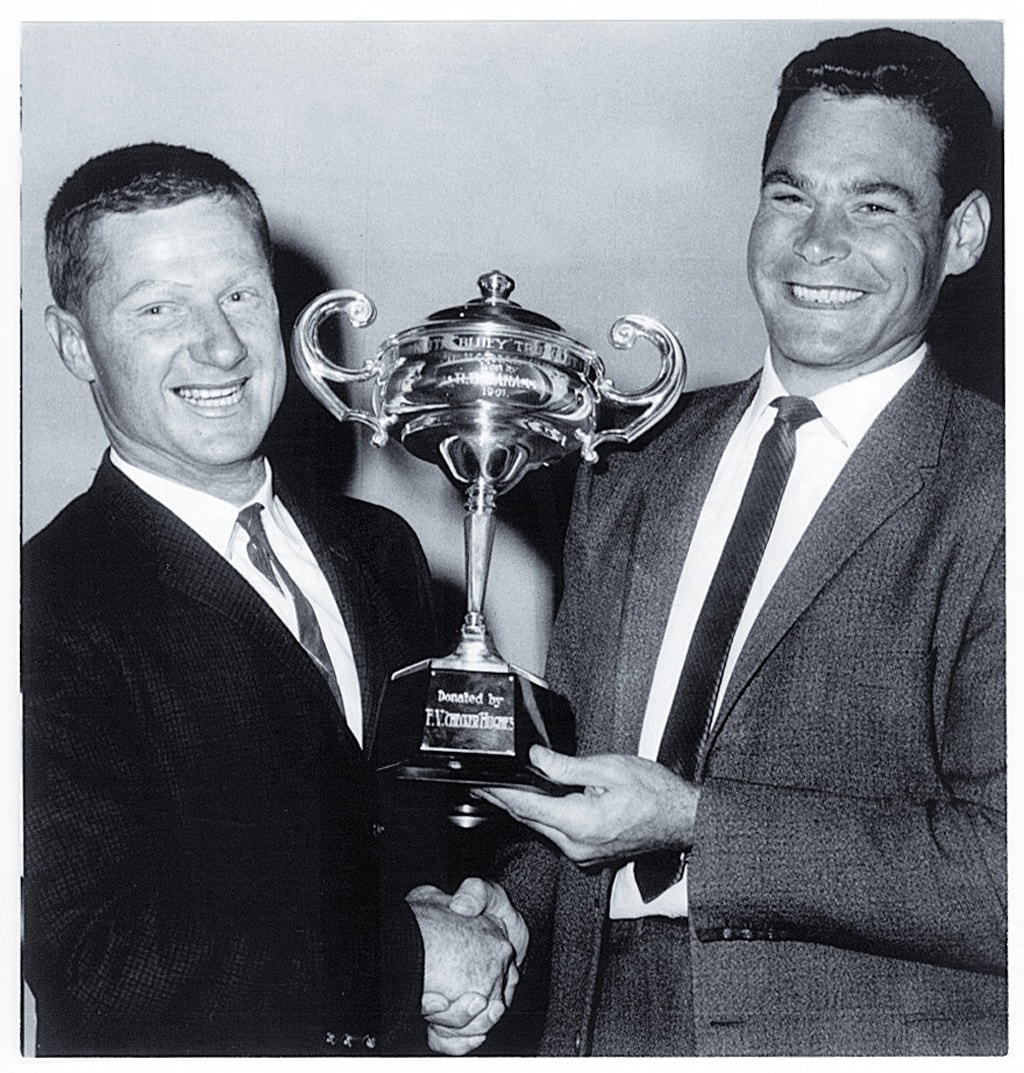 The next night Adams visited Healey at his Preston home to check on his condition and to offer an apology. Healey's mother-in-law gave the rueful Demon a frosty reception but Healey himself appreciated the gesture.
Healey didn't hold any grudges, telling The Argus: "It was just football. I didn't see anything, I just felt a bang and it was like hitting a brick wall."
There was no complaint from Collingwood, nor was there a League investigation, as it was generally accepted that it had simply been an unfortunate accident.
In any case it had serious ramifications for Healey, who never played League football again. He finished on 149 games after concluding, "I couldn't stand another blow like that one.
Despite the carnage, Adams was well aware "it could have been a lot worse". He was fortunate to play on for another nine seasons, during which he played in six more Grand Finals, winning five of them, but was hooted by Collingwood fans for the rest of his career.
Adams and Barassi hoist the 1964 premiership cup. Picture: Lynda Carroll, MFC Collection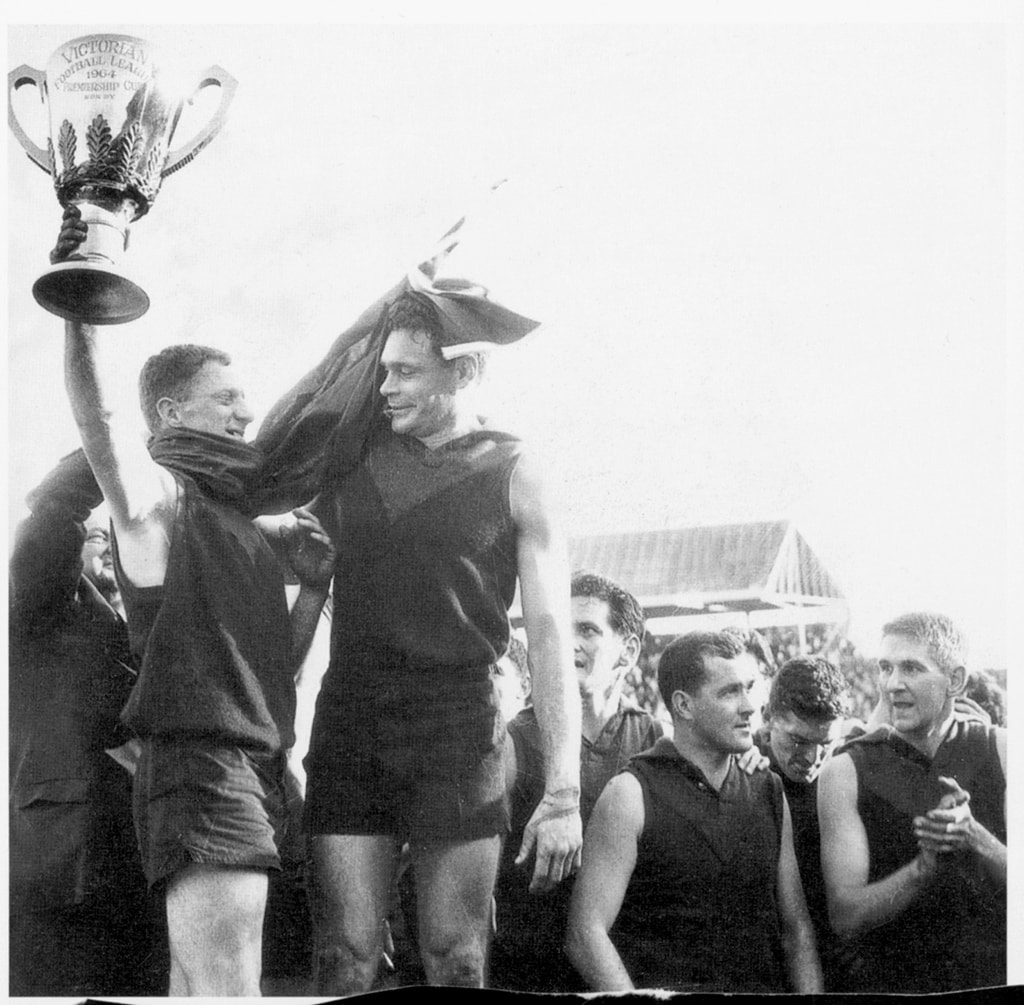 There was a fascinating post-script to the collision with Healey, who played district cricket for Collingwood, freakishly dismissed by another Adams – Fitzroy medium-pacer Carl Adams – later that year.
"You wouldn't read about it," Healey said with a wry grin. "Caught and bowled twice (by an Adams)."
After Healey's death at 81 in 2009, Adams lamented: "One of the things I've always felt sorry for Des about is he is remembered for the clash and not for his football. He won a Copeland (Trophy), he played interstate football (and) he was a part of one of the outstanding centre-lines – Healey, (Bill) Twomey, (Thorold) Merrett."
Similar sentiments could be expressed about Bluey Adams – a star footballer, a champion athlete, an affable, engaging personality who became a successful media personality, and a loyal Demon who served as a committeeman and chairman of selectors, and briefly as interim coach when Smith was sensationally sacked and reinstated in 1965.
Adams and fellow Melbourne great Stuart Spencer. Picture: Lynda Carroll, MFC Collection