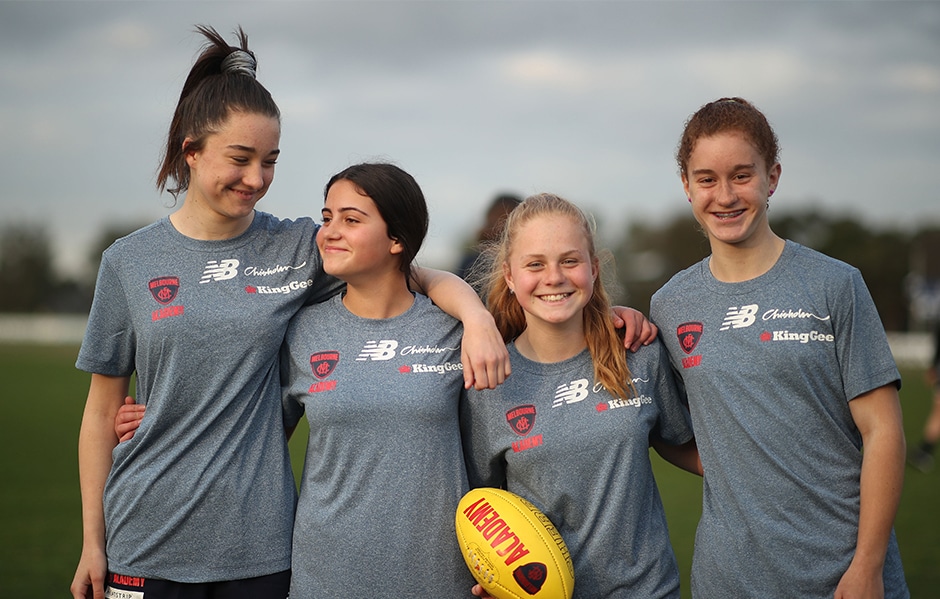 AFTER nine months in the Melbourne Academy Talent Squad, 150 under 15 male and female athletes have officially graduated from the program.
Selected in July of 2018, the group were selected from Melbourne's south-east Academy zone, comprising of the City of Casey, Mornington Peninsula, the Cardinia Region and Greater Dandenong.
The program saw the aspiring athletes learn the fundamentals of the game and the work that goes into becoming a professional AFL and AFLW player.
The final component of the program saw the boys play a curtain-closer after Melbourne's JLT match at Casey Fields, while the girls featured the week after prior to the Demons' R7 AFLW fixture at the ground.
Academy Head Coach Mark Wheatley was impressed at the development he saw in the athletes during the program.
"All of the players who came through the program showed significant improvement from July to March, which was extremely pleasing," Wheatley said.
"Both regions have high levels of talent, and it was a pleasure to be a part of their journey and support their individual growth."
Melbourne Academy Manager Kyle Docherty said the 150 players would be in a great position come the end of 2019 for recruitment into the NAB League Under 16s program.
"One of our key roles in the region is to support the talent pathway as much as we can, the 15s program is all about preparing these athletes as best we can for the Dandenong Stingrays Under 16s and Under 18s programs respectively."
If you're interested in joining the Melbourne Academy, find out more here.
Congratulations to the below athletes for completing the program:
South East Boys
| | | |
| --- | --- | --- |
| First Name | Surname | Club |
| Brendan | Alievski | Parkmore |
| Luke | Bailey | Berwick |
| Tom | Baillie | Beaconsfield |
| William | Battams | Koo Wee Rup |
| Harrison | Best | Berwick |
| Jaxon | Binns | Berwick |
| Braedyn | Bowden | Berwick |
| Hayden | Brown | Beaconsfield |
| Thomas | Clappers | Cranbourne |
| Jack | Cornish | Berwick Springs |
| Samuel | Dual | Foxes Grey |
| Noah | Edwards | Berwick Springs |
| Ryan | Emerson | Pakenham |
| Riley | Frith | The Basin |
| Koby | Grass | Pakenham |
| Brody | Hopkins | Narre South |
| Ryan | Hunter | Foxes Grey |
| Mitchell | Kemish | Lyndhurst |
| Ryan | Lewis | Berwick Springs |
| Kai | Maas | Berwick Springs |
| Jarryd | Maclaren | Beaconsfield |
| Drue | Maher | Berwick |
| Patrick | Manno | Foxes Grey |
| Alexander | McCrae | Narre Warren |
| Daniel | Meunier | Foxes Grey |
| Connor | Mouat | Beaconsfield |
| Jacob | Mutimer | Foxes Black |
| Lachlan | Paul | Beaconsfield |
| Colby | Pernar | Beaconsfield |
| Oscar | Preston | Berwick |
| Tom | Richardson | Beaconsfield |
| Spencer | Robertson | Beaconsfield |
| Luke | Ryan | Pakenham |
| Harrison | Sala | Berwick |
| Kody | Seing | Officer |
| Ben | Sellings | Tooradin-Dalmore |
| Xavier | Shinners | Narre Warren |
| Patrick | Sinnema | Foxes Black |
| Ben | Smith | Beaconsfield |
| Lucas | Smith | Berwick White |
| Morgan | Stevens | Beaconsfield |
| Zander | Sutherland | Lyndhurst |
| Zayne | Sutherland | Lyndhurst |
| Mitchell | Szybkowski | Beaconsfield |
| James | Taylor | Lyndhurst |
| Daniel | Toner | Narre Warren |
| Tyler | Varlet | Berwick Springs |
| James | Voss | Koo Wee Rup |
| Brock | Walker | Berwick Springs |
| Jay | West | Officer |
Mornington Peninsula Boys
| | | |
| --- | --- | --- |
| First Name | Surname | Club |
| Alan | Alexander | Beleura |
| Ben | Barrett | Mount Martha |
| Nick | Bertucci | Rosebud |
| Tom | Buckley | Hastings |
| Taj | Campbell-Farrell | Rye |
| Nick | Collier | Dromana |
| Jesse | Davidson-Lopo | Rye |
| Ben | Fisher | Rosebud |
| Miles | Gouderjaan | Red Hill |
| Henry | Hustwaite | Rosebud |
| Angus | Irvine | Rye |
| Ned | Moodie | South Mornington |
| Brodie | Warry | Dromana |
| Devlin | Webb | Somerville |
| Josh | Whicher | Beleura |
| Shannon | Yearsley | Somerville |
| Luke | Frampton | Balnarring |
| Darcy | Jones | Red Hill |
| Riley | Simpson | Somerville |
| Joel | Vincent | Somerville |
| Ronan | Voigt | South Mornington |
| William | Jewell | Sorrento |
| Josh | Boomsma | Mount Martha |
| Fox | Handley | Sorrento |
| Saxby | O'Dowd | Rye |
| Finn | Emile-Brennan | Rye |
| Josh | Guerts | Dromana |
| Sam | McGennisken | Dromana |
| Lachie | Sutherland | Mount Martha |
| Jett | Tomlinson | Rye |
| Jarvis | Williams-Moses | Rosebud |
| Xavier | Wilson | Balnarring |
| Campbell | McMillan | Pearcedale |
| Jed | Watson-O'Connor | Dromana |
| Archie | McGuiness | Pearcedale |
| Jay | Cullum | Balnarring |
| Cassidy | Short | Rye |
| William | Tiesdell-Smith | Balnarring |
| Zachary | Becher | Somerville |
| Connor | Georgakoupoulous | Pearcedale |
| Mitch | Collins | South Mornington |
| Finn | Jakstas | Pearcedale |
| River | Evans | Sorrento |
| Angus | Clark | Mount Martha |
| Brodie | Collins | South Mornington |
| Mitchell | Smart | Hastings |
| Ryan | Apperley | South Mornington |
| Rhyce | Harvie | Pearcedale |
| Walter | Johnson | Red Hill |
South East and Mornington Peninsula Girls
| | | |
| --- | --- | --- |
| First Name | Surname | Club |
| Lexxi | Anderson | Pakenham |
| Crystal | Babic | Rosebud |
| Alice | Berenger | Mt Martha |
| Ava | Bruynen | Balnarring |
| Keeley | Calderwood | Narre North Foxes |
| Mia | Chesterfield | Pakenham |
| Amber | Clarke | Narre North Foxes |
| Zahra | Clavarino | Berwick |
| Felicity | Crank | Mt Martha |
| Zoe | Davies | Beaconsfield |
| Tilani | Dean | Narre North Foxes |
| Mackenzie | Eardley | Beleura |
| Taylah | Gatt | Beleura |
| Chloe | Godwyn | Pearcedale |
| Molly | Griffiths | Somerville |
| Amber | Haslem | Balnarring |
| Tara | Heath | Mt Martha |
| Chloe | James | Rosebud |
| Olivia | Laity | Balnarring |
| Olivia | Latu | Mt Martha |
| Christall | Layfield | Cranbourne |
| Izabelle | Leary | Southern Power |
| Charlotte | Lillywhite | Balnarring |
| Lanie | MacLean | Narre North Foxes |
| Olivia | Magri | Beaconsfield |
| Georgia | Malkoun | Narre North Foxes |
| Shanalie | Marshall | Cranbourne |
| Emily | McCormack | Sorrento |
| Charli | Mellor | Mt Martha |
| Bianca | Mirigliani | Beaconsfield |
| Grace | Pettigrove | Cranbourne |
| Paige | Reinheimer | Beaconsfield |
| Olivia | Robinson | Beleura |
| Rochelle | Rollo | Beleura |
| Kiralee | Ross | Pearcedale |
| Charley | Ryan | Beleura |
| Indigo | Service Brown | Mt Martha |
| Isla | Shephard | Beleura |
| Mackenzie | Sice | Mt Martha |
| Courtney | Siwes | Narre North Foxes |
| Brooke | Smith | Narre North Foxes |
| Kiara | Smith | Rosebud |
| Mia | Taylor | Berwick |
| Chelsea | Veal | South Mornington |
| Jaylee | Virgona | Pakenham |
| Poppy | Wardrop-Brown | Berwick |
| Decoda | Watson | Cranbourne |
| Amy | Watson | Eastern FL |
| Brooke | Watson | Eastern FL |
| Ella | Watts | Mt Martha |
| Matilda | Westworth | Beleura |
| Amberlie | Wright | Pearcedale |
| Gracie | Zuccolo | Pakenham |