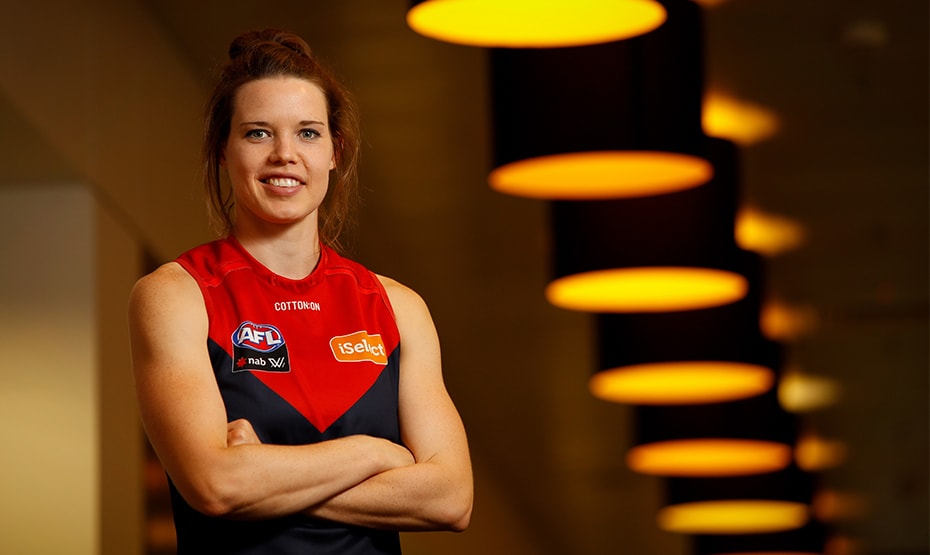 MELBOURNE'S leadership group will have a new look for the 2019 AFLW season, following several list changes during the off season.
Daisy Pearce's pregnancy and former vice captain Mel Hickey's move to Geelong leaves the Club seeking both a captain and vice-captain, ahead of round one in February.
With the women's league entering its third season, we take a look at who is ready to step up and take the reins in 2019.
Elise O'Dea
Sharing the vice-captaincy with Hickey since the league's inception, midfielder Elise O'Dea is the most likely successor for Pearce.
A two time All-Australian and the 2018 Best & Fairest runner up, 27-year-old O'Dea is no stranger to captaincy after leading the Darebin Falcons in 2017.
With several Darebin players in the side, O'Dea is respected amongst the group both on and off the field and seems the logical choice.
Tegan Cunningham
A former basketballer who played over 150 WNBL games, key forward Tegan Cunningham has an elite sporting background which could play in her favour.
The 30-year-old played all seven games in 2018 and finished the season as the Club's leading goal kicker, after being taken at pick 22 in the 2017 Draft.
A strong first year performance, competitive nature and elite background could see Cunningham fill a vice-captaincy role in 2019.
Katherine Smith
Earmarked as a future leader early in her career, defender Katherine Smith is another possibility for the vice-captaincy.
Captain of the 2016 Vic Metro Girls team, she's not unfamiliar with leadership roles and is renowned for strong decision-making skills.
At only 20 years of age, she could use a few more years in the system to mature and develop before taking on a leadership role.
Bianca Jakobsson
Starting her career at the Blues before moving across to Melbourne in 2018, Bianca Jakobsson has form in the leadership department.
A former vice-captain of the Cranbourne VFLW side, Bianca has been in the AFLW season since the beginning.
With experience at two clubs, another pre-season in the red and blue could see her step up as a leader in 2019.
Sarah Lampard
A part of the red and blue since 2016, defender Sarah Lampard could be another contender to replace Hickey as vice-captain.
Despite a career hampered by injury, including a season ending torn ACL in 2018, Lampard holds a lot of respect within the playing group.
At 21-years-old, she is one of the younger names of the list and will need to step up during pre-season to secure a spot in the leadership group.
Karen Paxman
Hard-running defender Karen Paxman would be an experienced candidate for any leadership role at the Club.
The 29-year-old has never missed an AFLW game and is a two-time AFLW All-Australian.
Having played at a high level since 2009 in the state leagues, Paxman's footy knowledge is highly valued within the Club.
Lily Mithen
While still young at 20-years-old, Lily Mithen's capability to lead on-field could potentially land her a spot in the Club's leadership group.
Mithen is an emerging star of the league and her debut season in 2017 saw her earn a Rising Star nomination and selection for Victoria in the State of Origin match.
Whether it's in 2019 or beyond, Mithen is a certain future leader at AFLW level.