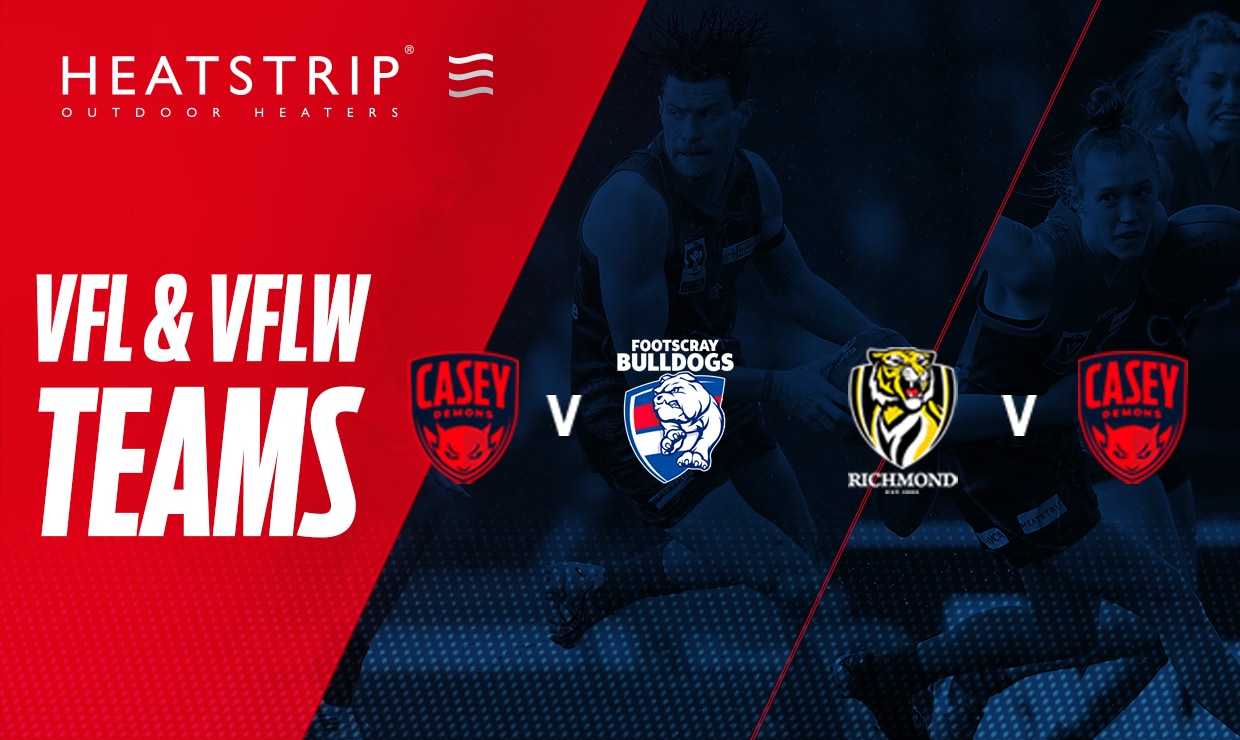 THE VFL and VFLW sides have been named for this weekend's matches with Footscray and Richmond respectively.
The VFL team will be at home on Sunday at Casey Fields against the ninth placed Footscray. The match starts at 2.00pm.
VFL round fifteen
Casey Demons v Footscray
Sunday July 15, 2.00pm
Casey Fields
VFL squad
B: 18. Jay Lockhart, 45. Declan Keilty, 6. James Munro
HB: 1. Jay Hutchins, 55. Harrison Petty, 42. Josh Wagner
C: 16. Dean Kent, 62. Aaron vandenBerg, 56. Oskar Baker
HF: 19. Mitch Hannan, 21. Cam Pedersen, 12. Tomas Bugg
F: 54. Harley Balic, 38. Tim Smith, 24. Cory Machaya
Foll: 26. Sam Weideman, 71. Dom Tyson, 13. Corey Wagner
I/C: 40. Pat McKenna, 47. Lochie Filipovic, 27. Angus Scott, 23. Will Collis, 9. Mitch Gent, 22. Goy Lok, 4. James Freeman, 34. Mitch King
23P: 49. Cory Stockdale
The women's game against Richmond will be played in Bendigo at Queen Elizabeth Oval. The match will kick-off at 2.30pm on Sunday.
VFLW round ten
Casey Demons v Richmond
Sunday July 15, 2.30pm
Queen Elizabeth Oval, Bendigo
VFLW squad
| | | | |
| --- | --- | --- | --- |
| B | 37. L Lowerson | 27. A Harrison | 12. G McLean |
| HB | 8. M Tatham | 41. T Mesiti | 16. C Sheriff |
| C | 9. A Johnson | 10. K Hore | 7. B Jakobsson |
| HF | 25. M Shevlin | 29. E Zanker | 34. D Guttridge |
| F | 15. S Phillips | 18. K Bentvelzen | 22. K Guttridge |
| R | 14. T Orgill | 13. K Smith | 6. A McDonough |
| Int | 31. H Bailey | 47. M Hogg | 2. A Newman |
| | 48. S Fyfield | | |
| Emg | 32. J Turner | 3. R Clayton | 30. A Marshall |
| | 5. S Poke | | |
| 23P | 26. S Sloane | | |