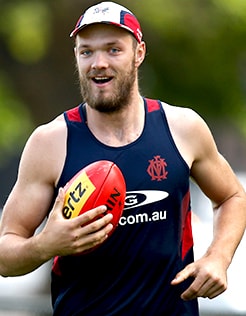 ONE of the genuine positives to emerge pre-Christmas for Melbourne has been the form of ruckman Max Gawn on the track.

MORE: Honour to wear Stynes' No.11: Gawn
For the likeable Gawn it hasn't been an easy road since he was drafted at No.34 in the 2009 NAB AFL Draft, as injuries have interrupted the career of the 26-gamer. But the big man has made important strides over the summer, as he explained.
"It's (pre-season) going well. I hurt my knee in that last game of the year and I was very lucky just to get away with a meniscus injury," he told Dee TV.
"For those who saw me [at the time], I probably wasn't quite happy. I definitely heard something and I wasn't feeling great. The doctor diagnosed correctly at the time and she thought it was my meniscus – and that's pretty good doctoring.
"[At the time], I was [up] in the air. I didn't get it checked until Tuesday and I didn't go [into surgery] Wednesday, once I came back."
Gawn said the thought of further injury was something that he grappled with in the back of his mind at times.
"Yes and no. My knee is completely fine. It's almost given me more confidence that I've only done my meniscus and not my ACL," he said.
"It's given me confidence that my ACL is actually quite strong. It's good for my knee. [My] hamstring is always going to be something that [when I do] quick repeat sprints in the pre-season – it might always test me. It might test my calf and my head as well."
Gawn said Melbourne's ruck division was much more advanced in its pre-season than this time last year.
"'Pencil' (Spencer) was the only one out there for the majority [of pre-season] and then he did his foot halfway through the year."
"Then me and Rush worked our way back from injury, but me and Rush have both missed pre-seasons the last two or three years. To finally get one together has been good.
"It's a good ruck group with me, Jake [Spencer] and Mark [Jamar]. We've been together since I got to the club for the past six years. We've been working well. We're all pretty competitive. Jake had a little bit of a setback at the moment, but he'll be training in no time. 'Russian' (Jamar) has been on the track since November, so it's probably one of his best pre-seasons as well.
"The ruck group is very competitive and come round one, who knows who's going to get it."
But Gawn said he was able to partake in most of the training leading up to Christmas.
"The last few weeks [before Christmas] I was able to join in the majority of the drills and the group running and I was feeling pretty good, so it was good to get a couple of weeks in before Christmas, and then attack January, February and March," he said.
"It's funny, most of my injuries have been in my lower right knee – either in my hamstring or my knee – but they're both going well at the moment.
"It's a really long pre-season this year with the cricket World Cup pushing [the AFL season] back, so with January, February and March, I've got three months to make my mark.
"I've got to be confident I'll get through … to round one."
A huge cricket fan, Gawn said he would keep a close eye on his native New Zealand team over the break, while keeping up his training.
"Christmas break is not too big for me. My family is not too big – they're all over in New Zealand still," he said.
"I was thinking about going to the Boxing Day test – but not the one we know. I'm going to the New Zealand one against Sri Lanka. I'm a big Black Caps fan.
"Apart from that, I'll just train. It's my time to catch-up, after I missed November, so I've got to try and catch up to the boys who have done November."