MELBOURNE'S AFLW coaching team has been finalised ahead of its 2020 campaign, with two familiar faces jumping on board.
The Dees have added a former AFL and AFLW player to the group, with Corey Maynard and Brooke Patterson set to share their knowledge this season.
Patterson, who played 11 games across her three-year career, becomes the first past player to be involved in Melbourne's women's program – an acquisition coach Mick Stinear is very pleased with.
"I think she's a great role model for the rest of our girls," Stinear told Melbourne Media.
"She's got strong relationships with the players, an understanding of our game style and professionalism both on and off the field."
The 30-year-old was delisted by the Demons over the off-season but has remained heavily involved with the program and will now be a development coach for the club's new recruits, as well as assisting in defence.
"She was still pretty determined to continue her AFLW career, but just the type of person she is and how much her teammates value her will make her a great coach," Stinear said.
"She's always putting others ahead of herself, so her team-first attributes are a standout.
"Even while she was playing … she was always putting others first and trying to help them with their development and get the best out of them."
Along with Patterson's appointment, Maynard is an exciting prospect for the Dees after retiring at the end of 2019 due to injury.
"I feel like it's a great fit, obviously with Pat McKenna now in his second year, just the knowledge they have of our game style, our environment," Stinear said.
"They've both been exposed to the men's program and valuing the fundamentals. They're just on the same page as what we're trying to teach the players which obviously makes them that much more relatable to the players."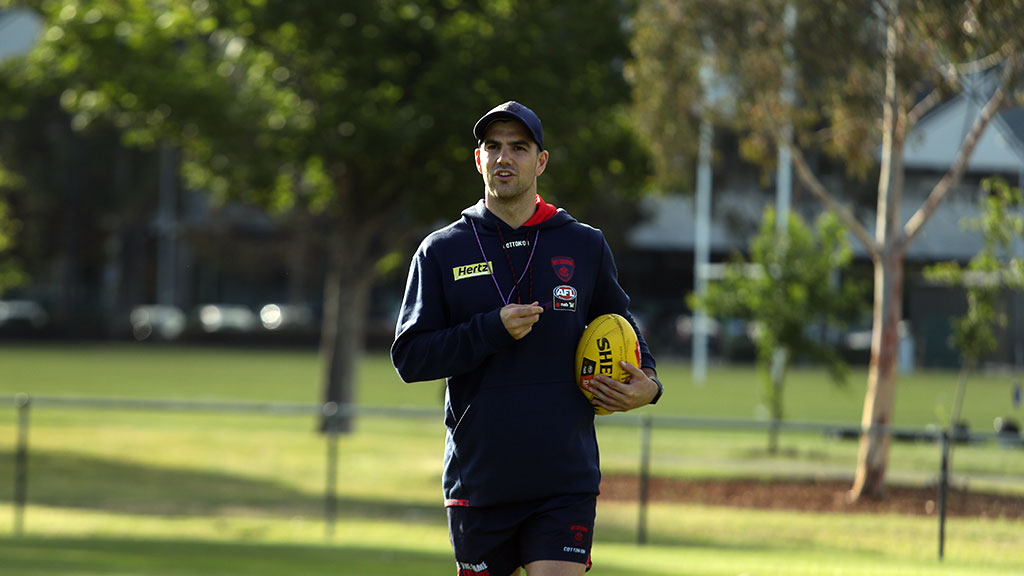 With two games of AFL experience under his belt, the 28-year-old knows what it takes to succeed as an athlete and has made a fast start to his coaching career.
"Corey's got experience at the elite level in both basketball and footy so he can share those experiences with the girls," Stinear said.
"He's been super. Obviously getting to know the girls is step one, but his knowledge of what we're trying to achieve is spot on."
Maynard will be replacing VFL coach Sam Radford in the midfield role at the club, while Jane Lange has also taken on added responsibility this season.
"Jane was an assistant coach two years ago but took a step back as a development coach last year so she could spend more time with her young family," Stinear said.
"Now she's in a position where she can give a little bit more time, so she's one of our senior assistants, and she's looking at game style and education.
"We're very fortunate to be able to have her available at every session and she'll have a stronger role game day as well.
"We've got a ripping group of coaches and obviously the players benefit from the people they are and the expertise they have."
Melbourne's 2020 AFLW Coaching Panel
Senior Coach: Michael Stinear
Senior Assistant Coach, Game Style & Education: Jane Lange
Assistant Coach (Forwards): Peter Mercoulia
Assistant Coach (Midfield): Corey Maynard
Assistant Coach (Backs): Pat McKenna
Development Coaches: Brooke Patterson, Justin Crough and Jon Stinear