MELBOURNE has extended its partnership with Automotive Holdings Group (AHG).
Chief Executive Officer Peter Jackson said the club was delighted with the new agreement which will see AHG continue on as a club principal partner.
"We are excited to announce that AHG has recommitted to the club in and will remain on the front of jumper," he said.
"Over the past three years, AHG has provided key support to us in our journey off-field as we look to improve results on-field. It is a great sign that the club's principal partner sees the direction we are taking and wants to continue on that journey.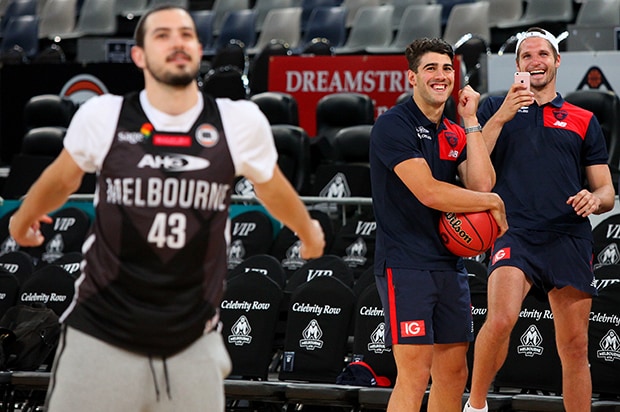 Melbourne United's Chris Goulding couldn't miss during the three-point competition much to the amusement of Christian Petracca and Jesse Hogan (Photo: Matthew Goodrope)
"Next season is exciting for the club. Along with signing AHG, the club has been able to attract key football talent and personnel to support new senior coach Simon Goodwin and the playing group."
AHG Chief Executive Officer John McConnell said he was excited to continue AHG's sponsorship and support the club on its quest for further on-field success.
"Melbourne Football Club is an iconic brand across the nation. The partnership gives AHG's automotive dealerships strong brand exposure and supports our position as Australia's largest motoring group," he said.
"It is particularly effective in Victoria where we now hold 39 car and truck franchises at 22 dealerships."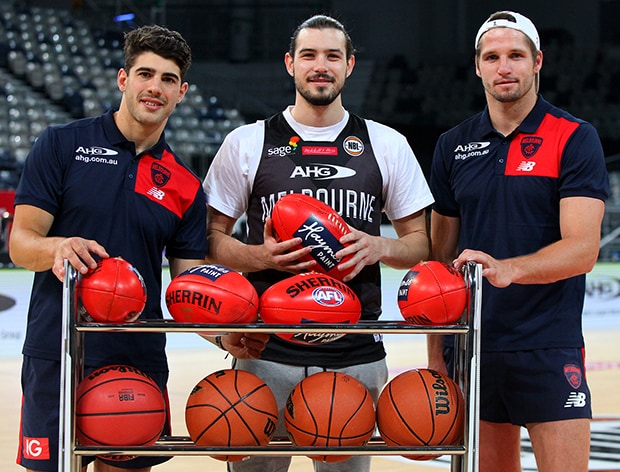 Christian Petracca, Chris Goulding and Jesse Hogan pose for a photo

McConnell said the club's improving on-field and off-field performance were important factors in extending the partnership, along with the recognition gained from AHG's support for the Freeze MND campaign led by former Melbourne coach Neale Daniher.
"The AHG Walk to the 'G has been an outstanding community initiative over the past two years and reflects our shared values," he said.
"The smooth transition from Paul Roos to Simon Goodwin as head coach and having Peter Jackson as CEO and Glen Bartlett as president gives us great confidence that we are working with a complementary leadership culture."
Jackson wished to personally thank outgoing AHG Managing Director Bronte Howson for the support he has shown the club.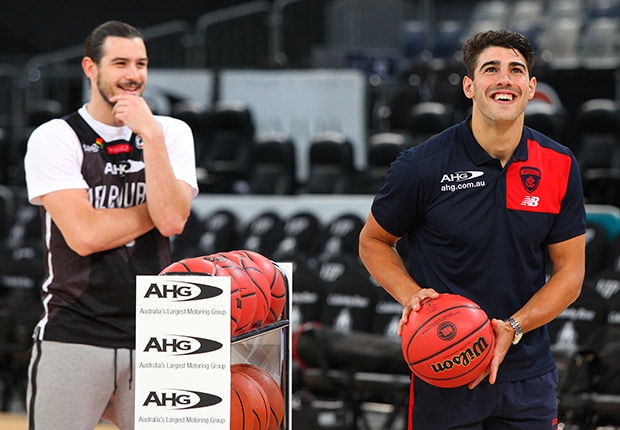 Melbourne United's Chris Goulding keeps a close eye on Chrisatian Petracca

"We'd like to thank Bronte Howson for all his support throughout the time of the partnership, he was – and still is – very passionate about helping us improve this club. We now look forward to working closely with new CEO John McConnell to take this partnership forward," he said.
"It is our joint ambition to make AHG's partnership one of the most successful automotive partnerships in the AFL. With a growing footprint of dealerships, a multitude of car brands on offer, our partnership is unique as it can assist with almost any vehicle requirement."
Jackson wished to reinforce the importance of members looking to support club sponsors where possible.
"It is important that we as a club and our members continue to utilise our sponsors. If you are in the market for a new or used car – give the club a call and it will put you in touch with your nearest AHG dealership," said Jackson.
Click here to find out more about the $500 discount on offer to Melbourne fans, at AHG select dealerships nationwide.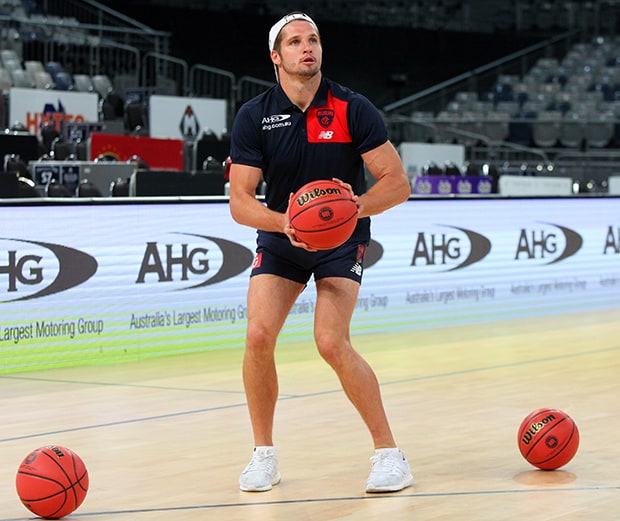 Jesse Hogan in action during the AHG announcement at Hisense arena