MELBOURNE forward Jake Melksham has signed a three-year contract extension which will see him remain in the red and blue until the end of 2022.
The 27-year-old has played 42 games for the Demons since crossing over from Essendon at the end of 2015 and says he is grateful for Melbourne's ongoing support.
"This is my fourth year at the club now and I'm getting to that age bracket where I'm a little bit older, so for them to show that faith and give me another three-year extension is really exciting for both parties," Melksham told Melbourne Media.
After being a part of the most successful year for the club since 2000, Melksham is confident Melbourne is building for something special in the coming seasons.
"I think the last four to six weeks of the home and away season were building and then to play those two finals in Melbourne at the MCG against Geelong and Hawthorn … it was good to beat them," Melksham said.
"The Dees fans were up and about as well so it was a great time to be playing footy and to be a part of Melbourne.
"Although we didn't perform the way we wanted to (in the preliminary final), I feel like we've learned a lot of lessons from the season and from that game in particular to hopefully take it to the next level this year."
Most AFL players dream of playing on the big stage of finals footy, and Melksham is one who thrives when the pressure is on.
He slotted a crucial final-quarter goal against the Hawks in last year's semi-final and always seems to stand up when his side needs him most.
"I do love playing finals, I haven't played in many, but I love big blockbuster games," he said.
"I love playing in front of big crowds and you just try to put yourself in those positions to do well in games and do well late in games and try to do your best for the team. So I love trying to be around the footy in those stages of the game."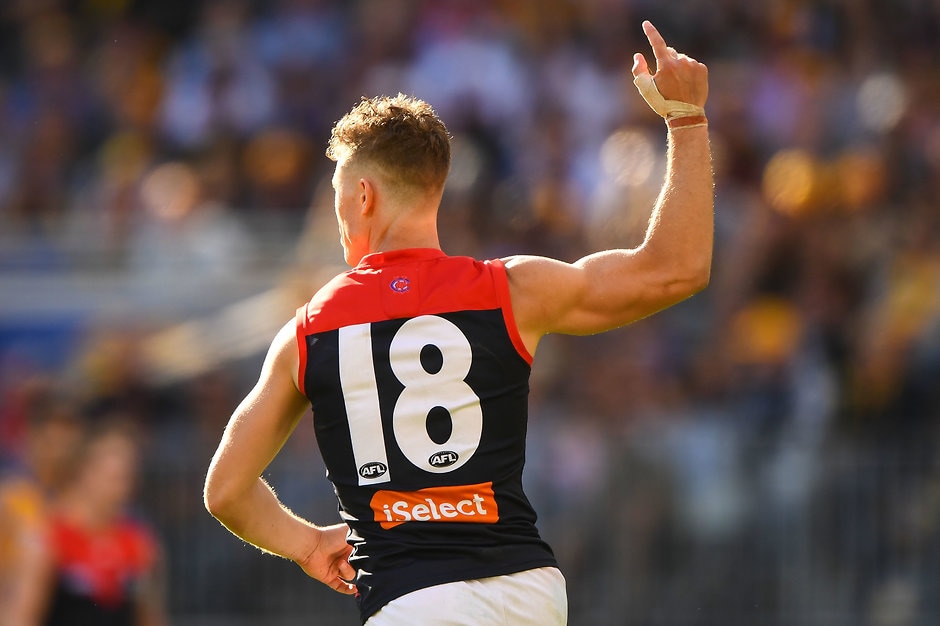 Melksham was originally recruited to the club as a midfielder, but he has developed into one of the most dynamic forwards in the league slotting 32 goals last season.
And while he played his first 114 AFL games at the Bombers, he can now call the red and blue home.
"You certainly feel that way when you start to have little bits of success as a group," he said.
"Although we haven't achieved what we want to, from the time I got to the club we've improved overall … and improved every year.
"So I think that's something you definitely want to be a part of when you come to work everyday as a group of people that are hungry and excited to do what they love."
Melksham is loving his time at the Demons but says settling in was made difficult in 2016.
The former Don was caught up in Essendon's supplement drama which ruled him out of his first season at Melbourne, throwing his career temporarily off track.
"It was a really exciting time in my life, we had just had our first-born Frank who is now three, and then a week later I got the ban," Melksham said.
"I had spent 12 weeks in pre-season and all things were going well so it wasn't ideal.
"We had the year off and did a bit of travel … and just tried to get out of Melbourne and do some different things."
While Melksham's year away from the game was certainly a challenge, he says it helped him grow as a person.
"It was a unique experience because I had just had a young family and I wasn't expecting to be at home as a stay at home dad for the first year," he said.
"But I think we just rolled with the punches that year as a family and as a playing group that wasn't involved with out clubs, and we got a lot of resilience out of it and built a lot of character.
"I feel like now as an individual there's not too much that can derail what I'm trying to do at the club because there are a lot of worse things that have happened."
Three years down the track and Melksham has just welcomed his second child, Teddy, into the world and is settled with both his family and the Melbourne Football Club.
His third season in the red and blue is quickly approaching and despite some hamstring issues over the off-season, he says he will be ready to go come Round 1.
"I'll be back into the main group in the next week or so," he said.
"Obviously not the ideal preparation that I would like but I've been doing a lot of running and fitness work to try to get up to the level.
"So once I get back into the main group I'll have a five or six week period before Round 1 to get ready.
"I'm looking forward to getting out there with the boys – it's been a long pre-season."