MELBOURNE has appointed former Port Adelaide and Richmond defender Troy Chaplin as offensive coordinator.
Chaplin, who retired at the end of this season, played 215 AFL matches from 2004-16.
General manager of football operations Josh Mahoney said Chaplin's freshness out of the game was a pivotal part to his appointment.
"Troy has been preparing for coaching for the past five years, working with the Sturt Football Club and more recently with the Oakleigh Chargers in the TAC Cup, so he's invested in coaching, while finishing his playing career," he said.
"He presented really well and he's fresh out of the game and comes in with some new ideas.
"We think it's important for our coaching group to add some young recently retired players to our group, as the rest of our group is quite experienced with Ben Mathews, Jade Rawlings, Brendan McCartney and Matthew Egan.
"To add Troy to our mix will add a new perspective."
Chaplin said he was excited by the opportunity to join the club.
"When you finish your career as a player, it's a little bit of an unknown and you sit in the background and now I know I'm going to be starting with the Melbourne footy club and I'm really looking forward to the opportunity," he told Melbourne TV.
Chaplin acknowledged there was speculation that he would join the Richmond coaching box, but when Mahoney gave him a phone call recently, his path to Melbourne started.
"A couple of days later [after chatting to him on the phone], he asked me if I'd like to join in a coaching capacity and I thought about it for a couple of days and it didn't take too long to make the decision," he said.
"It was a great opportunity to come to a club that's on the rise and has got some great people in the coaching staff that I'm really looking forward to learning off and growing in my development as well."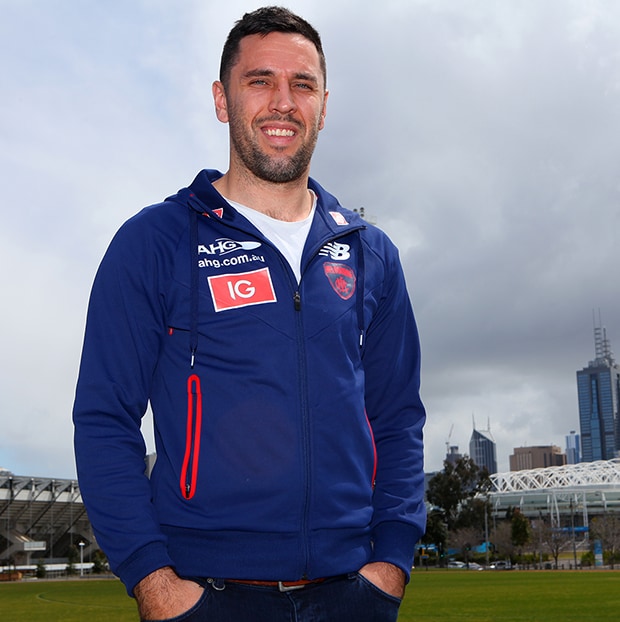 Troy Chaplin has joined Melbourne's coaching panel (Photo: Matthew Goodrope)
Chaplin represented Port Adelaide in 140 games from 2004-12 and made 75 appearances for Richmond from 2013-16.
He made his AFL debut in round four, 2004 against the red and blue at the MCG – the same day Mahoney played his first game for the Power.
Although Chaplin made just one appearance in his first season – the same year Port Adelaide won its inaugural AFL premiership – by 2006, he was a mainstay in the Power line-up and had received a NAB AFL Rising Star nomination.
In 2010, he finished second in Port Adelaide's best and fairest award, after coming third in 2009.
In his first season with the Tigers, Chaplin finished third in the best and fairest.
Originally from Maryborough Rovers/North Ballarat, Chaplin was selected by the Power at No.15 in the 2003 NAB AFL Draft. He then crossed to Richmond as a restricted free agent in 2012.
In recent times, Chaplin helped out Richmond's midfield in the last "six or seven weeks" of its 2016 season with now former Tigers assistant and newly appointed Port Adelaide coaching staff member Brendon Lade.
"The last six weeks at Richmond solidified the reason why I want to do it – I really enjoyed it and I'm looking forward to the challenge and the opportunity here," Chaplin said.