NO WONDER Melbourne's women players swapped their sneakers for boots for their first official training session on Tuesday night.
The footballs were out in force from the opening drill at Gosch's Paddock in Richmond in cold, wet conditions more akin to mid-winter.
As coach Mick Stinear was reminded, there's no time to waste as he and his assistants start preparing the Demons in a short pre-season to be ready for the AFL Women's competition kick-off in early February.
"Josh Mahoney (the Demons' football operations manager) pointed out, there's only 72 days until the first game," Stinear said.
Players were tested with kicking drills on either foot at the start of the 90-minute, non-stop workout.
"When you bring 27 players together for the first time, it's really about understanding capabilities and finding out where the group is at," Stinear said.
"We focused on some fundamentals and filmed skills and threw them in the deep end a bit and I'm really pleased with their understanding of the game and excited about where we can take this group.
"A lot of the drills was exploring and getting used to the ball (slightly smaller than the one usually used). A lot haven't played with the size four ball, (so they need) understanding how to manipulate it from hand to foot."
The footballs were out early on Tuesday night. Picture: AFL Photos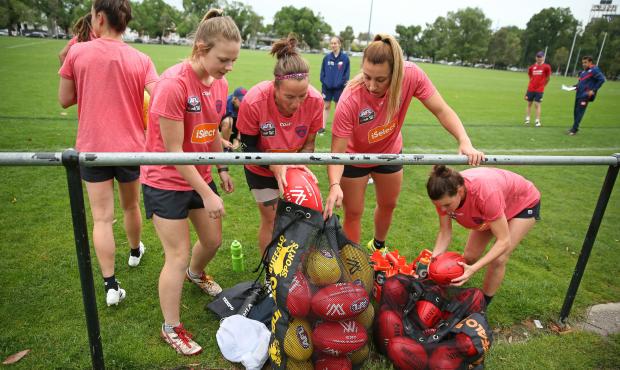 Melbourne will train on Tuesday and Thursday nights and Saturday mornings to allow for players' work and study commitments until the Christmas break. And the physical work will quickly ramp up later this week.
"We'll start to introduce that, just around the fundamentals, a lot of body work and understanding the contest. We'll build that in starting on Thursday," Stinear said.
"Saturday morning will be a key for us because they'll be fresh and ready to go, not after a long day at work or studies. We feel that's a good balance."
Match simulation will start when players return on January 5 and build towards a practice match against Carlton on January 21.
"We need to be fine-tuned for that and we'll be treating that as round-one dress rehearsal," Stinear said.
"We've got a lot of natural leaders, including Daisy (Pearce), Mel (Hickey), Karen Paxman, who have been involved in exhibition games for a long time. So they're naturally leading the way already. Then we'll allow a couple of weeks and then start to build a leadership group with player input."
Only rookie Cat Phillips missed the first training run. Although she had a valid excuse, she will be required to do an extra session to catch up.
"Cat is in the Philippines finishing off her Ultimate Frisbee commitments representing Australia. She flies in tomorrow, so we'll have a full complement," the coach said.
All smiles at Melbourne training on Tuesday night. Pictures: AFL Photos