ON May 21, 2017, Oskar Baker's mother lost her battle to cancer.
Prior to her passing, in a tragic time for the Baker family, Oskar – an 18-year-old with a dream – made his mum a promise.
And on Friday night, that promise was fulfilled.
In Round 9, Baker made his AFL debut for the red and blue and had his mum by his side every step of the way.
"I don't know if anyone noticed but I actually wear a black arm band in every game I play," Baker told Melbourne Media.
"That's just a little indicator I thought of a couple of years ago just to have her with me in every game I play and just as a little reminder.
"Even when I was lining up for that goal – obviously I would've loved to have kicked it – I just had mum in my head thinking about that.
"It's just a bit of a routine now I think, every game I play I'm just going to have her as a bit of a reminder, and that's in day-to-day life as well.
"It was special to be able to run out there, and in a way, have her with me.
"I definitely feel like she'd be really proud, that's for sure."
In the moments leading up to Baker's first game, his father Lee made a heartfelt speech while presenting the debutant with his guernsey.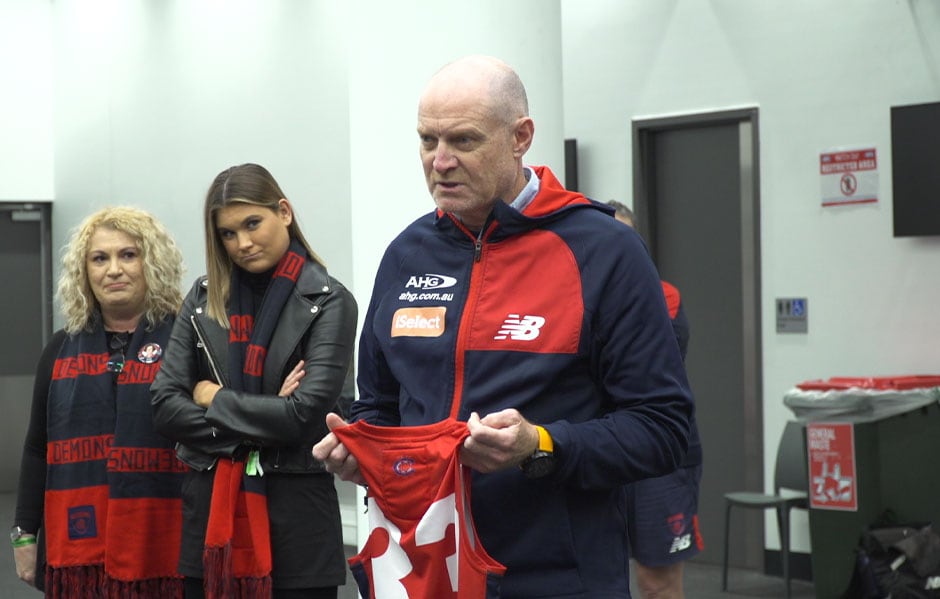 For those two minutes, the game at Optus Stadium seemed insignificant, as the Melbourne players and staff held back tears.
"It was such a special moment to have dad hand me the jersey," Baker said.
"He said the other day he's been preparing that speech for a while, so he was glad to finally get it out of the way.
"Speaking to other people, I think they loved it and they could hear the pure emotion in his voice and what he was saying.
"It was a really special moment and one I'll definitely cherish forever."