MELBOURNE has landed Casey Sherriff as its replacement player for Daisy Pearce and secured Chantel Emonson as its final category B rookie player for the 2019 AFLW season.
AFLW list manager Todd Patterson confirmed Sherriff would take Pearce's place for the 2019 AFLW season, as the captain is pregnant with twins, expected in March next year.
"The AFL has provided approval to place Daisy on the long term unavailable list for AFLW3 and have allowed us to replace her with a mature age player from the VFLW," he told Melbourne Media.
We are over the moon for Daisy and [her partner] Ben and look forward to her returning for AFLW4 in addition to the off field role she will play next season.
"Casey Sherriff will come onto the list from the Casey Demons program. Casey is a 20-year old, highly athletic rebound defender, who showed great progression on our VFLW list this season and will provide some good speed in our defensive half.
"We rated Casey very highly in our preparation for the draft so to add her to the list is something we are very excited about."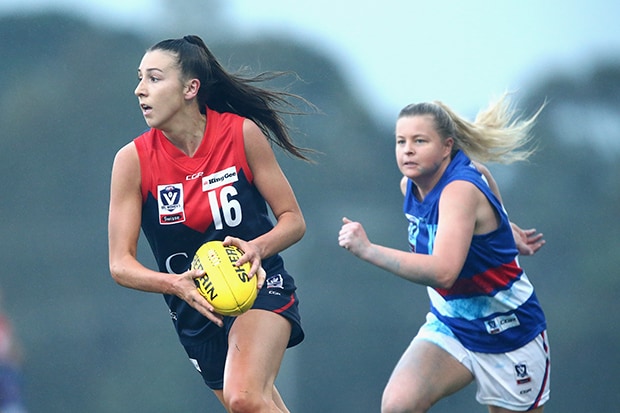 Sherriff in action in the VFLW
Sherriff said Pearce was "irreplaceable" but she was delighted to gain an opportunity with Melbourne.
"I can't replace her, but it's still so exciting," she said.
"I come from Traralgon and played a bit of junior footy for Gippy (Gippsland) Power for one or two seasons. I've loved my time at Casey and all the girls are great. It's such a professional environment and I love that, so that's good.
"I'd like to think I'm an athletic player in the backline, but I've played a lot of basketball when I was a junior. I played state basketball for a couple of years."
Emonson, from Berriwillock in the Mallee, joins the club as a category B rookie, as each club can sign up to two players that have not played football for the three years prior to the commencement of the winter season.
"Chantel came to our first VFLW talent search and from the moment she walked through the door we were drawn to her skillset. Chantel will bring some great flexibility to our team with her best position being on the wing," Patterson said. 
"Coming from a cricket background where she played at representative level [for Victoria] from under 15 to under 18 level Chantel is very clean with the ball and is a strong technical kick of the footy," Patterson said.  
"We now head into the draft with picks six, 15, 31, 43 and 52 on October 23, which is a really solid hand especially at the front end."
Emonson said she was rapt to join the club.
"I can't wait to get to know the girls and get out on the park. I'm excited to start to ramp things up and get out there," she said.
"This is my first year back playing footy. I played with the boys when I was growing up and then I was too old. I haven't played for 12 years, as I've been playing a lot of cricket and netball as well.
"The female game is starting to grow, so I thought 'why not get involved'. It's been an awesome decision and here I am today."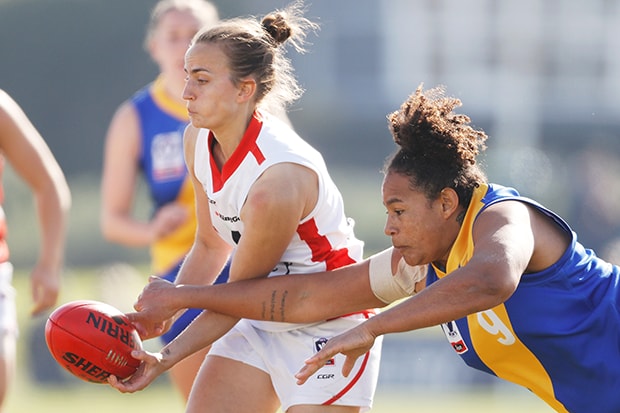 Emonson gets a handball away against Williamstown
Sherriff and Emonson join Shae Sloane (Melbourne) and Taylor Mesiti (Tasmania Kangaroos) as players drafted out of the Casey Demons program this year.
"It is a great endorsement for the VFLW program we have developed this season at Casey to have had four players join AFLW lists prior to the draft," Patterson said.
"All the coaches and staff at Casey have had a major contribution to helping the girls achieve this goal and as a club we feel it is very important to continue our long history of developing female talent.
"We hope to hear a few more Casey Demons players read out on draft day."