YOUNG boys grow up dreaming of playing in the AFL, and for two seasons, Corey Wagner did just that.
Wagner was selected by North Melbourne with pick 43 in the 2015 National Draft, where the aspiring footballer dropped his life in Queensland to follow his dream in the big time.
But along with the highs of playing on the biggest stage of all, Wagner suffered the lows of having his career cut short.
"It was a really big shock," he said.
"After playing games in your first and second year you don't really see yourself getting delisted."
Like any young player in this testing situation, Wagner was devastated and left uncertain about his future.
"Not really expecting it was probably the really hard thing," Wagner said.
"I had no real back up plan because … I thought I was still going to be there."
But after analysing his options, Wagner found his way to the Casey Demons.
"I went to Jade and as soon as I met with him I knew that's where I wanted to be this year," Wagner said.
"The way he spoke to me was he wanted to do everything to get me back into the system.
"Then he got the recruiters at Melbourne to sit down with me and talk to me about what I need to improve on this year.
"And I feel like it's starting to happen.
"I'm getting more of the ball and attacking again, so it's really working now."
Wagner has played all 10 games for the Demons this season performing consistently in a midfield role for his side.
Casey senior coach Jade Rawlings couldn't speak higher of the 21-year-old.
"His emotional investment, his work ethic to get his game better, his consistency – I can't fault him," Rawlings said.
"He comes in once a week to do extra touch work with myself or Matty Eagan at Melbourne.
"That's been a consistent thing he's been doing and it's been coming out in his game.
"I just hope he gets back to where he wants to (the AFL), and where I think he belongs."
While Wagner has had to deal with the disappointment of losing his AFL career, he is still thoroughly enjoying his football and work life.
"I'm a barista now which is unreal, I'm loving it," Wagner said.
And with less eyes on the VFL, Wagner is feeling more relaxed about his sport.
"There's a lot less pressure to perform," he said.
"It's enjoyable, but then again it's such a good life being in the AFL.
"You'd 100 percent prefer to be doing that, but it's just less pressure playing footy and enjoying footy again which is good.
"But I 100 percent want to get back into the system."
Wagner has committed himself to reaching the AFL again, saying his time with North Melbourne was nothing short of incredible.
"It was unreal," he said.
"It was the best lifestyle.
"Wake up, live and breathe footy which is awesome.
"Then you get your time off.
"That's why I want to work so hard this year and get back into it."
Wagner's first taste of AFL football was in round 13, 2016, when he ran onto Etihad Stadium for his debut match.
"It was awesome," he said.
"In my first year I played four games.
"I got to play with the likes of Boomer (Brent) Harvey, Drew Petrie, (Nick) Dal Santo, (Michael) Firrito, and even the blokes now like (Jack) Ziebell, (Ben), Cunnington and (Shaun) Higgins.
"It was crazy.
"My first game against Hawthorn is still a blur.
"I don't even remember playing, it was so loud and awesome."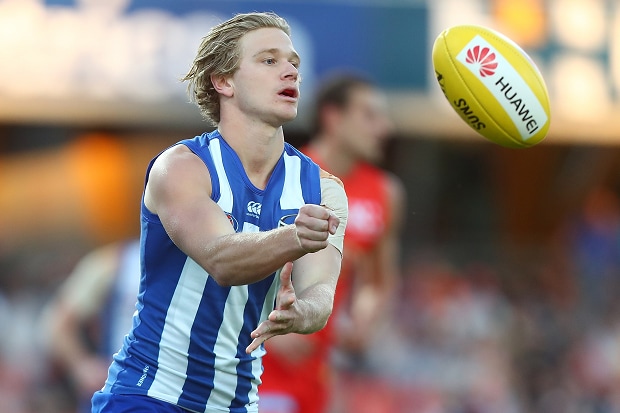 Wagner in his playing days with the Kangaroos
In his second year at the club, Wagner managed four more games while battling an ankle injury.
"I started to feel comfortable in the environment and really started to peak," he said.
Although the turn of events that led Wagner to the VFL wasn't what he was hoping for in 2018, it has created a positive family story.
Albeit unplanned, Wagner has had the opportunity to play with his brother Josh this season.
"Playing with Josh was a bonus," he said.
"Then again, I didn't really want to play with Josh because I was hoping he would be in the ones."
The pair had hardly pulled on the same guernsey over their junior years, so Wagner is loving the opportunity to play with his older brother.
"I reckon I had played more against him than I had with him," Wagner said.
"But it's been unreal.
"You feel a bit safer when you've got your big brother there playing with you."
Wagner has enjoyed his time with the Demons for many reasons and is beginning to find his feet in the game again.
"I think at Kangas I was trying to play the role too well and I got away from my game a bit too much – which is get the ball and create goals," he said.
"Going into the midfield with Casey and Jade having the confidence in me, I've got my confidence back.
"I'm playing with a bit of spark, I'm running with the ball and showing what I can do again."