CHRISTIAN Petracca has signed a new two-year deal, which will see him remain in the red and blue until at least the end of the 2020 season.

Despite already being locked in for 2018, Petracca was eager to extend with Melbourne and add a further two seasons onto his contract.
The 22-year-old said there was no doubt in his mind in what he wanted to do.
"I was always going to sign here, as I love the club and I'm pretty passionate about what we're striving for and where we want to get to," he told melbournefc.com.au.
"There wasn't any pressure at all – I was out of contract this year and I wanted a bit of security."
Pledging his loyalty to Melbourne, Petracca expressed how important it was for him to remain a one-club player.
"It means everything. The club put faith in me as an 18-year-old kid and drafted me, and all I want to do is repay that faith," he said.
"That's by winning premierships and staying at the club for as long as I can.
"The way the club's heading at the moment, I couldn't picture myself anywhere else. I love the environment, my teammates and the coaching staff, and I'm just thrilled to be here."
Although the decision came easy, he did have to make a quick phone call with someone special before signing on the dotted line.
"I did call mum up to tell her about it and I asked if she was happy," Petracca said.
"She said as long as I was happy, which I was, so we signed.
"It's family, so it's important that they're on board."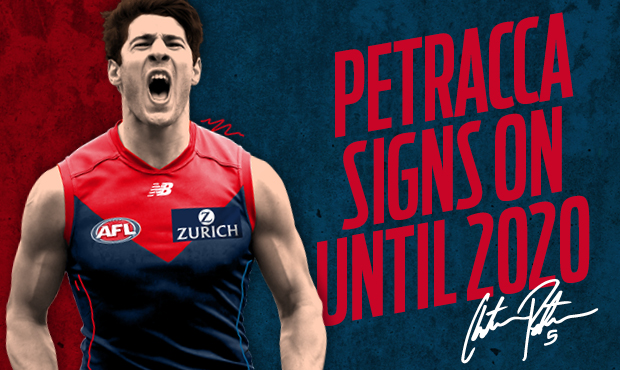 Selected at No.2 in the 2013 NAB AFL Draft, Petracca kicked 26 goals and averaged 18.8 disposals after spending more time up forward in 2017.
As one of the most exciting players in the competition, he provided a spark when Melbourne needed it, and shared glimpses of what supporters can expect in the years to come.
The explosive talent said that now was the perfect time to get the deal done.
"I thought before the season would probably be the best time to do it," he said.
"It wasn't really a stress but it's just good to get it off my shoulders and really start to focus on the season."
With Round 1 less than five weeks away, Petracca is looking forward to a big year ahead.
"Being part of and winning AFLX was pretty cool and we're super excited for JLT to start this week," he said.
"It's our first practice match of the year, so it will be great to get down to Hobart."
But the youngster is only after one thing in 2018.
"It's winning a premiership," Petracca said.
"It's pretty hard to talk about premierships in February, but that's what every club strives for and hopefully we can get there."