MELBOURNE CEO Gary Pert says there has "never been a better time" to be a Melbourne fan, as the club enters an exciting era on and off the field.
Speaking to Gerard Whateley on his SEN program this morning, Pert encouraged lapsed fans to get back on board the Demons bandwagon with promising times ahead.
"It has been a tough period for the club and there's been so many people that have disengaged," Pert said.
"What I want to do is re-engage those people. There's 10,000 members over the last five or six years whose war stories I've heard, who need to come back.
"This is a great time to do it. I would encourage everyone to know it's a great time, jump back on board, be part of it and share in the excitement.
"In the finals, I could just see this club starting to re-energise itself again and get behind the players on-field.
"I don't want Melbourne to be more like any other club. I want Melbourne to be more like Melbourne – it's a great club with a great history, but we need to re-engage the people."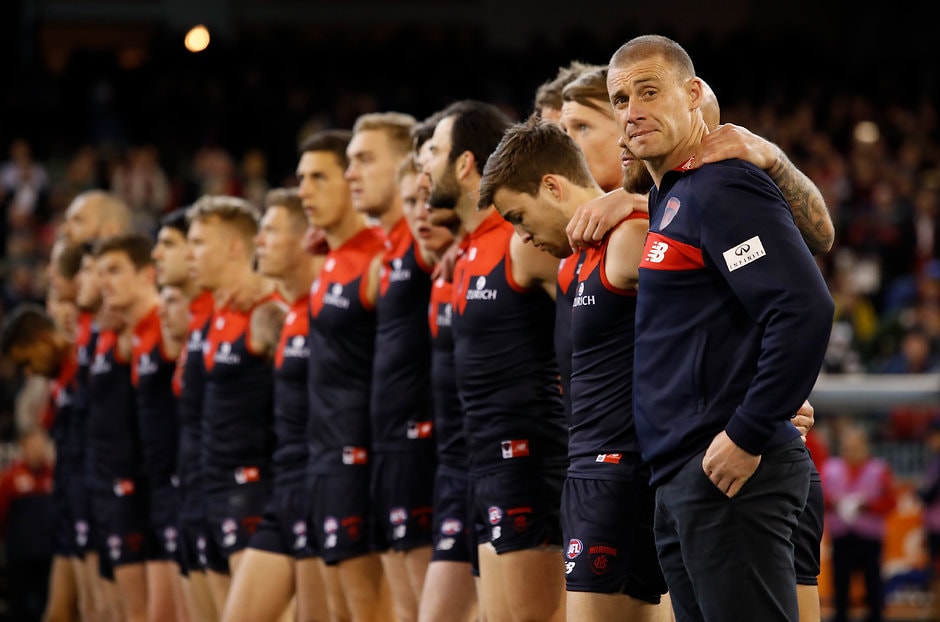 Goodwin looks on prior to the elimination final (Photo: Adam Trafford)
With Melbourne looking to the future, Pert has strong belief that the on-field direction is in safe hands under coach Simon Goodwin and General Manager of football operations, Josh Mahoney.
"After my first catch up with [Goodwin], I walked away so impressed," Pert said.
"This was a leader of the club, more than just the player group, this is someone who understands the influence that he has in a broader sense.
"As a leader and ambassador, you literally as a CEO couldn't ask for anything more from a coach.
"I've spent this morning with the new recruits that have just come in and they've had the same experience in the one or two contacts they've had with Goody. They're so excited to be a part of the program that's been put together.
"I couldn't be more impressed with Goody and Josh Mahoney running the whole program – the combination of those two is very, very good."
Expanding upon Mahoney, Pert said the experienced footy boss – who was a contender for the CEO role in mid-2018 – would take on more commercial responsibilities under an expanded portfolio in 2019.
"Mahoney is a great leader and has so much to offer, but he also acknowledged in the broader commercial side of the business, that he's still got some experience to be part of," Pert said.
"In Josh's new role he's overseeing our whole Casey program. As a leader, he's in great shape and he's excited about where things are at.
"Josh was there when Roosy (Paul Roos) come on board rolling into Simon, so he's been the one that culturally has been a constant as our program has been developing. He's going to play a bigger role down the track."
Pert was also quizzed by Whateley on Melbourne's plans to build a new facility, with multiple options and stakeholder feedback under consideration.
"One of the main reasons I joined the club is we need to build elite facilities," Pert said.
"We're currently spread out in four different locations in the MCG and AAMI Park.
"We need to build a facility where the club can get together and to create a meeting place for our members and supporters before and after games. That's what great clubs are about.
"We've got three or four options we're working through. Because of the nature of where we're looking, there's lots of stakeholders.
"These things are going to play out over the next couple of years, but we're realty wanting it to happen as soon as possible.
"As a club we're ready to activate that now because we really need those facilities … but it won't happen until we get all the stakeholders engaged and we get the right proposal that works with everyone."
Listen to the full interview between Gerard Whateley and Gary Pert from SEN below.