CASEY recorded a thumping 65-point victory over the NT Thunder on Saturday afternoon, playing with flare in Alice Springs.
The Demons got themselves back onto the winners list in the VFLW competition with a complete four-quarter performance – setting the tone from the get-go.
With the perfect backdrop at TIO Traeger Park, the Dees skipped away to a 15-point lead in the first term and never looked back. They dominated in the centre and used their pace on the outside to boot 13 goals for the game – an effort that pleased co-captain Bianca Jakobsson.
"We've been really building and had a couple of close losses over the past four or five weeks, so to be able to put that score on the board and have everything come together, it's really exciting," Jakobsson told Melbourne Media post-game.
Casey benefited from the experience of 12-AFLW listed players on Saturday, with Eden Zanker (three goals) and Kate Hore (two goals) both leading the way up forward.
But the Demons weren't reliant on any individual – it was a complete team effort that saw them run away with the four points.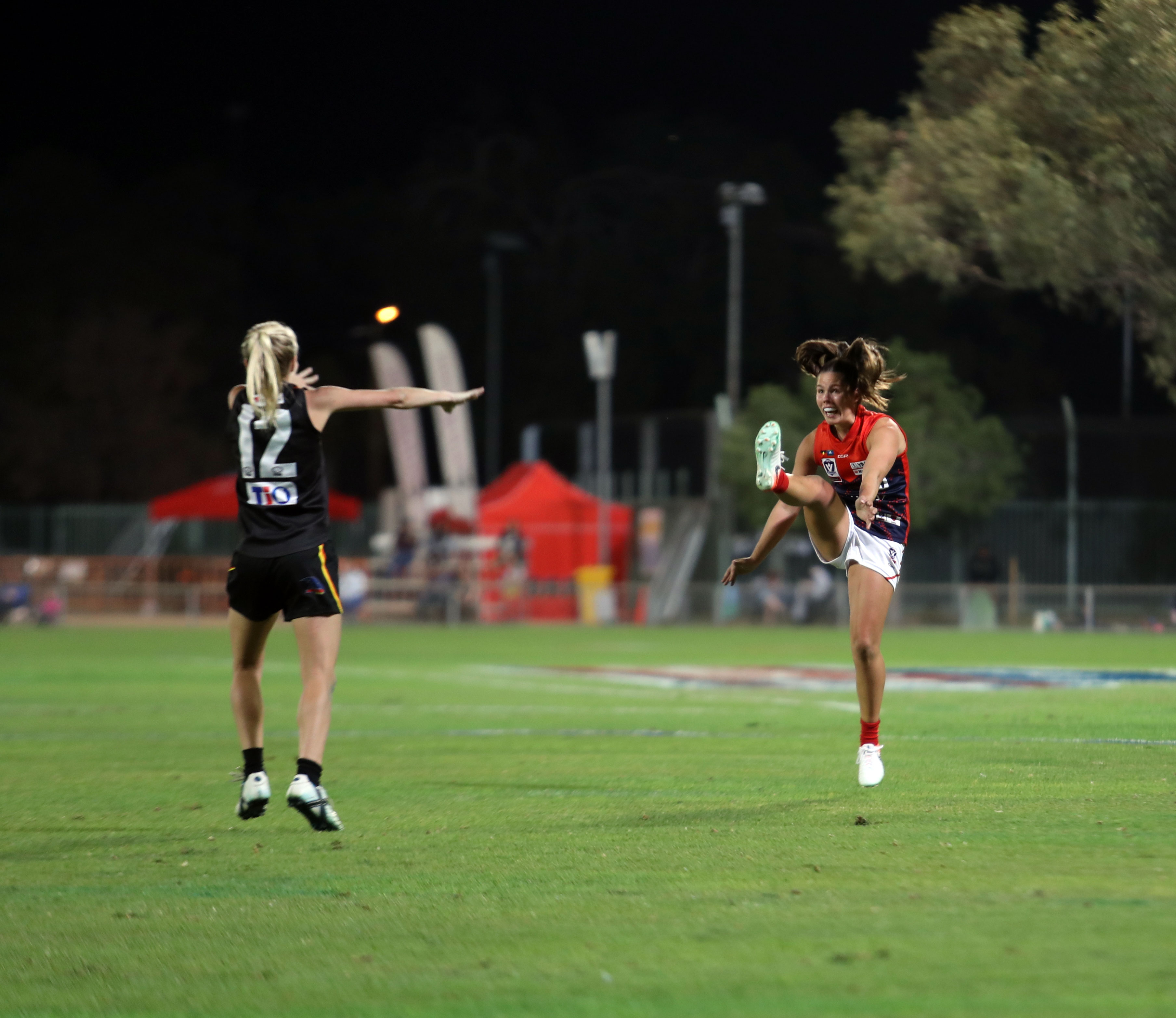 "We've been up there with the best teams for a lot of the year, but we just haven't quite put together a consistent four-quarter effort," Jakobsson said.
"Today, that was absolutely a four-quarter effort. There wasn't anything different, everyone just played their role and really bought into our game style and what we stand for."
Casey entered Round 11 in ninth position on the ladder, with Saturday's victory proving to be crucial for the red and blue.
"It was really important in the context of the year," Jakobsson said.
"We've spoken about where we're at, and we're not happy with where we are sitting, so to be able to get that win on the board and bring that momentum into the next five weeks is really important for us.
"We know we can mix it with the best and we really showed that today."
The Casey girls were required to adjust to the warm conditions in Central Australia, but they were certainly up for the challenge.
"I love coming up to Alice Springs – I always really enjoy getting out in the community," Jakobsson said.
"Playing on a dry deck as well was a really big contrast to last week at Casey Fields, so the girls absolutely love it."
The Demons will return to Victoria next weekend as they take on the Southern Saints at Trevor Barker Beach Oval on Sunday.
CASEY DEMONS 3.3 7.5 9.7 13.7 (85)
NT THUNDER 1.0 2.0 3.2 3.2 (20)