IN JUST its second season, Casey's VFLW side was unable to secure a finals berth, but co-captain Bianca Jakobsson said the year didn't go to waste.
With six wins from their 14 games, the Demons showed plenty of promise and improved as 2019 wore on.
"We started to put some really good games together, so it was definitely a shame to not make finals," Jakobsson told Melbourne Media.
"We knew we could definitely be up there with the best and we really started to jell and learn the Melbourne way to play.
"There are definitely a lot of positives to take out of it, flowing into next year."
While the Demons' best footy was of a high standard, their ability to put together a complete four-quarter performance let them down throughout the season.
"It was disappointing to miss out on finals – we just struggled with that consistency," Jakobsson said.
"But there was a whole lot to take out of the year.
"We had so many Melbourne-listed girls come down and play for us which was really good.
"Lampy (Sarah Lampard) and Kempy (Ainslie Kemp) got to play their first games after being injured last year. Lily Mithen, Maddy Guerin, Meg Downie – it was great to have those girls down at Casey and get the development in there.
"And to have Mick (Stinear) in a game day role was huge for us. To have him there and coaching us the way he would at Melbourne – that was really valuable."
The VFLW season provided a great opportunity for the Melbourne girls to practice their craft, putting them in a strong position ahead of the 2020 season.
"We noticed a shift from last year, having more girls down and getting that continuity together," Jakobsson said.
"Being able to train together 12 months a year definitely makes a huge difference and is really noticeable as well."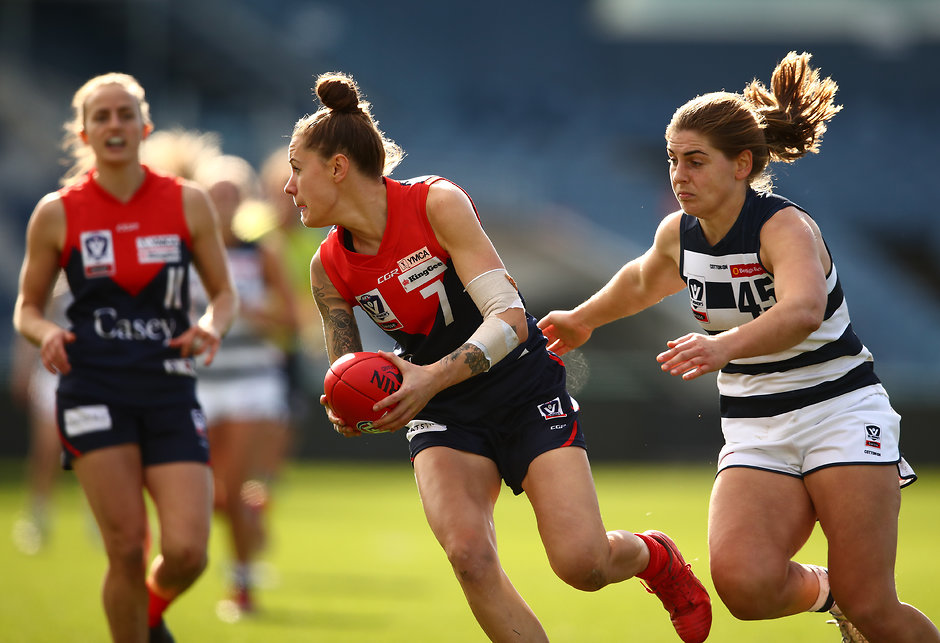 And while Casey allows the AFLW squad to work together, it also provides a pathway for some younger girls to step in and develop, which Jakobsson saw as a highlight of the campaign.
"There was a lot of improvement among the young girls," she said.
"Bridie Winbanks in the ruck, Nic Garner just coming through the ranks, Georgia McLean, Kaila Bentvelzen as well.
"Just to see the improvement of those girls after two years in the VFLW system – it's just so good to see them coming through.
"They're improving and learning and picking up the Melbourne game style.
"That's the sort of stuff I love seeing, those young girls improving."
And with a strong culture built throughout the club, the passion and spirit of the entire playing group is evident when they take the field.
"It was really enjoyable, just having that Melbourne style flow over to Casey," Jakobsson said.
"It was just a great environment and a really fun year."