THE CASEY Demons have won just one of their opening four games of 2019, but senior coach Jade Rawlings hasn't been deterred.
Melbourne's injury list has taken a toll on the VFL affiliated side, but Casey has overcome plenty of challenges to show signs of improvement early in the season.
"I'm actually really pleased with how the guys have been progressing," Rawlings told Melbourne Media.
"We've had some inexperience with our team both at VFL list and AFL. On the weekend of the nine AFL players we had in, eight of them were first or second-year players.
"In that situation they get exposed to some really good opportunities to play against good AFL opposition and in key roles."
And while the Demons side is significantly less experienced than last year's Grand Final team, Rawlings has taken plenty of positives out of the campaign to date.
"It's ended up working really well," he said.
"Other than a really poor showing against Box Hill, I think our competitiveness has been really pleasing and I can't ask much more of them. Just a bit more consistency over four quarters."
Some of Melbourne's draftees have shown plenty of promise early in the year, with the likes of Kade Chandler, Tom Sparrow and James Jordon catching the coach's eye.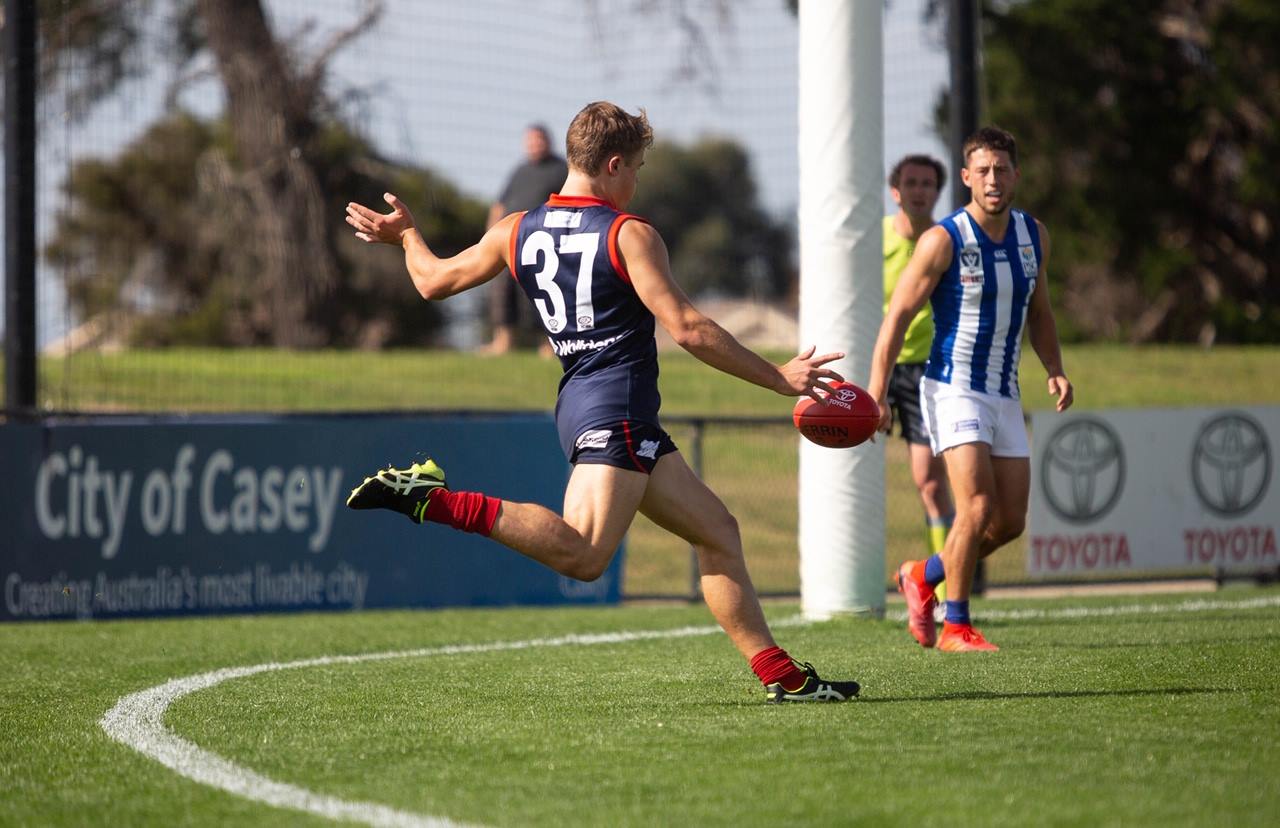 "There's no cap on where they can play," Rawlings said.
"Chandler has impressed everyone with his capacity to get to the drop of ball and be clean with that. He has good awareness around goals.
"Sparrow obviously got an opportunity in the first couple of weeks. [Over the] last two weeks I think he's taken some real steps forward in his development.
"Jordon's the other one. We've got the confidence to put him on some pretty clever small forwards at the moment and he's made some big inroads in his development on his contest work. We still think his best is well ahead of him."
Although the Dees aren't off to a flyer in terms of wins and losses, Rawlings is happy with how things are travelling and can see results turning in his favour very soon.
"No doubt we'd like to be winning, but that doesn't precede our focus in relation to how we develop this group of players. Have them play the right way and the results are a by-product," he said.
"There's no doubt the competitor in myself and the coaching group and the footy club, we'd like to win. But as long as we keep seeing our players develop and put in really strong competitive efforts, and play the Melbourne/Casey way, we'll be satisfied, and we're pretty sure the wins will take care of themselves."
The Demons will be looking to register a second win of the season when they meet Essendon at Windy Hill on Saturday afternoon.