AFTER being selected with pick No.27 in the 2018 National Draft, Tom Sparrow was eyeing off a big debut season with the Dees.
He pulled on the red and blue against Port Adelaide in Round 1 and travelled down the highway to face Geelong the next week, but unfortunately couldn't add any more senior games to his tally.
The 19-year-old went down with a knee injury early in the VFL season and was ruled out for the remainder of 2019.
But with a positive mindset, Sparrow used the year to learn from those around him and grow as a footballer.
"It was almost a blessing in disguise in a way," he told Melbourne Media.
"Obviously you don't want to be sitting on the sidelines having to do rehab, but at the same time you're learning the game better.
"You're watching players do different things on the weekends and get some different perspectives of the game.
"It's not what you want to be doing ideally, but it will be good in the long run for when I am back playing."
Tom Sparrow kicks his first goal in the AFL!! #AFLDeesPower pic.twitter.com/mfhXrQuFpk

— AFL (@AFL) March 23, 2019
While it was disappointing for a young player to be stuck on the sidelines, he quickly discovered that there was a lot of development to be done away from the field.
Sparrow experienced it all this season and believes he'll be in a better place now to attack 2020.
"I've done a bit of everything in terms of pre-season, playing a few AFL games, VFL and rehab as well," he said.
"It's all been about learning. Ego (Matt Egan) gave me a few jobs to do over my rehab just to get some insight which has really been helping me.
"I was going to the footy with Macca (Brendan McCartney) almost every week – watched a few games and coded them on the computer.
"It's a lot more watching footy than playing, but it has still been good."
Sparrow wasted no time building his knowledge this year, learning from the likes of Jack Viney, Nathan Jones, Jordan Lewis, Jake Melksham and Corey Maynard.
"It's all been a big collective effort," Sparrow said.
"I picked Lewy's brain for a little bit which was good – he obviously has a lot to share. He's a very intelligent footballer and great with networking connections.
"I got some advice from him and did the same with Vines as well.
"I came and did a bit of boxing with him (Viney) early in the year, then did a few touch sessions after that. He shared his expertise with me which was really helpful to be honest.
"It wasn't a whole lot of information, but it's just those little things in your game which you can change to make it more efficient and easier, which is really important."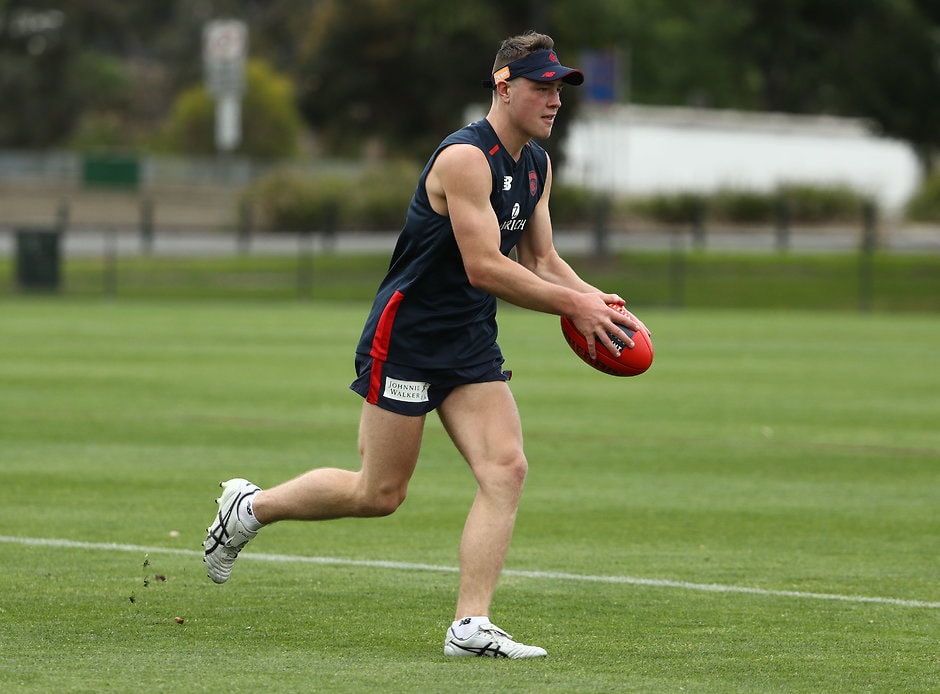 While Sparrow was taking on everything that was thrown at him, he had to do so while facing some new challenges.
The South Australian moved states at the end of 2018, which was a big deal for a youngster fresh out of school.
"The hardest part when I got here was, I didn't know where anything was," Sparrow said.
"It was a new city, I didn't know how to get anywhere, didn't have a car for a little bit.
"Now I'm feeling really good, starting to know where a few things are, and the boys have been really welcoming, so I love being here."
Then, for the first time in his short career, Sparrow was struck down by injury, challenging him in yet another way.
"I've never had an injury that's required surgery – never had to do rehab before – so that was a different experience," he said.
"But now I've learnt about that and hopefully I can stay out of there.
"I just sort of ran out of time to come back – I got one training session in before the end of the year – but I'll be back for day one of pre-season.
"I'm just more ambitious to get back better than ever now and I'm ready to hit the ground running."