IT WAS A DECISION Tim Smith didn't make lightly, but the 'Bull' has called time on his AFL career.
After a tough run with injury across his three-year tenure with the Demons, the 28-year-old has hung up the boots, looking ahead to the next phase of his life.
"I think this is the best opportunity for me and my family," Smith told Melbourne Media.
"I'll get to spend a lot more time with my daughter and my soon-to-be wife and really enjoy that aspect of my life.
"I'm not getting any younger and I don't feel like my body can get what I want to get out of it.
"I don't think my body can handle that demand anymore and I just felt like it was the right decision for myself, and it allows someone else to come in and have the opportunity like I've had."
Smith showed plenty of promise during his time with the club, playing 13 games as a key forward and chopping out in the ruck.
But injury got the better of the mature-aged recruit, as he was unable to play more than three games in a row at any point during his journey.
"On one hand it's frustrating, but on the other hand I see my AFL career as being more than I ever expected it would be," Smith said.
"I still probably can't believe I ever made it to 13 games."
The 192cm tall earned his stripes with the Casey Demons in the VFL, before finally getting his chance at the top level when he was picked up in the 2017 Rookie Draft.
Although Smith didn't have the usual path to the AFL, he never lost faith.
"I always believed that I could play AFL and I was pretty determined to prove to a lot of people that I could, and to myself," he said.
"I don't think many guys hang around at VFL level for five years unless they think they can get an opportunity, so I thought I could make it."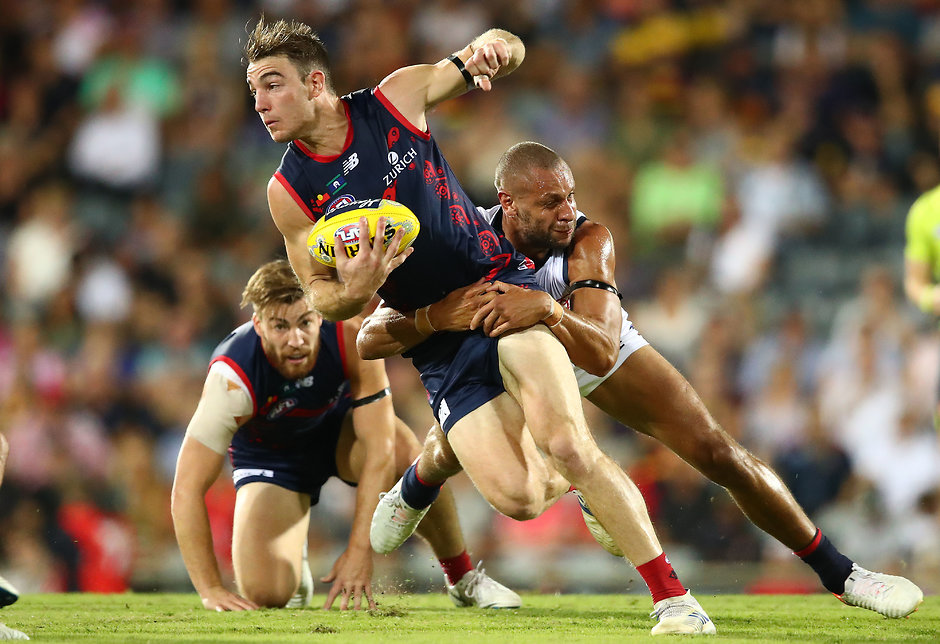 But unfortunately, after just his third year in the system, Smith realised it was time to walk away.
"It was probably when I hurt my foot towards the end of the season," he said.
"I had a lot of things to weigh up – I have a young family now and I'm heavily interested in plumbing outside of footy.
"I had to decide whether I wanted to go through another year of potentially getting injured and being on the sidelines, or who knows, you might have a good year.
"It was the hardest decision I've had to make in a long time – to be able to say to Goody (Simon Goodwin) and Tim Lamb, that I want to give this away – because it's something that you strive and work so hard to get to.
"But the decision was for me and my family."
Smith is bowing out of the game sooner than many would've thought, but he says he enjoyed every element of being a professional footballer.
"The lifestyle and the training and the demands are super intense, and everything is looked at via a fine-tooth comb, but I really enjoyed it and loved every minute of it," he said.
"Being able to have lived that is pretty special."
Now, Smith is looking forward to his next step, hoping to get back into plumbing, while of course being a great family man.