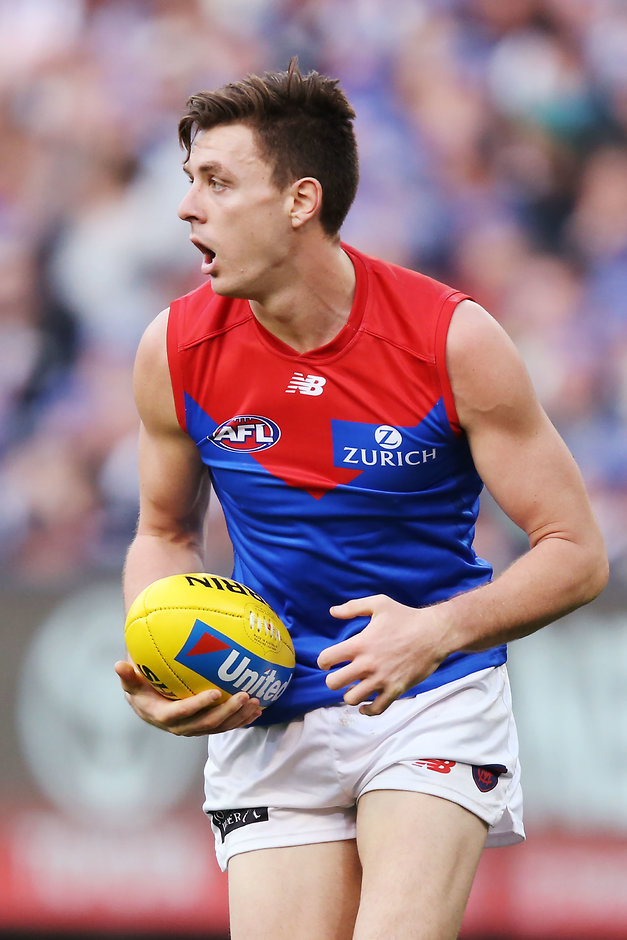 MELBOURNE has been struck by injury in the lead up to Round 14, with Jeff Garlett, Michael Hibberd and Jake Lever all suffering blows in the past two weeks.
Lever has had a difficult start to his career at the Dees, rupturing his ACL in Round 11 last season, and upon return to the senior side, he copped a knock to that same knee.
The 23-year-old managed to play out the Queen's Birthday game, but has since pulled up sore, and the club is opting to take a cautious approach moving forward.
Lever's AFL return was initially delayed by an ankle injury sustained in the VFL, but his most recent setback was purely bad luck.
The former Crow will continue to be monitored over the next week as the club determines how much football he will miss, but fortunately there is no concern around the previously injured ACL.
Garlett, who went down with a shoulder injury in the pre-season, dislocated that same shoulder at training on Wednesday and will be getting a further diagnosis for it on Monday, while Hibberd has also had a follow up injury, having surgery after Queen's Birthday to fix a plate in his collarbone.
The club is continuing to be careful with Aaron vandenBerg (foot) and Joel Smith (groin), with no timeframe set for the pair just yet, but Neville Jetta is on the mend and could return in one month's time.
In more positive news, Sam Frost (concussion), Corey Maynard (concussion), Harry Petty (knee) and Tim Smith (illness) are all back to full fitness and trained with the main group this week.
Elite Performance Manager David Misson provides an update on the progress of some key Demon's below.
Injury List
Jake Lever | Knee – TBC
"Jake had an incident early in the Queen's Birthday game where someone fell across his knee, and this is the knee that he had operated on last year. We've had scans and he has a little bit of bone bruising which explains the pain he's getting when he loads that knee. His ACL is intact and he hasn't done any structural damage at all, but we want him to be pain free before we start loading him again. We're not super worried about it but we want that knee to start feeling good. He might be right to play next week, or it might take three to four weeks, we'll just wait and see."
Jeff Garlett | Shoulder – TBC
"Jeffy injured that shoulder in a tackling drill. It was the shoulder he dislocated up in Shepparton against Richmond in the JLT game. He just had an incident at training where he dislocated it again and it's probably worse than the first time. He's going to see a surgeon on Monday – not necessarily to have surgery but just to get some advice. We've got to wait until we get some thoughts from the surgeon before we know a timeframe."
Michael Hibberd| Collarbone – 1-2 weeks
"What had happened was the plate had started to come off the collarbone, so he had to go in after the Queen's Birthday game and have that plate reattached. He's seen the surgeon already who has basically given him the green light, and he's training really well so he's a definite chance to play against Brisbane next week."
Neville Jetta | Knee – 4 weeks
"Neville's going really well. He's started agility work at training, and he's done some fast running, so we'll look to fast-track him a little bit."
Jake Melksham | Foot – 4-6 weeks
"It's pretty slow progress for Jake. He's now out of the boot but his foot is still very stiff, so he's probably got to wait another week before he starts running. He's going to be a little bit longer rather than shorter."
Tom Sparrow | Knee – 6-8 weeks
"He's pulled up really well from surgery and he'll start running next week, so our aim is definitely to get him back playing before the end of the year."
Aaron vandenBerg | Foot – TBC
"He's still running but only twice a week, so his progression is quite slow. There's no real time frame, we'll just be cautious with him."
Joel Smith | Groin – TBC
Guy Walker | Shoulder – Indefinite
Aaron Nietschke | Knee – Season