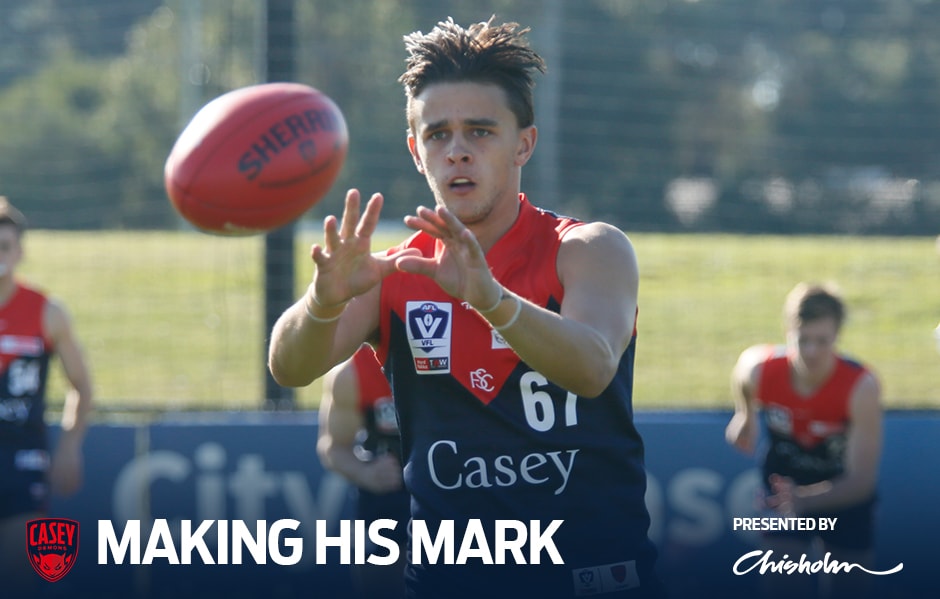 I now have a sense of belonging at the VFL level. Whether my opponent is tall, small, AFL, VFL it doesn't matter… I just back myself in. I know to play my own game, which has meant a really positive start for me this year.
Tom Freeman
AFTER working hard in the off-season, Casey Demons defender Tom Freeman is starting to see the fruits of his labour paying off on the field enjoying a stellar beginning to season 2019.
"The back end of last year, I wouldn't say I didn't belong at the level, but I was a kid," Freeman told Melbourne Media.
"A kid more so in the mental side and the physical side of football… But I was still learning from a lot of the older guys.
"But now this year, being a bigger body, I'm feeling a lot more confident in myself."
Forging a consistent place for himself in the Casey backlines, the 20-year-old is brimming with his new found confidence knowing he belongs at the VFL level of football.
"I now have a sense of belonging at the VFL level," Freeman said.
"Whether my opponent is tall, small, AFL, VFL it doesn't matter… I just back myself in.
"I know to play my own game, which has meant a really positive start for me this year."
Freeman is averaging 14.2 disposals in his six games of VFL football this season and looks to be an almost certain name on head coach Jade Rawlings' team sheet every round.
He is well on the way to achieving a number of goals he set himself before the season.
"My goals at the start of the year were to find a spot in the team," Freeman said.
"Make that spot my own and being able to play as many games of footy as I can.
"I set a goal of about 10 games this year, but that is obviously just a little goal… But, for 2019, my major goal is to be able to play consistent footy week in and week out."
The humble Freeman has been one of Casey's most consistent players in the young season, competing for every ball and ramping up his defensive pressure, something he credits the result of the defensive group trusting the Casey way of football.
"It has been really good this year, we are all buying into the defensive game plan, the defensive set-ups and the defensive structures," Freeman said.
"We are gaining trust between the VFL guys and the AFL guys.
"They can trust what sort of performance they are going to get out of me, and I can say the same about the other guys being able to trust them."
Freeman displays a maturity beyond his years, and you can see his confidence continues to increase as he becomes more and more comfortable in the Casey system.
Coming to the Demons at the beginning of the 2018 season, Freeman joined his older brother James on the Casey VFL list.
While having a family member on the team definitely helped with those initial nerves, Freeman was confident he would quickly be welcomed into the Casey family.
"Casey is such a strong, passionate and family-friendly club," Freeman said.
"My expectation of the Club before joining was that I would be welcomed in with open arms as another brother.
"That is exactly what has happened… I find the footy club a really calming place."
It wasn't just on the field where Freeman was able to learn in his first VFL season, but also away from the field about what is needed to be a consistent footballer at this level.
"Obviously being younger last season, I just wanted to learn," Freeman said.
"Learn what the weekly routine of being a VFL-footballer is like… Learning the training and being able to manage your body.
"There is really good support staff and a really great support group at Casey.
"I couldn't be happier with how things have been going over the last 18 months."
With a high volume of off-season changes to the Demons squad, Freeman quickly found himself amongst the more experienced players of the Casey style of football.
That is when the former school football captain's leadership skills came to the surface, seeing him step in to help his new teammates adjust to the Casey way and share the values the Club honours.
"A lot of the guys who came to the footy club, especially the younger TAC Cup guys, players like Matt Gahan and Jai Taylor, they are guys who I went to school with," Freeman said.
"So being a second-year player, I was confident in myself to know our game plan and our game style.
"I was able to provide knowledge to the other guys to help them learn and help them by sharing from my own experiences.
"I hope it gives them confidence in their own games so that they don't go into their shells on the field."
Freeman speaks with the thoughtfulness, the passion, and the poise of a future captain, already displaying leadership skills around the Club, skills inspired by a footballing hero.
"Being a Saints fan growing up, I looked up to players like Nick Riewoldt," Freeman said.
"Not only the way he was a leader at his footy club, but also how he lived his life."
While he relished watching Riewoldt command the football field, another football hero for Freeman was at home, looking to his father Peter for guidance.
Freeman's father played five games for St. Kilda in the late 1980s, before extending his career by playing in the WAFL, giving Freeman a resource to ask for advice during his own career.
"I've had my Dad as my coach, so being able to tap into his footy brain after him having a pretty good footy career as a defender is great," Freeman said.
"Being able to emulate some of the things he would do on the field.
"But also being able to add the things that I can do."
Another source of guidance for Freeman comes from an established elite AFL defender who happens to share the same Demons locker room.
"I like the way Jake Lever goes about his footy," Freeman said.
"He is a really passionate leader and the way he talks to us and teaches us younger defenders.
"But also the way he defends, playing as an attacking intercept marker."
Like his father and heroes before him, Freeman is well on his way to marking his own mark on the football field.
While his on-field performances are going from strength to strength, Freeman is also relishing the enjoyment he is experiencing away from the football field giving his life a tremendous balance, stressing the importance of putting himself first.
"I like to have a day to myself where I can relax and re-energise for the week ahead," Freeman said.
"I like to get out on the golf course, I wouldn't say I'm a great golfer, but I do like to get down to the driving range and play some golf.
"I catch up with some of my close mates a few days a week.
"I am doing things that make me feel comfortable and I'm really enjoying life at the moment."
The balance is resulting in the best football of Freeman's young career.
For the Casey fans, seeing the number 67 taking the field and heading to the backlines provides them the confidence they are cheering a player who is going to give it his all for the entire four quarters.
While for the number 67, he is having the time of his life wearing the red and blue.