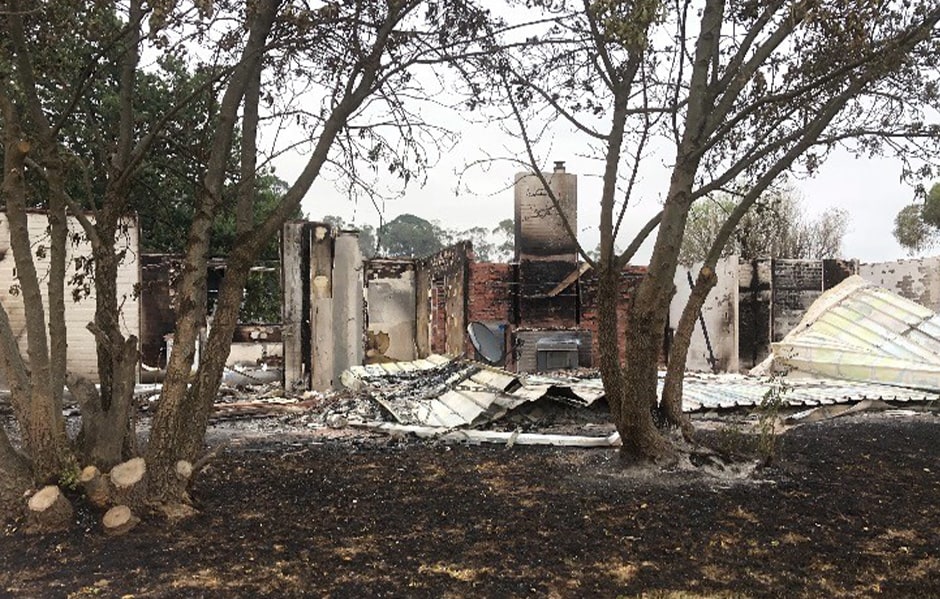 His attitude towards it was very pragmatic and noble.
Jade Rawlings
CASEY Demons recruit Jack Griffiths spent months renovating his Bunyip North home, only to see it burn to the ground just two weeks after moving in.
Since coming across from Perth, Griffiths and his partner Emily have been working tirelessly on preparing their house, getting set for a new life with a baby on the way.
But they are now left homeless with the need to rebuild.
"We'd been working on the house and doing it up to move in, so it's quite annoying because we put in all that hard work and effort, and then it just burnt down," Griffiths told Melbourne Media.
Fortunately, Griffiths was at footy training at the time of the incident and no one was hurt, but the severity of the fire took him by surprise, and he wasn't able to salvage many of his belongings.
"We weren't expecting it to come across," he said.
"Unfortunately the roads were all blocked so we couldn't take anything with us, but we still didn't know how serious it was until we got a phone call from our neighbour."
After the devastating news surfaced, Casey senior coach Jade Rawlings decided the club needed to rally around the youngster and help him get back on his feet.
"It was incredibly disappointing and sad with what happened to Jack," Rawlings told Melbourne Media.
"His attitude towards it was very pragmatic and noble. His first comment to me was, 'At least no one was hurt'."
Rawlings saw this tragedy as an opportunity to demonstrate how strong the connection is among the club and provide Griffiths the support he needed.
"He came to training on Tuesday night and he was overwhelmed by the support of our staff and our players," Rawlings said.
"That's what we do as a club, we look after our people.
"It's Jack and his family's welfare first and foremost for us."
The Casey Demons took every opportunity to help Griffiths, using Saturday's double-header at Casey Fields to raise funds for this incredibly important cause.
"Together with the Melbourne Footy Club, Casey did a raffle on the JLT day at Casey Fields," Griffiths said.
"Melbourne were kind enough to donate a membership and a few signed things from players and the boys just rallied around and sold some raffle tickets.
"I couldn't believe it – it was amazing."
Griffiths said he was extremely humbled and grateful for the club's support.
"It's one of the nicest things that's ever happened to myself and Emily," he said.
"The boys handed over some money last night and I said to them it's been such a rollercoaster couple of weeks.
"It's not the worst thing that can happen – someone could pass away or something like that – but a traumatic thing happened and then the next week one of the nicest things has happened.
"I found it overwhelming – it's been great."
Griffiths has played for the Demons in the past and is looking forward to pulling on the red and blue in 2019.
"I've been on the Casey list before, so I knew it's such a good club and I just had to get back to be around the good people again," he said.