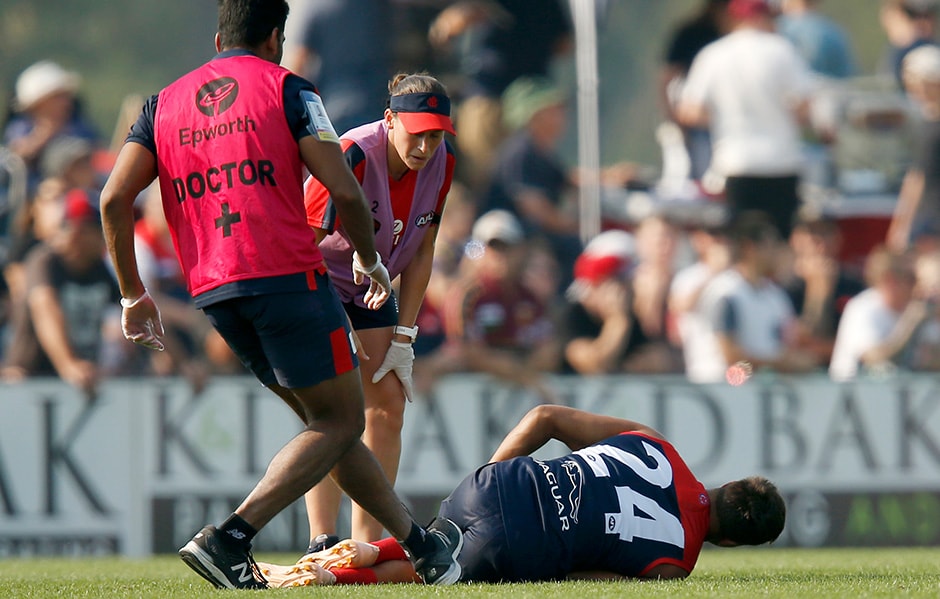 MELBOURNE'S final JLT clash of the pre-season was a brutal one on Saturday, with numerous Demon players coming off worse for wear in the seven-point loss to Brisbane.
The match at Casey Fields left the Demons with some injury clouds on the eve of the home and away season, and coach Simon Goodwin provided an update on his players fitness.
"It was pretty physical, pretty tough in the contest ... and it would've been nice to come out a bit unscathed, but sometimes that happens," Goodwin said.
Although there were some unfortunate moments for the Demons, Goodwin said there were still plenty of positives to come out of the final practice match of the pre-season.
"We had to fight our way through," he said.
"It was a good game of footy and we got plenty of time into the rest of our players which was great, sort of what we needed, so in a lot of ways it was a really good hit-out for us."
Jay Kennedy Harris, James Harmes, Braydon Preuss, Joel Smith and Bayley Fritsch all looked in pain at different stages of the afternoon, while Steven May could potentially be cited by the Match Review Officer for an incident with Lion Jarrod Berry.
While this news isn't ideal in the lead up to Round 1, Goodwin is hoping none of the results are as bad as they first seemed.
Jay Kennedy Harris
"It looked nasty. I think we were all fearing ACL, but he's gone and had a scan and that's all clear.
"There's a bit in the knee injury so it will be a while for Jay. He's got a bit of bone bruising and what not going on, so we'll just have to assess that one, but the good news is it's certainly not an ACL which is great."
Demon Jay Kennedy-Harris has been taken off on a stretcher.#JLTSeries pic.twitter.com/eNcuslFGlT

— AFL (@AFL) March 9, 2019
James Harmes
"He had his finger come out. He's had that stitched up and he'll be right to go for Round 1. Our doctors are really clear on that.
"He's been straight to hospital and had it fixed up. We've had many players have that injury and play the next week, so we've still got 14 days to get him right, so he should be fine for Round 1.
"It was a dislocation that came out of the skin. There was no break to the actual finger, it was just a dislocation."
James Harmes has been sent to hospital after this incident in the second quarter.#JLTSeries pic.twitter.com/YFK566BTmH

— AFL (@AFL) March 9, 2019
Braydon Preuss
"Preussy's just had a little bit of a groin strain in the VFL, so we'll have to get that one assessed during the week. I'm not quite sure how bad that is."
Joel Smith
"He had a bit of a hit earlier in the game and he was a bit sore in his groins, but he'll be fine."
Bayley Fritsch
"He had a hip pointer. Once again, he's going to be sore, but he will be fine.
"He'll come up no worries at all, but it was one of those footy injuries that happens."
Steven May
"I had a bit of a look at that – it seemed minimal contact to me. He was just standing there ready to block, so I'm really confident he'll be right to play.
"I thought he worked his way into the game, obviously a little bit slower early but he built some momentum as the game went on."
Steven May was involved in an incident with Jarrod Berry in the fourth quarter.#JLTSeries pic.twitter.com/Nrehj0bch5

— AFL (@AFL) March 9, 2019