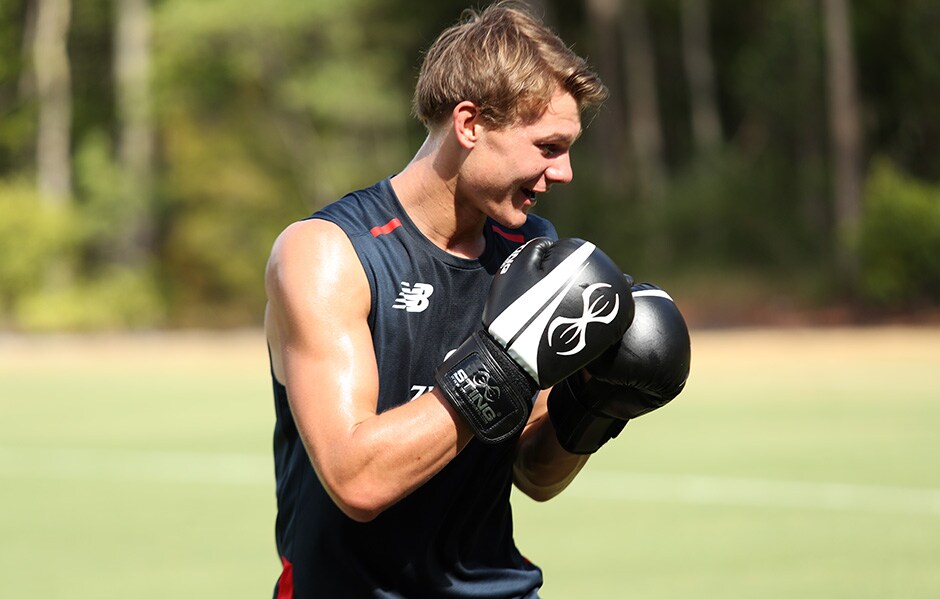 It's not so much the gift but even just the idea that everyone cares and is here to support him.
Sam Frost
RECOVERING from an ACL injury is never easy, but thanks to some supportive teammates, Aaron Nietschke will have a distraction throughout his rehab process.
After the Demon draftee went down with the knee injury two weeks ago, the playing group decided they needed to help keep their new teammate's spirits high.
Fellow defender Sam Frost was a part of the planning process and said the whole side was keen to contribute where possible.
"On the Friday we were out at Casey when he hurt his knee and we had meetings that afternoon, but he wasn't there," Frost told Melbourne Media.
"So I said to Chappy (Troy Chaplin), as the backs group we should all chip in and get him something."
This thoughtful idea quickly expanded, with the entire playing list getting involved.
Before long, the gift was decided, and a PlayStation was purchased for the youngster.
"I think he's living with Kade Chandler and a host family, so I asked James Jordon if he had a PlayStation, and he found out he didn't," Frost said.
"So we just thought, because he's away from home and he's going to be stuck in bed for a couple of weeks, it might be something to keep him entertained.
"We all just chucked in some money and that way we could get him a PlayStation and a few games.
"He can then use the excess to fly home or fly his girlfriend or parents over."
While AFL players regularly get struck by injury, helping the 18-year-old out was more important than usual.
"A lot of guys get injured and spend time in rehab but it's a bit of a unique one in that he's from interstate and his personality is a bit quiet as it is," Frost said.
"It's going to be a difficult time for him so we thought it might cheer him up a little bit."
This gesture shows just how strong the connection is among the Melbourne players and lets Nietschke know his teammates have his back.
"Everyone was keen to chip in," Frost said.
"It's not so much the gift, but even just the idea that everyone cares and is here to support him – that might do more for him than the actual gift so that was the idea behind it."
Nietschke returned home to South Australia after rupturing his ACL and spent some time with his loved ones prior to undergoing surgery.
Player Development Manager Shannon Byrnes said it was important for him to refresh prior to the operation.
"We saw it as a good opportunity to get home, especially as a first-year boy who hasn't had an injury ever basically," Byrnes told Melbourne Media.
"It was good for him to get home and spend time with the family in what was a challenging time for him for sure."
While the injury was no doubt a shock for Nietschke, Byrnes said the support he has around him will help him grow this season.
"It's devastating for any player of any age to miss a whole season, but especially for a first-year kid who wants to get out there and show what he can do," he said.
"But he was quickly picked up. We have three or four boys at the club who have been in the same situation.
"Christian Petracca and Maxy Gawn were two to get on the phone to him really early and talk him through it.
"It's going to be a year for him to really learn and grow.
"There are other opportunities that come out of it because he's not on-field so he can watch a lot more football and learn that way."
Nietschke is now on the road to recovery after a successful surgery last week.
"He went in for surgery last Tuesday … and it all went well from what I've heard," Byrnes said.
"His parents are over at the moment so he will get some care from mum and dad as well."