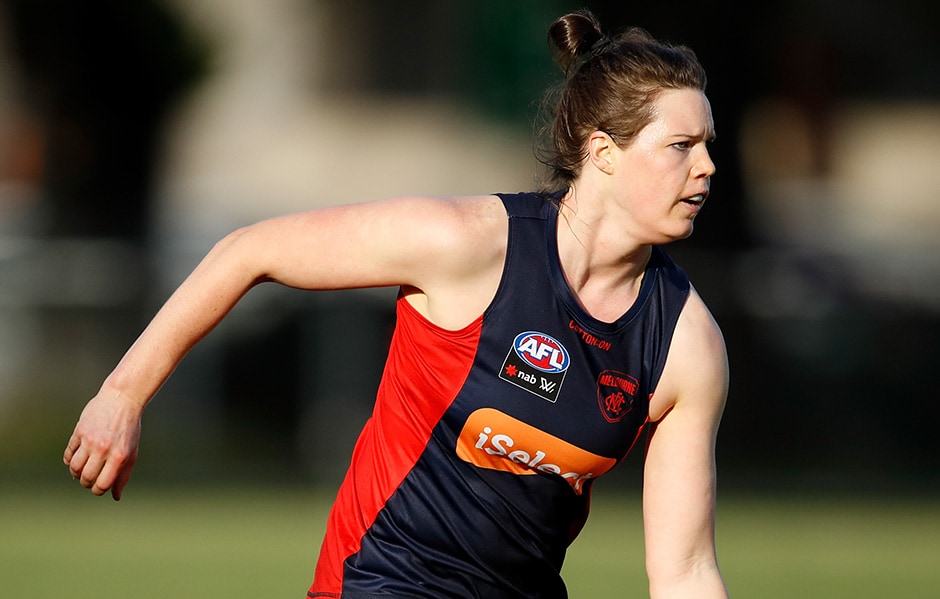 Everything will be pretty tame, it'll be more just spending quality time and enjoying your family and your friends company.
Elise O'Dea
WHILE the festive season is about to kick into full swing, Melbourne's AFLW co-captain Elise O'Dea won't be having too much down time over the holiday period.
The full list has been given a program to complete during their two weeks away from the club, and the co-captain is ready to get stuck into it.
"We'll be working just as hard during the break to maintain the level that we've got to, if not build on that, so that when we come back we can just hit the ground running," O'Dea told Melbourne Media.
"What makes it harder over the break is that you're not in a big group of girls all wanting to push each other in the same mindset.
"Everyone's got their own family commitments and little holidays that you've got to squeeze these sessions around, so the running will continue, the weights will continue and the skills we'll be having to do in our own time as well."
O'Dea plans to complete three lower body sessions each week over her time off, as well as some extra training which may require the help of her family.
"My little sister will be getting a good run around," she said.
"I'll be making her kick me the footy and feed me a few ground balls.
"I'll be trying to tick every box I can then just come back in the best shape possible ready to go for the season."
The 27-year-old sets high standards among the playing group but reiterated the fact all players need to enjoy their break as well.
"You can't be too strict I've learnt," O'Dea said.
"You need to relax a little bit, so you can recharge and go again."
While O'Dea will be keeping a low profile on Christmas, she will still embrace her time off with the loved ones.
"Everything will be pretty tame, it'll be more just spending quality time and enjoying your family and your friends company," she said.
"I've got a lot of family back in Canberra so it'll be nice to get back there and have a little break out of the big city."
When the side returns from the break there will be just one month until the first game of the season which kicks off on February 3.
"We'll be straight into really ramping up the training, the game sense drills," O'Dea said.
"There'll be a couple of practice matches, we'll be training out at Casey to really make that ground a bit of a fortress and get to know it so it's an advantage when we play out there.
"The level will go up again. Not to say the levels not already high, we've hit a much higher standard this year so it's been really tough but so far really rewarding."
After a strong pre-season to date, the girls are in a good position to enjoy the break and return to the club ready for 2019.
"It's just like a mini little reset, a little refresher," O'Dea said.
"But it's still in the back of your mind, you can't forget that you want to come back in good shape because you know all the girls will be doing the same thing.
"It's a good time of year, I'm looking forward to it."