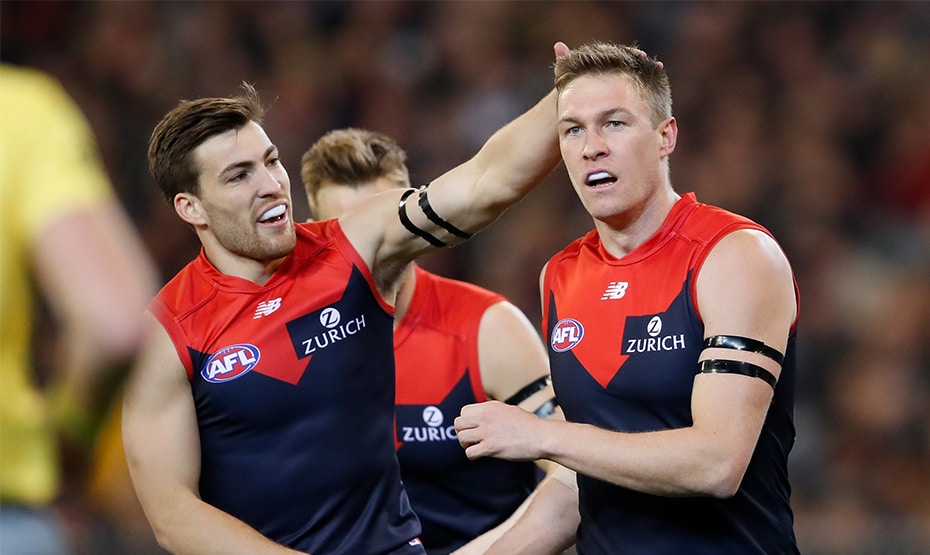 2019 could be a massive year for Melbourne milestones, with 15 players sitting 22 games or less from career games marks.
Here's the Demons who could be in line to play a milestone game in 2019.
Second-most games for Melbourne
Nathan Jones
Sitting on 264 games, co-captain Nathan Jones could move into second position on the all-time games list for Melbourne in 2019.
Currently in fourth spot on the list, Jones needs nine games to overtake Adem Yze (271 games) and Robbie Flower (272 games).
Jones will have to wait until mid-season in 2020 to go past the 300-game mark and David Neitz's club record of 306 games.
150 games
Tom McDonald and Neville Jetta
Tom McDonald (146 games) and Neville Jetta (141 games) are both likely to play their 150th games in 2019.
Assuming he takes part in every match, McDonald will play his 150th at the SCG against Sydney in round four.
Jetta could break the milestone in his home state of WA, against the Eagles in round nine at Optus Stadium.
100 games
Jack Viney and Max Gawn
Gawn (99 games) is almost certain to play his 100th game in 2019, needing just one match.
Jack Viney (98 games) is also likely to pass the 100-game mark, which could come in the round two blockbuster against Geelong at GMHBA Stadium.
50 games
Sam Frost, Jayden Hunt, Billy Stretch, Aaron vandenBerg, Mitch Hannan, Jay Kennedy Harris and Josh Wagner
Seven Melbourne players are within at least 22 matches of the 50-game milestone.
Sam Frost (48 games) and Jayden Hunt (47 games) are the most likely and could knock the milestone off in the first month of the season.
If they figure in enough matches, Billy Stretch (38 games), Aaron vandenBerg (35 games), Mitch Hannan (35 games), Jay Kennedy Harris (34 games) and Josh Wagner (28 games) are also a chance to play their 50th game in 2019.
50 club games
Jordan Lewis, Jake Melksham, Michael Hibberd
After each making their club debuts in 2017, Jordan Lewis (43 club games), Jake Melksham (42 club games) and Michael Hibberd (39 club games) could play their 50th games in red and blue in 2019.
If all goes to plan, Lewis could be playing his 50th game for Melbourne against his old club, Hawthorn in round seven at the 'G.
Hibberd, currently sitting on 123 career games, will have to wait until 2020 to play his 150th total match.