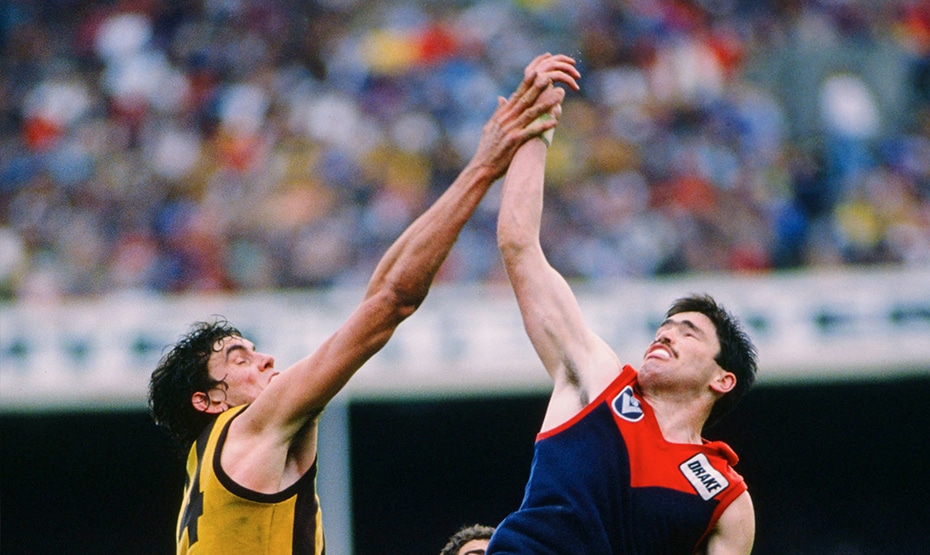 HERE'S something to ponder.
If the competition was broken up into three eras, you could make a compelling case that Collingwood was the dominant side from 1897-1938 (11 premierships), Melbourne ruled from 1939-64 (10 flags) and Hawthorn remains the team to beat with 12 titles since 1965.
Of course, history and statistics can often be interpreted in different ways, but it's fascinating to note that the two sides that will meet this Friday night in the first semi-final at the MCG have been dominant figures in two periods of VFL/AFL history.
Yet rarely have Melbourne and Hawthorn crossed over into each other's 'era' – having met only six times previously in finals (1957, 1961, 1963, 1987-88 and 1990). In fact, when one team has dominated, the other, for the most, has struggled.
Still, there have been several sliding door moments involving both clubs, and in the process, a genuine rivalry has been built over time.
From 1925 (Hawthorn's first year in the competition) until 1956, the Hawks did not make one finals series. That might be hard to fathom for today's football fan, but that 32-year streak, remains the longest finals drought by any team in VFL/AFL history.
In that same period, Melbourne won eight flags. It also inflicted Hawthorn's greatest VFL/AFL loss. That occurred way back in round nine, 1926, when Melbourne thrashed Hawthorn by 141 points. For the record, it remains the red and blue's greatest VFL/AFL winning margin.
But of course, most will remember Melbourne went 22 seasons without post home-and-away action – the third longest VFL/AFL streak without finals – from 1965-86. On the flipside, the Hawks claimed five premierships.
And although the ledger was close in Melbourne and Hawthorn games from 1965-73 – the Demons won seven matches and the Hawks claimed eight wins – it was all brown and gold for the next 11 years.
From round 13, 1973 to round three, 1984, Hawthorn defeated Melbourne 22 times in a row – a terrible record. And it wasn't until the Demons beat the Hawks under the great Ron Barassi in round 13, 1984 at Princes Park that the nasty streak came to an end. For a then seven-year-old, it was a day he'll never forget. For an almost 42-year-old, it's still one of his favourite footy memories growing up.
***
In 1957, Hawthorn played its first final, defeating Carlton by 23 points in the first semi-final at the MCG.
The Hawks' second final was against the Demons. That was the 1957 preliminary final, when Melbourne defeated Hawthorn by 68 points at the 'G. The Demons then went on to win their ninth premiership that year.
In their second finals meeting, the Demons went down to the Hawks by seven points in the 1961 semi-final – as Hawthorn claimed their first VFL/AFL flag. In 1963, Melbourne again fell short, this time by nine points, as the brown and gold won the preliminary final. The following year, however, Melbourne won its 12th and most recent premiership.
But since 1965, Hawthorn has unquestionably been the best team in the competition. It has won 12 of its 13 flags since then. In fact, the Hawks have won their most recent dozen since 1971.
In the brown and gold 'era', there have been three finals between the two sides: the 1987 preliminary final, 1988 grand final and 1990 elimination final.
Two ended in heartbreak for Melbourne (in 1987-88), as the red and blue halted Hawthorn's attempts in 1990 to overtake it for the most consecutive grand finals. Now, Melbourne (1954-60) and Hawthorn (1983-89) hold the record for the most successive VFL/AFL grand final appearances with seven each.
Many who bleed red and blue remember the 1987 finals series with much fondness (mostly). It was the first-time Melbourne had made the finals series since 1964 – and you thought 12 years since 2006 was bad!
The '87 finals campaign started with a stunning 118-point win over North Melbourne at the MCG – still the greatest winning margin in a VFL/AFL elimination final – before the Demons easily accounted for the Sydney Swans by 76 points in the first semi-final at the 'G.
Then came the preliminary final heartbreak at Waverley.
Most will know the story.
The late, great Jim Stynes gave away a then 15-metre penalty, when he ran across the mark, putting Hawk star Gary Buckenara closer to goal. Buckenara's kick after the siren went through for a major, giving the Hawks a famous two-point victory.
As former captain, coach, two-time best and fairest winner and now club manager of player personnel, Todd Viney, remembers, it was a clash between one of the powerhouse clubs and one of the up-and-comers of the league.
"They had some superstars of the competition – and some of the biggest names to this day – whereas we were a bunch of youngsters, apart from Robbie Flower, who played finals for the first time in his last year in 1987, and Brian Wilson, who won the 1982 Brownlow Medal. We didn't have a lot of experience, whereas they had Michael Tuck, Gary Ayres, Jason Dunstall, Gary Buckenara, Chris Mew, Dermott Brereton and the list went on," he said.
Emphasising Viney's point, the Demons had a total of 999 games experience to Hawthorn's 2365. The Hawks' average age was 25 years, 323 days to Melbourne's 23 years, 22 days.
Although it was a missed opportunity - and a painstaking way for Melbourne's season to end - it was still a remarkable year, given the relative youth and inexperience of the side, and the fact it had finished second last in 1986.
And it was one hell of a ride, as Viney remembered.
"We had to win the last six games of the 1987 season to make the finals, which we did … and then we came up against the Hawks. We were up by 22 points at three quarter-time. I'm thinking in my first year that we were going to be in a grand final. Lots of opportunities presented in the last quarter … and then the famous incident, where big Jimmy accidentally runs across the mark and Buckenara kicks the goal after the siren to put us out of the grand final," he said.
"It was an amazing game – my first year of footy – and to this day, I don't remember a lot of games, but that still sticks in my memory. To push the Hawks – it was a great game of footy – but we didn't have the composure to finish it."
The following year, Melbourne went one better, making its first grand final in 24 years. But it turned into a horror day for the Demons, when the Hawks smashed them by 96 points – then, the greatest winning margin in a grand final (until Geelong defeated Port Adelaide in 2007 by 119 points). Hawthorn was at the peak of its powers, and despite dropping one of its three games against Melbourne during the season, it was simply an irresistible force. The Hawks of the 1980s/early 1990s were one of the greatest sides of any era, and akin to the Melbourne teams of the 1950s/early 1960s.
For Viney, the '88 grand final remains a distant memory and somewhat of a blur.
"I remember certain aspects and the lead-up to the game. I remember everyone looking for tickets and I remember my parents and three brothers coming over from Adelaide, all crashing in a little two-bedroom unit, which was probably not ideal preparation for a final," he said.
"I'd missed the prelim that year, as I wasn't in great form, and I had to hope for an opportunity to get in. [Ruckman] Steve O'Dwyer got suspended after being reported in the preliminary final – not that I was much good in the ruck – but there was a spot available. In the lead-up to the game, I remember [coach] John Northey putting us through lots of one-on-one scenarios, so eventually I ended up writing him a bit of a note saying 'why I should get the nod'. I eventually got the call-up.
"I remember the Grand Final parade … and turning up to the MCG the next day, with a big crowd and then being in the race, and I was just about to go out … and then I was sick in the race from the nerves. Game day, I was really nervous and overawed by the occasion. I went out there and they just blew us away from the start.

Jim Stynes and Sean Wight roll through Bourke St Mall during the 1988 Grand Final Parade
"You think of grand final day being this beautiful day, but it rained and the ball was slippery and they were just too clean, too strong and got the jump on us. We lost a bit of belief and then we had close to 100,000 people watching us, and it turned into a long day. It was a steep learning curve and you think you'll get back there at some stage, but we never got back in my time."
But the most memorable modern final against Hawthorn – at least for the red and blue faithful – was its most recent clash in 1990. In fact, the Demons and Hawks played each other in the final round of the home and away season, before meeting again the following week in the first week of the finals.
On both occasions, Melbourne prevailed, giving its supporters two brilliant weeks to remember. The Demons won round 22 by 12 points and claimed a nine-point win in the elimination final. Both were played at the MCG.
Melbourne fans of a certain vintage will remember Hawthorn greats Jason Dunstall and Dermott Brereton being kept in check by Tony Campbell and Peter Rohde respectively.
And for a then 13-year-old, hearing the chants of 'TC' in the rooms post-match, after Campbell held Dunstall – one of the greatest players of all-time – to two goals in the elimination final, was a moment I'll never forget as a Melbourne fan.
Although a knee injury kept Viney out for the latter part of the 1990 season – the hard-nut returned for Melbourne's first semi-final against West Coast at Waverley Park – he said it was a memorable couple of weeks for the Demons.
"Hawthorn was still a power club with all of those big names. We were starting to make a bit of a reputation in the league for being hard to play against. We were a very tightknit group, really well coached by John Northey. We had guys like Jim Stynes, Garry Lyon and Greg Healy, who were really competitive. To be able to beat Hawthorn twice in a row was a really good effort," he said.
"Tony Campbell and Peter Rohde kept Dunstall and Brereton to eight goals combined for two weeks in a row. They were unsung heroes, who had a great couple of weeks. Campbell was a forward, who went back. Rohde came from Carlton and was more of a wingman. He wasn't the quickest bloke, 'Rohdey', but he was a great competitor and a smart player. He reminds me a bit of [GWS co-captain] Phil Davis now – just smart and knew the angles. They (Campbell and Rohde) did a great job on two superstars of the game."

The front cover of the 1990 Elimination Final Record (Photo: Matt Burgan)
Upon reflection, it was a fantastic couple of weeks of football.
Hawthorn captain Michael Tuck broke the record for the most VFL/AFL games in round 22, notching up his 404th appearance, while Melbourne skipper Greg Healy took a mark, in the elimination final, running back with the flight of the ball, that still gets talked about today among rusted-on red and blue fans.
But in many ways, the 1990 season was the one that got away for Melbourne.
The Demons won 16 of their 22 rounds – equalling their 1956 home and away effort (although that was 16 victories from 18 rounds, back then). The Dees also won eight in a row – from round 16 to the elimination final – before bowing out to West Coast by 30 points.
Although it's been 28 years since Melbourne and Hawthorn have met in a final, the two sides have since had some fascinating encounters.
***
From 1994-95, Melbourne won three consecutive matches against Hawthorn – something it hadn't been done since 1964-65 and hasn't achieved since. (For the record, the second of those three games in the 1990s was Allen Jakovich's 47th and final game for the Demons, where he booted eight goals, before a back injury ended his season.)
The 1996 merger match – in the final round that season – was an incredible contest, which saw Hawthorn win by one point at the MCG. Dunstall kicked 10 for the Hawks – and chalked up his 100th goal for the season – as David Neitz (six goals) and Jeff Farmer (four) booted 10 for the Demons.

The 'No Merger' message was clear in round 22, 1996
Viney said the 'merger match' had everything.
"The future of both clubs was up in the air. It was a fast, physical game. I think I was boxing on with 'Crawf' (Shane Crawford) before the first centre bounce. There was a lot riding on the game – and a lot of spice in it," he said.
"Dunstall was unbelievable. He played on Luke Norman and Andrew Lamprill, who were smaller half-back flanker, back-pocket types. Big Jase was too good and we got done by one-point. It was a great game and one that you'll always remember, even though they got the chocolates on that occasion."
History shows Melbourne later voted in favour of a merger and Hawthorn said no, and the 'Melbourne Hawks' did not eventuate.
Like most things in life, time is (mostly) a healer, although that merger still evokes passion from both sets of fans today. It must be remembered that at the time - rightly or wrongly - mergers were in the spotlight. The proposed 'Melbourne Hawks' merger broke publicly in the lead-up to round 17, and it happened soon after Fitzroy and the Brisbane Bears were announced as a union for the 1997 season. They, of course, became the Brisbane Lions as we know them today.
That 'merger match' featured now four-time Hawthorn premiership coach Alastair Clarkson, who started his playing days with North Melbourne, before spending his final two years with Melbourne. He played some fine games for the Demons and finished runner-up to Stynes in the 1996 best and fairest. Interestingly, Friday night will be the first-time Clarkson has coached against his former side in a final.
Todd Viney was a teammate of Clarkson's in that 'merger match' – and was again by his side in 2008 – when he was midfield coach in Hawthorn's first flag since 1991. Viney joined Clarkson when he was appointed Hawthorn coach in the lead-up to the 2005 season. And it's fascinating to note that had Viney not reunited with Clarkson, things could've been different for Melbourne today.
In another sliding doors' moment, Viney opted to join Hawthorn instead of returning to Melbourne as an assistant coach.
Viney explained it was because he had spent his career at one club and wanted to broaden his football horizons.
"It's amazing how it all turned out. To see 'Clarko' end up coaching Hawthorn and then I ended up there as well – it's funny how it worked out. 'Clarko' got the job and then rang me up and asked if I was interested in becoming the midfield coach. I ended up saying 'yes'. But at the time, I had the chance to come back to Melbourne, as Brett Ratten had just left Melbourne as the midfield coach, and I'd spoken to [then Melbourne coach] Neale Daniher about getting back into AFL footy, as I was living in Echuca," he said.

Viney with Clarkson, as well as now Richmond coach Damien Hardwick during a break in play in 2008 (Photo: David Callow)
"'Clarko' got the Hawthorn job at the same time, but I had such admiration for Hawthorn, because of the days playing against them – and they were such a great club – with so much success in that period of time. I'd spent my career with Melbourne, but I had a real fascination about experiencing another club.
"So, I decided then, which was a tough call, to go to Hawthorn with 'Clarko', which ended up working out pretty well. 'Clarko' has done an amazing job and it ended up being a pretty cool decision for me."
It was also at the Hawks, where Viney formed a bond with Jordan Lewis, who played in four flags under Clarkson, and joined Melbourne at the end of the 2016 season.
"It is amazing how we're at Melbourne together. I was always really impressed with Jordan, right from a young age. At Hawthorn – and at Melbourne – we tried to build the club around great character and great competitors. Right from day one at Hawthorn, Jordan was in it to win it. He wasn't taking a backward seat for anyone," he said.
"When the opportunity came to get a person like Jordan to Melbourne, I thought it was really important. His leadership was always very, very strong and I thought he could add to our group, because we're quite inexperienced, particularly in big games and finals, so to have Jordan has been really important.
"When I was at Hawthorn, we got Stuart Dew in to help with experience and belief with the Hawthorn team. He was really important – much like Jordan has been to help us."

Lewis has a laugh with Alex Neal-Bullen and Dean Kent at training (Photo: Scott Barbour)
Had Viney not joined Hawthorn, tasted the ultimate success – which then made his decision to return to his native Adelaide easier (he was with the Crows for the 2009-10 seasons) – he may not have gained an insight into future Melbourne coach Simon Goodwin.
It must be remembered that Viney was a critical figure in identifying Goodwin as Paul Roos' successor.
And he was convinced the dual Adelaide premiership player was a future AFL coach.
"When I was at Adelaide, it was fantastic to see 'Goody'. He was an amazing captain and I was the midfield coach there. I moved him out of the midfield and to half-back, so he's never forgiven me for that," Viney said with a laugh.
"But he was an enormous captain for that club – really driven and all about getting his teammates better. He was always about challenging the coaches to get better, so I always knew, at some time, he'd be a great coach.
"When that opportunity came up to talk to him – and talk about the succession plan with Paul, Josh [Mahoney] and Peter [Jackson] – I knew about Simon's views on culture and developing that part of the club. When 'Roosy' sat down with him to talk about the big picture – we didn't talk about midfield stoppages – it was all about building the type of club we wanted. There was immediate synergy on that, so we knew 'Goody' was the right person."
***
For the red and blue faithful, there hasn't been a lot to cheer about when playing Hawthorn in recent years.
From 1987-2006, when Melbourne made 12 of 20 finals series, the Hawks had the edge over the Demons with 20 wins from 35 contests.
There was several fine wins and highlights along the way for the Demons; David Neitz's hip-and-shoulder on Hawk Luke McCabe, in the opening round of 2002, still gets talked about among the red and blue tribe.
However, like the 1973-84 period, Melbourne went from 2006-16 without defeating Hawthorn. There were some miserable matches for the Dees during that period, and it wasn't until Roos guided Melbourne to a famous 29-point victory over Hawthorn at the MCG in round 20, 2016 that the 13-game losing streak came to an end.

Dom Tyson celebrates a goal in the 2016 win over the Hawks (Photo: Michael Willson)
What's fascinating about that match is that 14 of those 22 players are set to take on the Hawks again this Friday night.
Angus Brayshaw, Sam Frost, Max Gawn, James Harmes, Neville Jetta, Nathan Jones, Oscar McDonald, Tom McDonald, Clayton Oliver, Christian Petracca, Dom Tyson, Aaron vandenBerg, Jack Viney and Sam Weideman all played in that win over Hawthorn.
Bayley Fritsch, Mitch Hannan, Michael Hibberd, Jordan Lewis, Jake Melksham, Alex Neal-Bullen, Christian Salem and Charlie Spargo have either come back into the side or joined the club since then. Lewis, of course, is another sub-plot to the Melbourne and Hawthorn story, given his decorated career with the brown and gold. Now he is a 300-game-plus warrior, having played his past 41 matches with the Demons.
All who played in that 2016 win are still at the club, except for Jack Watts, who joined Port Adelaide at the end of last season. And aside from injured duo Dean Kent (AC joint) and Billy Stretch (toe), who are out for the rest of the season, the others – Tom Bugg, Jeff Garlett, Jayden Hunt, Cam Pedersen and Bernie Vince – remain on the cusp of selection or are coming back from injury. Any of them could've quite easily been selected for Friday night, if an opportunity presented.
In its past two meetings, Melbourne fell three points short to Hawthorn in round seven, 2017, before it produced its worst performance of 2018 - going down to the Hawks by 67 points in round four – the red and blue's greatest losing margin this season.
Given there are no team changes, Melbourne will have seven players that didn't play in round four this year: T.McDonald, Tyson, vandenBerg, Viney, Weideman, Hannan and Spargo. Missing from that loss will be Jesse Hogan (foot), Jake Lever (knee) and Kent, who are out injured for the rest of the season, while Bugg, Garlett, Vince and Josh Wagner will play for Casey Demons in the VFL.
Still, had Melbourne not tasted that win against Hawthorn, just over two years ago – featuring two thirds of its current side – the build-up to this weekend's finals could've been a different story.
Now, with the red and blue riding the crest of a momentum wave, there is an opportunity to write another fascinating chapter – and not just against the Hawks.
Viney said it was a far cry from where the club was, and has been, as recently as 2013, when it won just two matches for the season.
"A lot of people have put in a lot of hard work. In the eight years' I've been back here, there have been some dark times, but the resilience of the Melbourne people has been enormous – not only the staff, who are still here and have showed enormous resilience – but our supporters to go through those times and stick fat," he said.
"They've had to come to the game and had to convince their children to stick with us because we'll be all right. It's remarkable that we've been able to do that and we're starting to see some light at the end of the tunnel, which we have seen for the past two or three years. I think people have seen the direction we're tracking, which is the right direction. I think the brand of footy we're starting to see, and some of the players we're starting to see, are really standing for something.
"Simon Goodwin has spoken about having a team that the supporters are proud to watch and it's certainly coming true, now that we're playing good footy. We're starting to get some recognition from the AFL industry that we're on the right track."
But first thing's first.
There is a semi-final to be played.
It's Hawthorn, the champ, looking to regain its title, and Melbourne, the young up-and-comer, daring to dream.
But as Viney said: "There is still a lot of work we need to do and we haven't even scratched the surface yet – the whole time has been spent about building a club and a team that can contend," he said.
"Like Hawthorn has been able to do over a long period of time – they're got their fundamentals right, like their culture, and having really good people in all the right spots. They have a really solid strategy, game plan and are united, which I think has been really important over a period of time. Now, at Melbourne, everyone is on the same page, working for the greater good, so we're heading in the right direction, and it's certainly nice to be playing at this time of the year."
Which begs the question: who will advance into preliminary final week – and dare we say it, into a Grand Final?
Stay tuned.
For another chapter is set to be written in the sliding door history of Melbourne and Hawthorn.