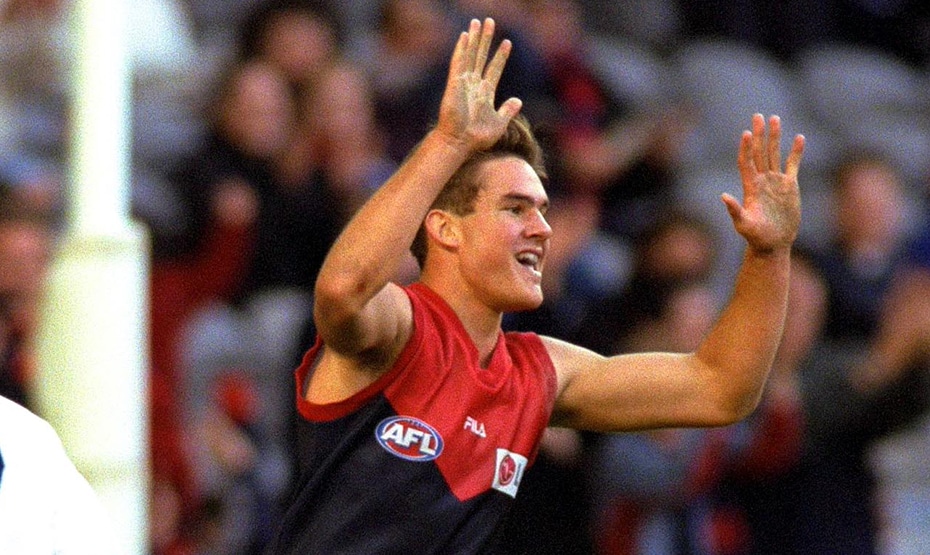 FORMER Melbourne captain Brad Green has urged the current crop of Demons to "ride the wave" of momentum and support as they chase a first Grand Final berth since 2000.
Green, 37, and his eight-year-old son, Oliver, were part of the 91,767-strong MCG crowd that saw a fast-starting Melbourne beat Geelong by 29 points in their elimination final on Friday night.
"It was an amazing game in the end," Green told AFL.com.au.
"The first quarter was quite exceptional, really, then they probably didn't put them away like you would have thought after all their dominance, and they allowed Geelong to stay in the game.
"But it was a great win and everything they did was really strong. They look a nice, tough, contested team, which is good for finals footy.
"My son wasn't even around the last time Melbourne played finals, so seeing the smile on his face and him clapping away and singing the song was a great memory I'll cherish."
A 21-year-old forward, Sam Weideman, played a critical role in the Demons' triumph, evoking memories of Green's own finals debut 18 years ago.
Weideman kicked three goals among his 24 disposals against the Cats in a third-straight strong performance since replacing injured spearhead Jesse Hogan.
Green, who, like Weideman, was playing his 18th game, booted four second-half majors to inspire Melbourne to a famous victory over Carlton after trailing by 31 points in the third quarter.

Green celebrates a goal in the 2000 Qualifying Final
"When it's your turn, it's amazing how it keeps coming to you and you keep making things happen," Green said.
"You get in those games where you have a big impact and you think, 'Geez, I wish I could do that all the time', but it just doesn't happen."
Green came off the bench after half-time that day and some of his goals were superb, including one from barely inside the boundary – and on the wrong side for a left-footer – that cut the Blues' buffer to nine.
The Demons eventually won 15.6 (96) to 12.15 (87), meaning they avoided Essendon until the Grand Final, which they lost by 10 goals.
Green played 254 games and kicked 350 goals in total, but he was unable to add to his nine finals appearances in his final six seasons at the club went through a dark period.
Watching Melbourne qualify for its first September action since 2006 was a proud moment for Green, who was an assistant coach at Carlton and North Melbourne after he retired.
"It was tough there for five or six years. I've gone from playing and being a part of the club to being that mad fan again," he said.
"It's a nice feeling, but nice in a way that you've been there as well, and you've been there along the journey of what those players are going through.
"To see the smile on supporters' faces again was pretty special, because it's been a long time."
Green will be back at the MCG on Friday night to take in the Demons' do-or-die clash against Hawthorn.