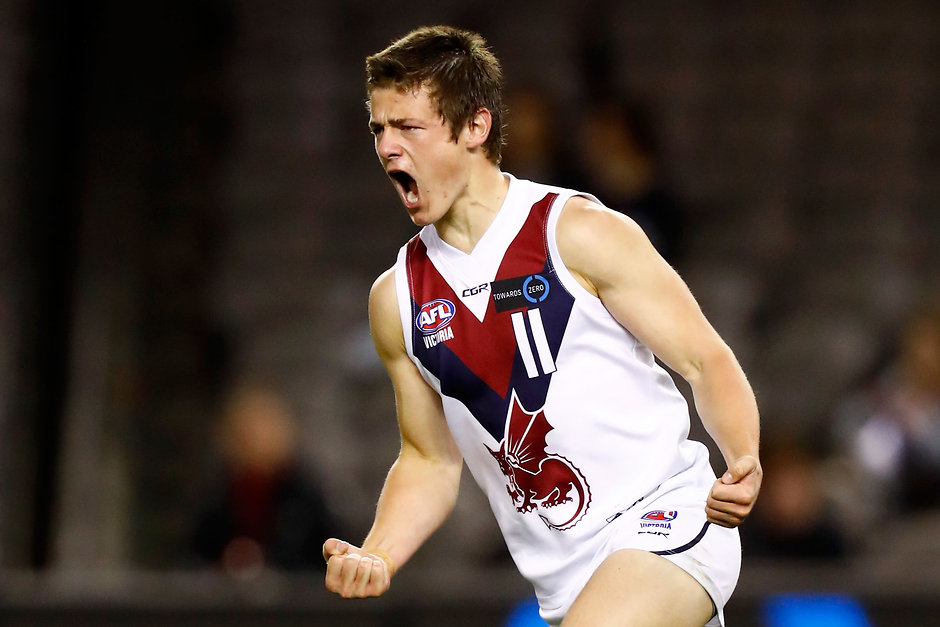 Hope is not lost for the players who missed out in Friday night's NAB AFL Draft.
The rookie and pre-season drafts will run on Monday afternoon and give more opportunities to those who were overlooked. Here are 10 possible rookies who may see their name called.
Jonty Scharenberg
Midfielder
183cm/81kg
28/8/98
Glenelg/SA
It was a bit of a surprise that Scharenberg wasn't picked in the national intake. However the inside midfielder should get a go as a rookie after a relatively consistent season at under-18 level for South Australia and in the SANFL. The younger brother of Collingwood defender Matt, Scharenberg is good in tight with his hands and can distribute the ball well out of stoppages.
Cameron Zurhaar
Forward
187cm/89kg
22/5/98
East Fremantle/WA
The West Australian may appeal as a medium forward who can clunk marks on the lead and is competitive whenever the ball is in his area. Zurhaar plays with some physicality and bounce, which makes him have an impact around the ball, and he's able to use his frame to manoeuvre himself in stoppages and get the ball going his side's way. His 'in-between' size may have been a factor in why he slipped through on Friday night.
Oscar Junker
Midfielder
191cm/84kg
23/1/98
Western Jets/Vic Metro
Junker had gathered some interest from clubs as a late selection in the national draft so it would seem unlikely he doesn't get a go on Monday at the rookie intake. The tall left-footed midfielder is a nice size and can use the ball strongly through the midfield and across the wings. He played one game for Vic Metro at the championships but his best form came in patches for the Jets at TAC Cup level. He would be a good choice as a rookie.
Sam Walker
Defender
185cm/79kg
16/3/98
Glenelg/SA
Walker was pretty unlucky not to get a go on Friday night given some of his form throughout 2016. The All Australian defender from South Australia was a consistent stopper this year and also showed some dash at times out of defence. He was linked to some clubs as a possible second-round selection so it was a surprise he did not find a home, but he would seem a good chance to get a lifeline on Monday.
Hamish Brayshaw
Midfielder
186cm/85kg
9/2/98
Sandringham Dragons/Vic Metro
Unfortunately injury didn't help Brayshaw's cause this season. He injured his foot at the start of the year and then played with a crack in the foot towards the end of the season. He led the Sandringham Dragons to their flag win, and is a tough and combative midfielder with upside. He can also go forward and kick goals, a little like his brother Angus, the Melbourne midfielder. Brayshaw had surgery at the end of the season to fix his foot so if he gets a chance will be starting off a little later.
Matt Guelfi
Midfielder
183cm/77kg
14/8/97
Claremont/WA
Guelfi is an inside midfielder who has a real attack on the contest. He's aggressive and tough, and enjoyed a strong start to the NAB AFL Under-18 Championships for Western Australia. He can perhaps lack that breakaway speed and pace, which may be a reason he did not get a chance on a senior list, but as a rookie he would be able to come in and play a role reasonably early. He is also a year older than most draftees having played as a 19-year-old this season.
South Australian Kym LeBois has strong football bloodlines. Picture: AFL Photos


Kym LeBois
Small forward
173cm/68kg
25/5/98
North Adelaide/SA
LeBois has some excellent bloodlines, being the nephew of former AFL players Gavin Wanganeen and Alwyn and Aaron Davey. He plays a little similar to Alwyn as a small forward who can dart around the packs and make something out of nothing. He has a good step out of trouble that opens up space and he's generally damaging around goal when he gets a chance. His size has worked against him, but he should have done enough to get a chance as a rookie.
Mitchell Hinge
Defender
187cm/79kg
26/6/98
Glenelg/SA
In the eyes of some recruiters Hinge was one of the most unlucky players to not get a shot. His size and athleticism as a rebounding, intercepting half-back caught the eye at times through the year. He is a good mark overhead and can be trusted to kick-start things out of defence by foot.
Zach Sproule
Tall forward/defender
196cm/89kg
12/4/98
Murray Bushrangers/NSW-ACT
The GWS academy product didn't get a chance via the national draft but may appeal as a rookie selection. Sproule's best attribute is that he can play at either end, and he is also an excellent long-distance runner so is able to move up and down the ground. Sproule is a nice, long kick for goal when stationed in attack but may be best suited to defence in a negating role. The Giants nominated him as an academy pick but did not take him at the draft.
Tony Olango
Ruckman
197cm/82kg
2/9/98
St Marys/NT
Tim English and Sean Darcy were the only pure ruckmen to get a shot on Friday, showing that clubs tend to prefer to trade for rucks or take them as rookies if they can. That may open the door for Olango to get a shot after showing great athleticism and improvement across the year. The NT prospect is a strong leap and has added some muscle to his frame, plus he is quite good with the ball in his hands at avoiding traffic and being solid by foot.