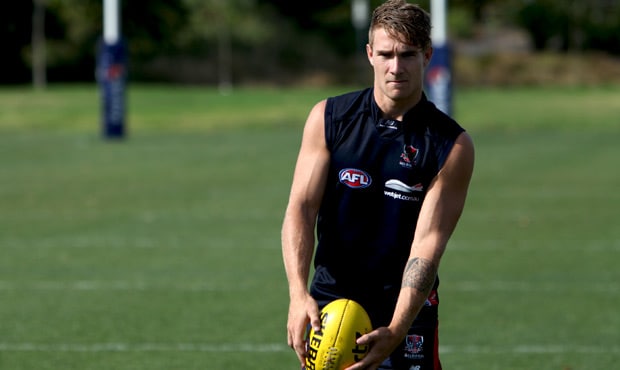 It's completely different … you walk down the street in Melbourne and it's just full on. There's not a quiet time, but through Clackline, you get excited when a car goes past.
Dean Kent
FROM Clackline to the MCG.
If it sounds like a story – or opening chapter – about a bush footballer or cricketer making the transition from the country to the big smoke, well it is.
In fact, the title refers to young footballer Dean Kent's journey from country Western Australia to being on the cusp of playing for the oldest football club in the competition: Melbourne.
The first year Demon, noted for his long kicking left foot, came to the club last November after being selected at No. 48 in the NAB AFL Draft. A high half-forward, who has modelled his game on Hawthorn superstar Luke Hodge, Kent, like most draftees, had a whirlwind entry into the AFL.   
"I'd come from working with Dad out on the fence lines to being drafted, and then I was training three days later," he told melbournefc.com.au.  
"I stayed with Grimesy (Jack Grimes) and we had to wake up at 6 am, which was really 3 am Perth time, so that was tough getting used to the times.
"It was a massive difference. I was used to training for two hours, three times a week, plus game day. But now it's full-on footy, but I like it."
Previously his only time in the capital city was when he was 10 years old on a family holiday with his Mum and Dad. They watched Essendon and West Coast at Docklands, when Kent and his father cheered on the Eagles and his Mum supported the Bombers. Now, all have converted to the red and blue.
Kent now lives with a host family in the heart of Melbourne, after moving roughly 3,550 km east from Clackline, a wheatbelt region in Western Australia, 80 km north-east of Perth. According to the 2011 census, Clackline's population was 331 people. It's a town noted for producing some of the country's best export hay (oaten). Wine and olive growing is also prominent.
Despite the big move, the 19 year-old hasn't been fazed by his expedition across the Nullarbor.
"Nothing really gets to me. It's not too daunting or scary and I've got a good spot with a host family," he said.
"I love Melbourne, apart from missing out on a couple of beaches.
"It's completely different … you walk down the street in Melbourne and it's just full on. There's not a quiet time, but through Clackline, you get excited when a car goes past."
Kent played for Western Australia in the NAB AFL under 16 championships, but was surprisingly overlooked for the state under 18s, given he went on to win the Jack Clarke Medal (the Brownlow Medal equivalent in the WAFL Colts), was named in the Colts team of the year and claimed the coaches' award, where the opposition coaches vote on the best player. He was also up there in the WAFL Colts goalkicking table.
Asked why he missed out on representing his state last year, Kent said "there was some debate about it".
"They didn't think my fitness was up to scratch, but they kept bringing people in and I never got a call up," he said.
"My coaches were hammering the state coaches and they couldn't give an explanation about it and they couldn't tell me why. I was seven games into the season and averaging 25 touches a game and they still couldn't give us a reason.
"So I changed my goal, made sure I played consistent footy and my last goal was getting drafted. I had a lot of people ask if I was disappointed, but I said 'I had new goals'."
And those aims have extended as a Demon. 
Already, one of those goals has been ticked off, having played in Melbourne's first NAB Cup clash against North Melbourne, which he said was "exciting and overwhelming" and a "huge stepping stone".  
"It was all new to me, playing in the AFL, playing a night game and playing at Etihad," he said.
"I had a good sleep in and I talked to Browny (forward coach Leigh Brown) and asked what he used to do and what I should do. I ate what I normally do and then had another little nap before the game and then a two-hour preparation, so that was new to me as well.
"I went out on the ground and soaked up the stands."
Rested for the second match against Richmond on the same night as the North Melbourne clash, Kent was part of Melbourne's first win of the year – a two-point win over Port Adelaide in Renmark. For the youngster, it was a great experience, which reminded him of his early junior days in the game.
"Playing in Renmark was like playing back at Northam (roughly 15 km from Clackline). It was a nice wide oval with lots of space and a bit of heat," he said.
Having achieved some positive steps already at the club, Kent is now concentrating on consolidating his training and playing with some strong early season form, the prospect being debuting sooner rather than later in the premiership season.
From there, the boy from Clackline will write his second chapter.