A DEMON trio were added to the injury list after Friday night's battle with West Coast, as Alex Neal-Bullen, Christian Salem and Tim Smith all suffered head knocks.
But Melbourne's Elite Performance Manager David Misson said they have recovered well and could put their hands up for selection this weekend.
"All three of them are pretty good," Misson told Melbourne Media.
"There are no on-going symptoms, they've pretty much recovered.
"They had a run on Tuesday and have a pretty structured plan for the rest of the week, so we'll hopefully give them a final tick off on Saturday.
"It's just about gradually loading them and making sure they're going to be OK."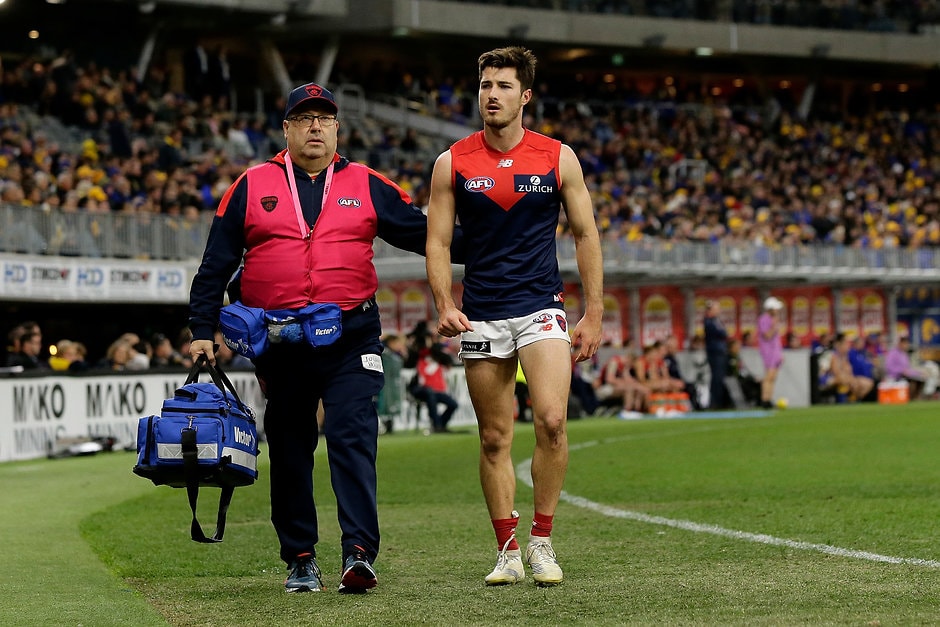 Jake Lever made his long-awaited ACL comeback through the VFL on Sunday and will spend another week in the reserves to work on his match fitness.
"Lever pulled up well. He'll look to increase his game time this week – probably looking to play almost a full game," Misson said.
Corey Maynard also lined up for Casey last weekend as he returned from hip soreness, while Mitch Hannan is expected to play his first game of the year this Sunday.
A number of Demons players are edging closer to full fitness, with Jordan Lewis available for selection this week after hurting his ankle against Gold Coast in Round 8.
Charlie Spargo (foot) and Sam Weideman (hip) are also expected to return this weekend and will face a fitness test later in the week.
Misson provides an update on all injury list changes below.
Injury List
Mitch Hannan | Knee – Available
Jay Kennedy Harris | Knee – Available
Alex Neal-Bullen | Concussion – Test
Christian Salem | Concussion – Test
Tim Smith | Concussion – Test
Charlie Spargo | Foot – Test
Sam Weideman | Hips - Test
Michael Hibberd | Collarbone – 1-2 weeks
"Hibbo will be another week. He's going pretty well but just needs a little bit more time."
Steven May | Groin – 1-2 weeks
"Maysie is likely to play next week. He's going really well but just needs a bit more training. He's pretty much in the main group now and will do most of the session on Thursday."
Kade Kolodjashnij | Concussion – 1-2 weeks
"Kade's going really well. He'll be doing some more contact work in rehab and also some full training later this week, looking to play next week. The concussion symptoms settled a couple of weeks ago so it's more about growing his confidence and getting him back into training."
Jake Melksham | Foot – 3-4 weeks
"Jake is still in a boot doing some partial weight-bearing. Hopefully we'll get him out of the boot next week – he is travelling as we expected at the moment."
Joel Smith | Groin – 4-6 weeks
"Joel continues to build his volume and speed in rehab but he's still a few weeks away."
Aaron vandenBerg | Foot – 4-6 weeks
"Vanders has now completed three runs outside which has been encouraging – he's felt better with each one. We'll continue to load him but he's still a little way away as well."
Neville Jetta | Knee – 7-9 weeks
"We may get Nev on the Alter G this week with the view of him running outside next week, but we're still just monitoring the swelling in his knee."
Guy Walker | Shoulder – Indefinite
Aaron Nietschke | Knee – Season