THE MELBOURNE Football Club will be paying tribute to those it lost at war when it runs out onto the MCG on ANZAC Day Eve next Wednesday night.
The Demons are set to play Richmond in the fifth instalment of the blockbuster match and will be pulling on a never-before-seen red and blue guernsey.
Tragically, 30 men who played for Melbourne died from active service during World War I and World War II.
Drawing inspiration from these war heroes, Melbourne's colourful new strip will display the names of those men for the first time in the club's history.
The 30 names will be presented on the back of the playing guernsey, with the words 'Lest We Forget' placed below.
In Round 6, the Melbourne Football Club is proud to be honouring the following men who fought for its country:
Jim Bonelli
Cliff Burge
Jack Doubleday
Bill Fischer
Albert Gourlay
Mal Kennedy
Frank Lugton
Jim Mackie
Bill Maxwell
Fen McDonald
Alick Ogilvie
Joe Pearce
Leo Rankin
Harold Rippon
Percy Rodriguez
Bobby Royle
Alf Williamson
Syd L. Anderson
Jack Atkins
Harold Ball
Ron J.Barassi
Laurie Brady
Noel Ellis
Clyde Helmer
Derek Mollison
Ted Regan
Beres Reilly
Archie Roberts
Keith Truscott
Barney Wood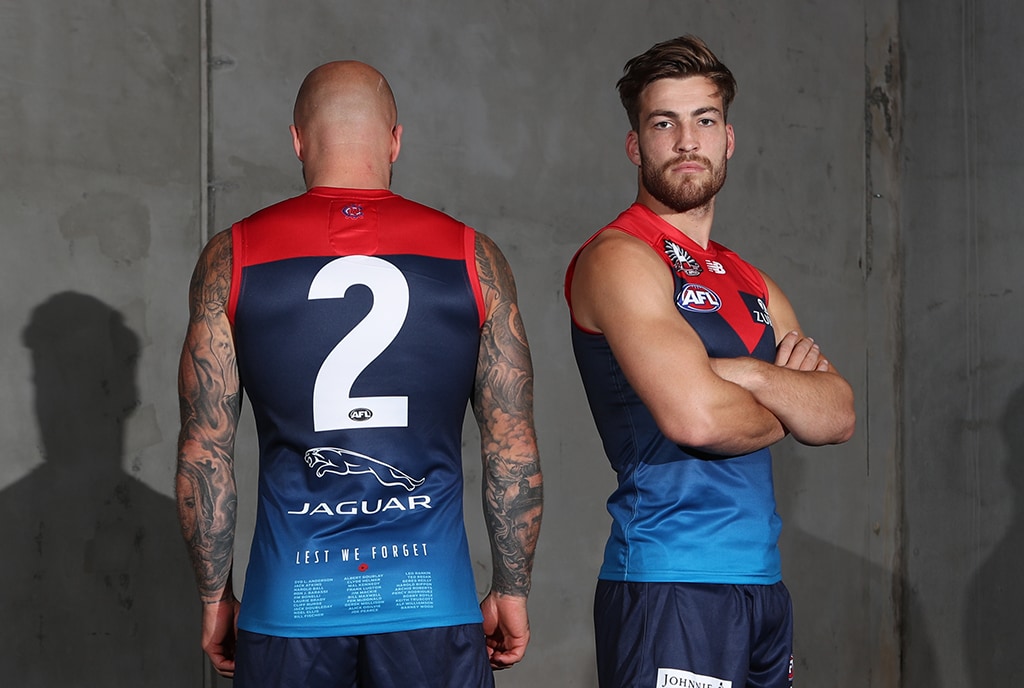 Nathan Jones and Jack Viney model the 2019 ANZAC Day Eve Guernsey (Photo: Matt Goodrope)
This ANZAC Day Eve game is a special occasion for club legend Ron Barassi, who was just four years of age when his father marched off to war and never returned.
The club presented Barassi with the unique jumper last week, providing the Melbourne icon with a keepsake to cherish forever.
Introducing our 2019 ANZAC Day Eve Guernsey. ✨

: https://t.co/tkunfjuGYU pic.twitter.com/8gzEN43gI7

— Melbourne FC (@melbournefc) April 16, 2019
Melbourne's special edition guernsey is presented by New Balance, and country manager Justin Box says he is proud to be a part of such a meaningful tribute to the ANZAC soldiers.
"At New Balance, we've been a sponsor now for nine years with the Melbourne Football Club, and we're really proud of this ANZAC guernsey we get to make each year for the club and to respect the diggers," Box told Melbourne Media.
"It's an awesome jumper, that makes you proud to be Australian."
The 2019 tribute guernsey is available for purchase via the Demon Shop.