CHARLIE Spargo says he'll be "over the moon" if he plays in Melbourne's first elimination final against Geelong Cats at the MCG on Friday night.
Although Spargo has played 15 games in his first AFL season – including the past eight matches – the livewire small forward said he understood that it would be a tough selection for the club's match committee, given several players were in the mix to return.
"It's something I've dreamt of for so long and finals goes to a new level," he told Melbourne Media.
"It'll be really contested, and as the competitors we are as footy players, it's the one thing that you really want to do.
"So, hopefully I keep my spot and I play and it'll be awesome."
Spargo was humble about what he's achieved in his first season.
"I honestly feel pretty lucky to come into a club that has been building a culture for a while and has endured some hard times," he said.
"I feel lucky to step in straight away … Melbourne hasn't played finals in 12 years, so it's been a really good year.
"The club's welcomed me and all the other first year players with open arms."
Spargo said "a lot of people" had helped him in his first season, and he made special mention of forward line coach Max Rooke, and teammates Tom McDonald, Jake Melksham and Alex Neal-Bullen.
"I feel pretty lucky when I came in, in round six, when Kenty (Dean Kent) went down with a hamstring [injury] and I came in for him," he said.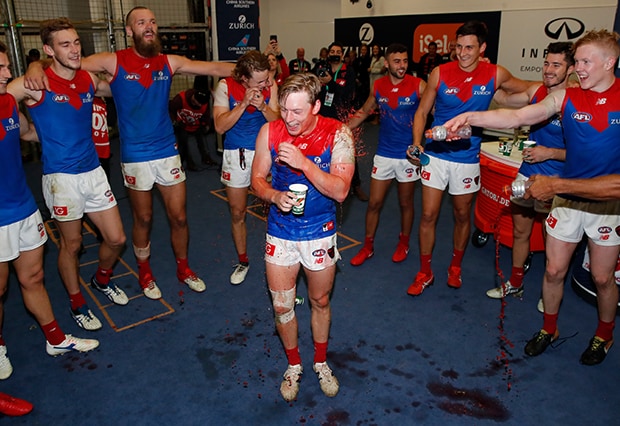 Spargo marked his debut with a win in round six (Photo: Adam Trafford)
"I'm tired and it's been a long year, but it's at the same time, it's gone really quickly and I don't know where it's gone.
"I feel pretty excited and pretty privileged to come in and play finals. I'm just so happy for the guys who have been around the club for a while, which is Nathan Jones, Tom McDonald, Neville [Jetta] and Gawny (Max Gawn).
"And then for our supporters as well – they've been waiting so long for this, so I'm really excited to be playing Friday night, if I'm lucky enough to get a chance."
Although he conceded it had been a taxing season, Spargo said he was running on adrenaline.
"I do think that. I was feeling a little bit tired towards the backend of the year and then they gave us a rest," he said.
"[Elite performance manager] 'Misso' (Dave Misson) and 'Goody' (Simon Goodwin) put aside certain times during the week for the first-year players to get some rest. But after we beat West Coast and we knew we were going to make the finals, it just gave me a bit more [energy].
"I felt like I had extra legs running around against GWS the other week and then the fatigue just goes away, because it's such a big occasion and big game. You forget about how sore you're feeling and then you just worry about how you're feeling."
If Spargo does play, he will join his father Paul, who played finals in his first year.
In fact, Paul made his debut for North Melbourne in the first semi-final against Footscray in 1985, with former Bulldog Andrew Hooper the most recent player to play his first game in a final in 2010.
For the record, Paul is one of just 32 players in VFL/AFL history to make their debut in a final.
"He always tells me he debuted in a final and I actually don't know too much about the game … but he kicked one goal, even though he always tells me it was three (he kicked 1.2)," Spargo said.
"Hopefully I can get one up on him … in my first final.
"Mum and Dad love footy and they love coming to watch me play, but they've never put any pressure on me. But they're really happy for me, and they'll be really excited to come down [from Albury] with my brother and sister, and a few other family members."