MELBOURNE Football Club welcomes luxury car brand INFINITI as a new Major Partner in season 2018.

The deal includes INFINITI branding on select team apparel, media walls and inside the team rooms during game broadcasts, hospitality at Melbourne home matches, player ambassadors and game day activation opportunities.

"INFINITI Cars Australia is proud to partner with the Melbourne Football Club," said INFINITI spokesman and Nissan managing director, Stephen Lester.

"Strongly aligned, both INFINITI and Melbourne share the same strategic goals. Whether it's our customers or footy fans, we both put them first; our collective focus is on performance and going beyond our comfort zone, and the future is at the forefront of everything we do.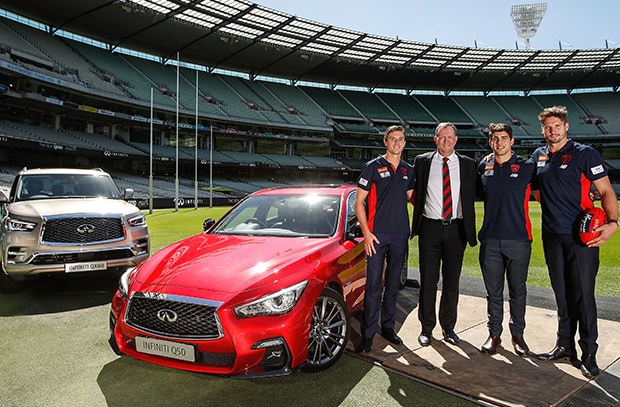 "INFINITI is a young car brand in Australia. Our sponsorship with Melbourne will help us reach out to a significant, highly-engaged audience, and we appreciate the sales and marketing integration and activation opportunities – with our dealerships and our customers – that this partnership gives us.

"We are looking forward to a competitive year on and off the field and wish Melbourne all the very best this season."

Melbourne Football Club CEO Peter Jackson said the club was excited by the partnership and to join forces with the automotive partner for the upcoming season.

"We are thrilled to welcome INFINITI, a luxury car brand that operates in more than 50 countries worldwide, to the Melbourne Football Club," he said.

"It is clear to us that INFINITI has a clear direction that they wish to take in the Australian market and we believe our partnership provides the perfect platform for a national audience.

"This is yet another step forward for the club and further reinforces the club's strategic direction in aligning with quality brands, who wish to join us on our journey for sustained success."

Known for its superior power, performance and safety innovations, INFINITI has been part of the Australian premium new car market since September 2012. Since then it has sold 3,048 vehicles through to the end of February, 2018.

In Australia, INFINITI sells an assortment of prestige passenger cars and SUVs. Its passenger car range consists of the Q30, the Q50 – which is its most popular vehicle – the Q60 and the Q70. Sharing platforms, SUVs include the QX30 and QX70, as well as the flagship 2018 QX80, which goes on sale at the end of March.