MELBOURNE defender Harriet Cordner gets to complete another chapter of her family's rich football history on Saturday afternoon in the second round of the NAB AFL Women's competition.
She will become the third generation of Cordners to play for the Demons at Victoria Park, the spiritual home of bitter rival Collingwood.
"That's the rivalry I've heard the most about growing up," the third-season key back said.
"So, it's exciting that we get the chance to play at Victoria Park. It's great for the two clubs to meet on that ground."
While Cordner's grandfather, uncles and cousins endured the hostile environment created by their Magpies opponents and home team fans, she can't expect a warm reception either, despite the transformation of the venue in Melbourne's inner-north-east into a more community-based facility since Collingwood's last game there at the end of the 1999 AFL season.
Her grandfather, Dr Don Cordner, the 1946 Brownlow medallist, played 166 games from 1941-50 and his brothers, Denis, Ted and John, also played with the Demons. Don and Denis were named in Melbourne's team of the century in 2000 and both played in premiership teams.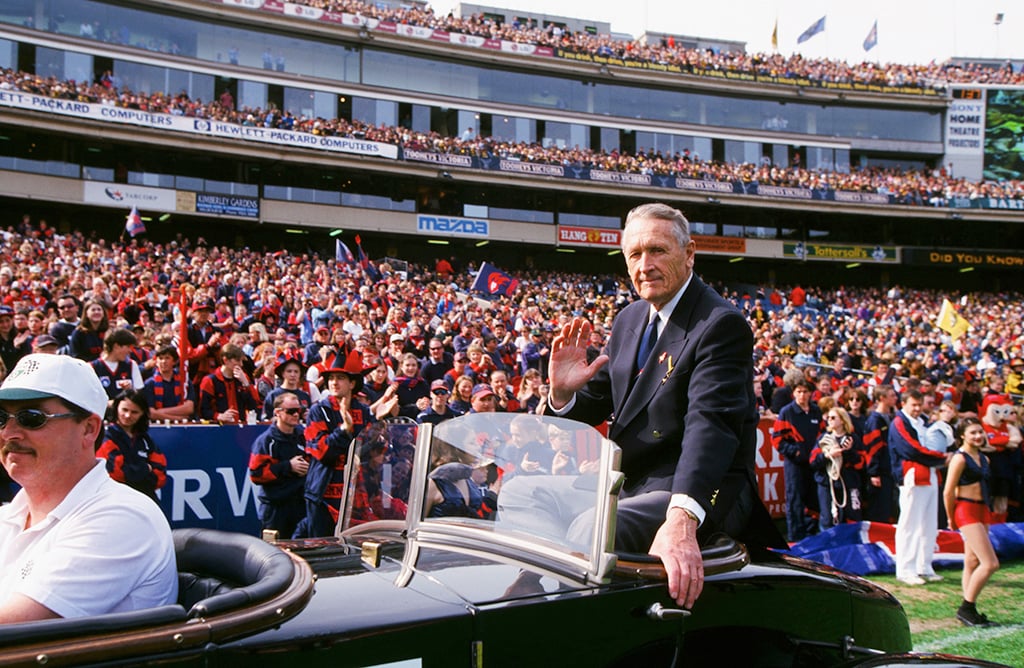 Harriet's grandfather Don Cordner at the MCG in 1998 (Photo: AFL Photos)
Harriet's father Chris played for Victorian Amateur Football Association club University Blacks and his cousin David Cordner was a high-leaping key forward who played 53 games for the Demons from 1982-87 in a career curtailed by injuries.
Like most players lining up in what was generally a hostile environment for visitors, they could relate tales of the daunting task when facing the black-and-white army, the intimidation of running down the visitors' race and, more so, leaving the oval under a hail of verbal abuse and occasionally physical threats after the final siren with a victory against the Pies.
"Having conversations with my Grandma (Moyle, who died last year aged 95) about her going to watch him (Don) … that was always the team she had the most want to beat," Cordner said.
"She was still very passionate about (Melbourne) and, when the women's team came along, she was right behind it too.
"When I was talking to her about the possibility of getting drafted, she said 'As long as you don't play for Collingwood'. I think that's a pretty common thought for a lot of Melbourne supporters," the 26-year-old former soccer player said.
Cordner will aim shut out any over-the-fence distractions on Saturday as the Demons regroup following a four-point home loss to Fremantle at Casey Fields last Sunday.
With the game played in sapping heat, players used ice baths in the facilities of VFLW affiliate Casey Demons to speed up their recovery and start preparations to play Collingwood.
Cordner cools down in the searing heat last weekend (Photo: Michael Willson)
"We have been training for eight weeks in the summer heat and we went into the game thinking it was just another element," Cordner said.
"It didn't cross my mind too much, it was just another aspect that was out of our control," she said.
"It was a pretty intense game, but we've had a really good preparation … our strength and conditioning has been awesome, so I pulled up all right."
Cordner was co-captain of Casey in the VFLW last winter, playing in the ruck and forward before returning to the backline for the AFLW season.
"It (playing in new positions for Casey) was a challenge, given I hadn't played a lot of footy before that," she said.
"It gave me something else to focus on, but I was mindful not to take that focus off my own development.
"It helped me coming back to Melbourne to be able to show a bit of leadership, especially in the backline, and it has given me a better understanding of the game."