A MODERN footy stereotype suggests ruckman aren't the brightest players in the league.
In the case of Max Gawn, that couldn't be further from the truth.
The 208cm giant is a student of the game, putting in the time to research his opponents and prepare himself for success.
After receiving a third All Australian blazer in four years, it's fair to say his work has paid off.
"I watch a lot of footy live," Gawn told Melbourne Media.
"I go watch the VFL or watch whatever's on and try to get a bit of info on the rucks there, but I also watch a lot of vision if I haven't seen someone play for a while.
"Ruck work vision is the easiest to watch because you just go to every centre bounce, but I enjoy it.
"I enjoy seeing what each ruck is adding to their game every year."
Gawn receives little credit for the work he does behind closed doors, but the big man always ensures he's in the best position possible to have an impact on game day.
And looping in his teammates is a crucial part of that process.
"If I can put that to my mids and try to make it as simple as I can to them, then we can use our strengths to be able to go off the back of that," he said.
"You've got to stop looking at it as 'Gawn v Goldstein', it's 'Gawn, Oliver, Brayshaw and Viney v Goldstein, Higgins, Ziebell and Cunnington'.
"The ruck is one part, but there's so much more to it."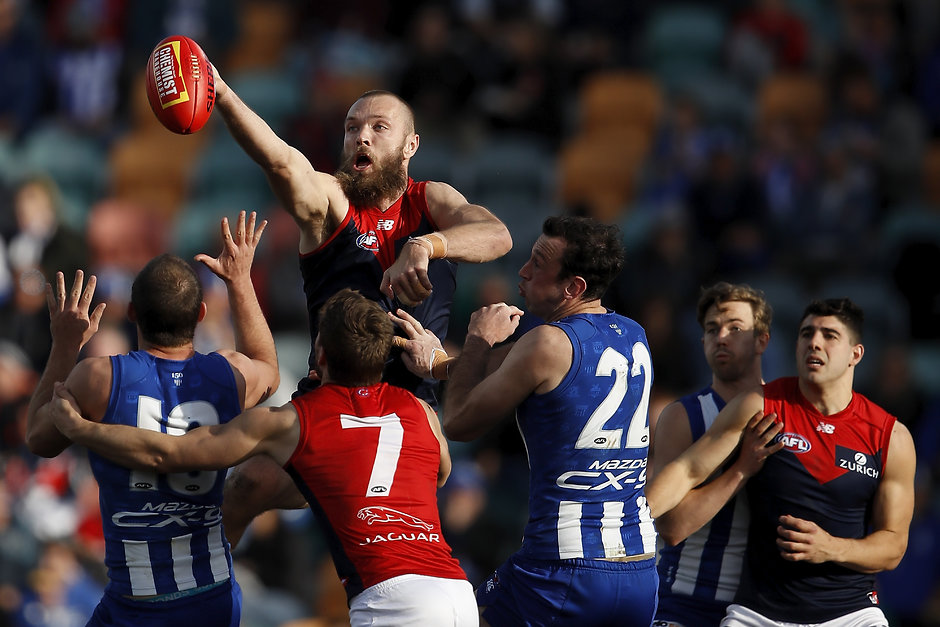 Due to the unpredictable nature of football, stoppage work, like anything, doesn't always go to plan.
Gawn tries to communicate with his onballers as much as possible to minimise the challenges, but says you have to be versatile.
"Changing it up during a quarter is quite difficult," he said.
"At centre bounces the mids get time to chat and that's where we get a chance to talk about what's happening.
"If there are long gaps between centre bounces the plan tends to the stay the same, and it can take up to 10 minutes before a break, which can make it quite obvious sometimes to your opponents.
"Plans can go out in the first five minutes in games.
"You don't know what a team is going to do. They can bring an extra number up to the stoppage, their ruckman can pose a completely different threat and not do what you think he's going to do, so it's about working on it during the game.
"Centre bounces are the one where you probably know what's going to happen, but ball ups and throw ins are completely different kettle of fish."
While a lot of Gawn's craft comes down to instinct, he says the research during the week can help him pick up on some important minor details as well.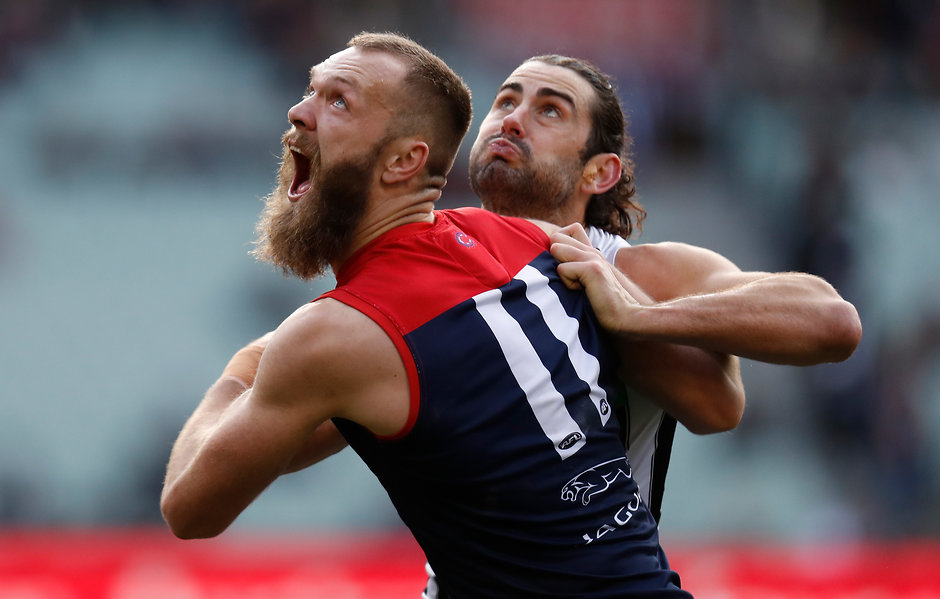 "There are little quirks that you try to find," he said.
"Maybe someone has lost three taps in a row because someone went to his left shoulder rather than his right shoulder – something like that.
"You can find little quirks like that, but you also have to back in your own strengths, there's only so much you can do.
"If you watch too much vision and get a little worried and change your game too much, then it's almost an advantage to them straight away.
"It's a fine balance and the 120 games of playing the same rucks has helped me more than the vision at the moment.
"Early days it was vision, now it's more that I've played against them, and if they change something, I'll add to it, and put it in the memory bank."
And it appears Gawn has got that balance just right.
The 27-year-old had the most hit-outs in the competition this season and says his teammate Braydon Preuss played a major role in his development.
Although the pair only played alongside each other on six occasions, it was Preuss' competitiveness on the track that assisted Gawn the most.
"I haven't won a hit-out at training this year," he said.
"I had an interesting pre-season where I was a little bit lighter on contact due to some shoulder problems.
"I was able to stay on legs and do a lot of running, but I felt like potentially I had dropped a little bit in some ruck craft stuff, and Preussy was able to bring that back up for me.
"He's a strong man, a couple of kilos heavier than me, and from a selfish point of view it's exactly what I needed.
"I needed someone there who was really strong and able to test me, and I feel like we've both benefited from having each other there.
"At the moment, team success hasn't really benefited from having both of us in the side, but that can turn around and hopefully both of us keep playing and we can jell off each other."
Gawn, like all Melbourne players, is hoping for an improved season in 2020, and on the back of his hard work, it's safe to assume he will only get better.