MADDIE Gay and Talia Radan have joined Melbourne for the 2019 AFLW season.
Gay arrives from Carlton and Radan has crossed from Adelaide. Melbourne AFLW list manager Todd Patterson confirmed the duo had arrived at the club.
"We're really happy with the outcome of the sign and trade period," he told Melbourne Media.
"We're really thrilled to bring in a quality half-forward/midfielder in Maddie Gay from Carlton. We pursued her through the pre-listed rookie avenue last season and missed out, so we're really glad that she's come across.
"We're also really excited to bring across Talia Radan – an extra key defender, who has played in a premiership with Adelaide. She's played in a premiership with Adelaide, and is she is highly athletic and competitive. We're excited that she'll be moving across later in the season.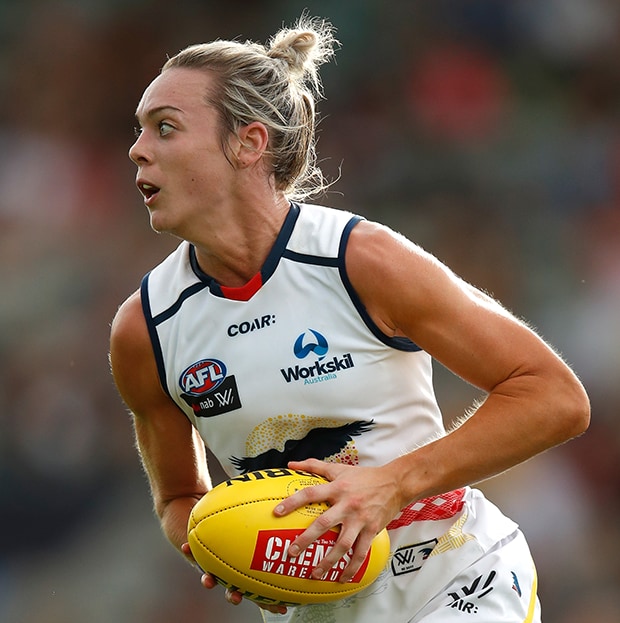 Radan in action for the Crows in the 2018 AFLW season (Photo: Michael Willson)
"An unfortunate part of the sign and trade period, and with the expansion teams coming in, is losing players, but we wish all of the players well that have moved on. We're really confident of the 23 players we've retained, and we'll work with some pretty solid draft picks.
"We'd like to thank Laura Duryea, Alyssa Mifsud and Maddie Shevlin for their contribution to the club and we wish them all the best in their endeavours."
Gay, a midfielder/forward, said she was rapt to join Melbourne after spending a season with the Blues.
She started playing football 18 months ago, when she was at the St Kilda Sharks, after making the move from netball.
"A few weeks back, I had Todd approach me and then I sat down with Mick [Stinear] and Todd and went through a few things and I've ended up here, which is exciting and I look forward to what's to come," she told Melbourne Media.
"I just want to keep enjoying my sport and enjoy playing with the girls and my experience as a footballer."
2019 AFLW MELBOURNE LIST
Cordner, Harriet
Cunningham, Tegan
Downie, Meg
Gay, Maddison
Guerin, Madeleine
Guest, Ashleigh
Hore, Kate
Jakobsson, Bianca
Kemp, Ainslie
Lampard, Sarah
Mithen, Lily
Newman, Aliesha
O'Dea, Elise
Patterson, Brooke
Paxman, Karen
Pearce, Daisy
Pearce, Lauren
Phillips, Catherine
Radan, Talia
Scott, Shelley
Smith, Katherine
Whitfort, Claudia
Zanker, Eden
TBC (NAB AFLW Draft selection)
TBC (NAB AFLW Draft selection)
TBC (NAB AFLW Draft selection)
TBC (NAB AFLW Draft selection)
TBC (NAB AFLW Draft selection)
TBC (Rookie)
TBC (Rookie)
ARRIVALS
NAB AFLW Trade Period: Maddison Gay (Carlton), Talia Radan (Adelaide Crows)
DEPARTURES
AFLW Expansion Period: Erin Hoare (Geelong), Anna Teague (Geelong), Richelle Cranston (Geelong), Melissa Hickey (Geelong)
NAB AFLW Trade Period: Jasmine Grierson (North Melbourne Tasmania), Emma Humphries (North Melbourne Tasmania)
Delisted: Laura Duryea, Alyssa Mifsud, Maddie Shevlin (rookie)
DRAFT PICKS
Picks 6, 15, 31, 43 and 51