WATCHING Melbourne forward Aliesha Newman utilise her breakaway pace to avoid a tackle evokes thoughts of another more famous Demon.
It's no coincidence Newman plays like Jeff Garlett. After all, he's her mentor, charged with showing her how to maximise her unique skills.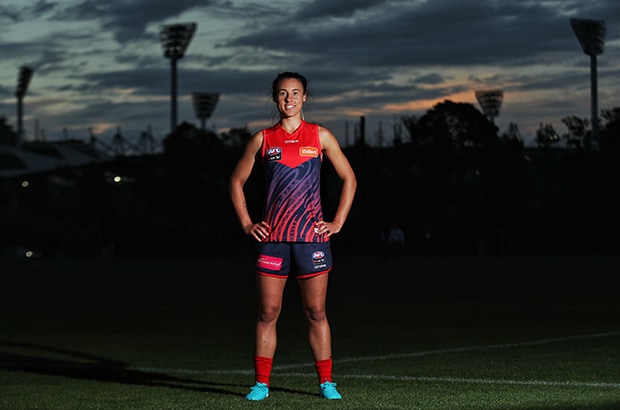 Aliesha Newman in the first ever AFLW Indigenous guernsey designed by Mandy Nicholson and Aliesha Neman (Photo: Matthew Goodrope)

Garlett, the Demons' leading goalkicker last season with 42, and All-Australian-nominated backman Neville Jetta, will be glued to the TV on Saturday night, watching Newman try to weave around Collingwood defenders in the NAB AFL Women's match in Alice Springs.

"I've done a fair few sessions with Jeff on different aspects of the game, goalkicking and tackling and stuff like that," Newman said.

"Jeff and Neville have been two big influences on my career. They're always checking how I'm going and they go out of their way to have a chat.
"They touched base with me as soon as I got drafted last year, but we didn't really start any sessions until this year.
"We've done a lot of work on the computer, going back through footage."
Newman gave Demons supporters a snapshot of what she'd picked up from Garlett's exciting opportunist style with a three-bounce running goal from near the boundary line in the forward pocket against premier Adelaide in round two at Casey Fields.
So, what did the master think of her early AFLW goal of the year contender?
"Apparently, he was walking around the club telling people he taught me everything I know," Newman said with a laugh.
"He sent me a [text] message straight after the game saying he was happy that I backed my pace. He's always emphasising the importance of taking on an opponent and using my speed at the right time."
The 22-year-old, who honed her natural running technique via 200m and 400m events at school, was delighted as Melbourne's only indigenous female player to be asked to help design a jumper celebrating her culture.

The Demons will wear the striking guernsey against the Magpies.
"The front of the guernsey represents a fingerprint. It symbolises the thumb print and the uniqueness you bring to the sport. It's the symbol…of something different," she said.
"I've been up here (Alice Springs) for an indigenous soccer tournament and I think I'm the only one in the team who has been to the Alice before this trip.
"To wear this jumper on Saturday will be, for me, a great achievement, something I'll hold closely for the rest of my career. And having input into the design makes it even more of a cherished memory."

ARTIST BIO
Mandy Nicholson

Mandy Nicholson is a Wurundjeri-willam (Wurundjeri-baluk patriline) artist and Traditional Custodian of Melbourne and surrounds. Mandy also has connections to the Dja Dja wurrung and Ngurai illam wurrung language groups of the Central/Eastern Kulin Nation on her fathers side and German on her mothers.

Throughout the last 25+ years Mandy has produced carvings, etchings, prints, airbrushed works, ceramic pieces (carved, painted and produced), murals, corporate logos, children's clothing and public art works. Today she specialises in acrylic paintings and digital works.

Wurundjeri are a carving culture and use many symmetrical lines and diamond motifs. Mandy's style consists of these traditional motifs of south-eastern Australia, blended with her own contemporary interpretation. The stories behind my designs all revolve around nature, animals, stories of my people, personal experience and my family.

Mandy gained a Bachelor of Arts (Honours) in Aboriginal Archaeology in 2011, worked for the Victorian Aboriginal Corporation for Languages for 6 years and now is a PhD candidate studying how Aboriginal people connect to Country, off Country. Mandy also is a cultural mentor to young Indigenous girls, through learning and teaching of culture, language, dance and ceremony, elements of which also guide her artworks.

FRONT OF JUMPER
This designs show the uniqueness of individual players and their differing skills, just like the uniqueness of a fingerprint. The linework within the finger print depicts Wurundjeri's carving culture as described in Series 1. You are born with your fingerprints, they stay with you throughout your life's journey. Women's hands, create, nurture, hold hands, discipline, love and guide. AFLW offers women's hands a new journey, achieving in a man's world and making their mark, just like a fingerprint. A fingerprint cannot be removed, so AFLW will be firmly embedded into AFL into the future.

BACK OF JUMPER
This design represents the Birrarung (Yarra) River. It shows the ever-moving journey of AFLW players. The circles are stars reflected into the water and is symbolic of the raising stars coming through the various football programs. The lines within the river are the current AFLW players with a defined path, cementing their role as mentors for the younger ones coming through.