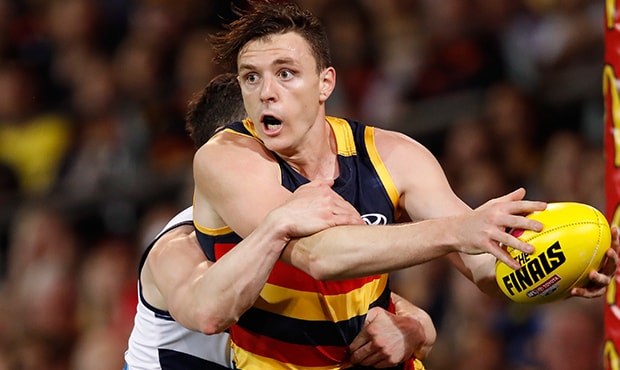 MELBOURNE has confirmed it wants to secure Adelaide defender Jake Lever in the upcoming trade period.
Football operations manager Josh Mahoney said the club was determined to land the outstanding young defender, after Lever told Channel 7 on Monday night that he wanted to join Melbourne.
"Our intentions are to get the deal done," Mahoney said on 1116 SEN on Wednesday.
"We're really happy that Jake has made this decision. It's a role that we need to be filled in our defence. He's a young guy … he's flexible and he's a leader.
"We're really happy that he's decided to join Melbourne footy club as his preferred destination.
"We've looked at other deals that have been done for similar talented young players and we've got a deal on the table with Adelaide right now that involves our first and second round picks. We think that is certainly a commencement with the type of player he is. That's our offer at this stage."
Mahoney confirmed that first and second round selections could involve future picks. He added that Lever is eager to return to Victoria for family reasons.
"I think he's gone into some detail around that," he said.
"In terms of the money, what I can say is that other clubs have offered more money than us to return to Victoria and he chose us, based on the plan we've got, the list we've got and the improvements we've shown.
"Any talk about the money – and there will be a bit more money than he was offered at Adelaide, because that's what you've got to do to get players to join your club. But it's within our pay scale and we're really comfortable with the offer we made."
Mahoney said Melbourne's offer was similar to deals which had seen other AFL players Jaeger O'Meara, Charlie Dixon, Tom Mitchell and Jake Carlisle cross to rival clubs in the trade period.
"That's all we can go off – how other trade deals got done," he said.
"We're not here to play games – we want this player and we've got a deal on the table and we think it's a very good deal for that player.
"We're not actually short-changing Adelaide in any stretch of the imagination and we want to get the deal done."
Mahoney said Lever had been tracked by Melbourne closely since his draft days.
"He plays on talls and smalls and makes really good decisions. To be able to get a guy who is 21 [yeas old] and has played over 50 games now – he plays with a lot more maturity than his games would usually reflect," he said.
"We think him in our backline, alongside Neville Jetta, Michael Hibberd, Jayden Hunt, Sam Frost and Oscar McDonald – it really gives us a solid defensive unit."
Meanwhile, Mahoney said the future of versatile tall Jack Watts had nothing to do with the recruitment of Lever.
"All of these calculations are based on having Jack Watts at our footy club and Jake Lever there as well, and all of our other players, so it's got nothing to do with money," he said.
"Jack's is purely about performance. Our expectation on Jack, as a nine-year player and 150 games is what this discussion is about.
"That's where it's at, at the moment, and it's been well-documented that he's looking at different options at the moment and we've encouraged that. But if it ends up that he's at Melbourne Football Club, well, he's very clear on our expectations around him."
Mahoney said he wasn't surprised to hear Watts talk about his love for Melbourne at a media conference on Monday.
"To hear him speak is no surprise because he's a very passionate person," he said.
"He said how he was very frustrated and disappointed and we probably agree – we don't want to be having these discussions with Jack Watts after nine years and we want him to be the player he should be and that's where this discussion has got to."
Mahoney said it was "retrievable" that Watts and the club could work together in the future.
"We've seen lots of these situations and it's not unique to Jack," he said.
"There is a certain stage where you have to look at opportunities.
"If it ends up that there are no opportunities that we think as a club is good for our club, or Jack thinks it's not good for him, then we'll get back together and be very clear again on what we expect from him."
Mahoney was also adamant that Jesse Hogan would remain at Melbourne, after rumours over Grand Final weekend suggested that the key forward was gettable for Western Australian clubs.
"It's probably not a good combination – alcohol and trade period," he said.
"People like to throw around rumours and run their own agendas a little bit, but I want to make this very clear – at no stage has Jesse Hogan been mentioned as a trade option.
"We couldn't be any prouder of what he's shown this year – the resilience that he went through and we can't wait for him to actually get back into pre-season and launch into next year."