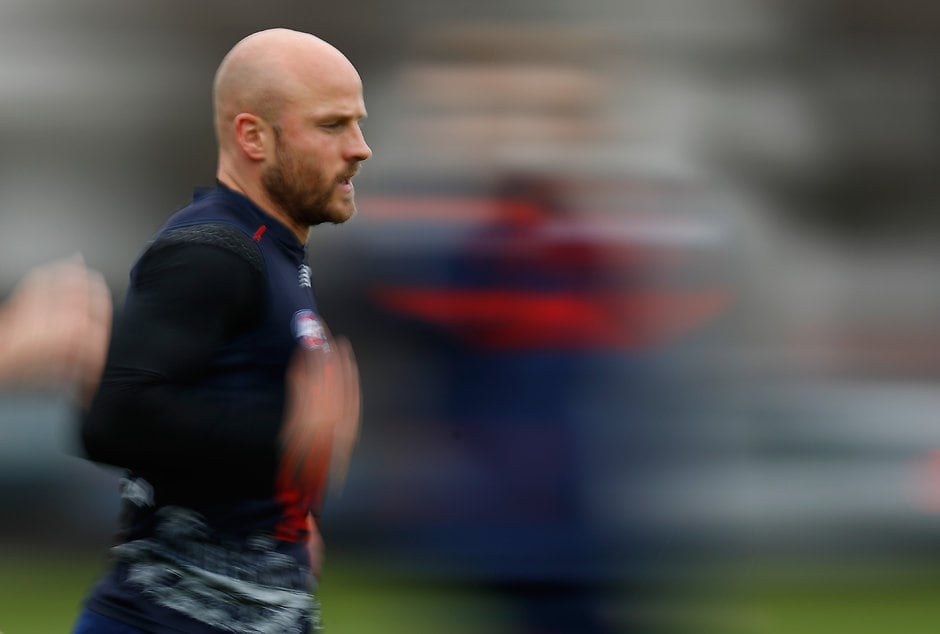 I reflect on it now as one of the best experiences I've had in 12 years in the system
Nathan Jones
DESPITE two Melbourne players suffering injuries on the club's arduous training camp late last year, captain Nathan Jones says it was "one of the best experiences" he has had as an AFL player.
Dom Tyson suffered a partially dislocated patella tendon in his knee, while Christian Salem was concussed for the third time in 2016 when hit in the head by a brick in the backpack he was carrying.
Tyson will miss a chunk of training but the club expects him to play at least some part in the JLT Community Series pre-season games.
However, Jones said the positives of the two-day trip would play out in the long-term.
"I reflect on it now as one of the best experiences I've had in 12 years in the system," Jones said at the MCG.
"Most of the players saw it that way and the real benefits of it will come down the track and hopefully it's something we can draw on when we're under pressure."
He refuted suggestions the injuries meant the camp had been too risky.
"You could say the same thing with how hard you train and how physical you make match practice. You're always pushing the envelope," he said.
"We go into the camp not intending to get an injury out of it but you can look at that whole pre-season period and the chances are, someone is going to get injured."
Salem was concussed in round six against St Kilda last year before suffering the same injury in a VFL preliminary final.
The 21-year-old has resumed full training after what was revealed to be a self-inflicted concussion.
"I don't think he'd packed his pack properly. Instead of putting the brick down the bottom, he put it up the top," Jones said.
"He bent down to get something and with the loose weight at the top, the brick's flung forward and smashed him in the back of his head, which is unfortunate."
Salem has struggled to string senior games together since being drafted at No. 9 in 2013.
A hamstring injury limited him to 10 games in 2015 while he managed just eight last season after a recurrence of a thyroid problem.
Another young player, Clayton Oliver, has had his problems this pre-season. He was caught drink-driving while on leave, and has worked to make up lost ground after returning in less than optimal condition after the off-season break.
Jones said the 19-year-old had plenty of development left.
"He's been working really hard to get his body in good condition. He's got some areas that he still needs to really work on, particularly being a young player," Jones said.
Having Jordan Lewis arrive at the club from Hawthorn has proved a boon, even for the experienced Jones.
"(Lewis has) been unreal in terms of his leadership, being able to deliver some of his experiences having played in four premierships," Jones said.
"He's really taking on a leadership role and been able to guide even someone like myself, who's been around a while."
Jones, 28, was speaking alongside the world's No.3-ranked male tennis player, Milos Raonic, as the club announced New Balance would be its apparel sponsor for another three years.
The big-serving Canadian showed some skill with the Sherrin, nailing his first attempt at a torp.
Despite never having heard of his countryman and 2012 Sydney premiership player Mike Pyke, Raonic said he had seen AFL.
"I've watched a bit, because it's televised here quite a bit," Raonic said.
Don't expect him to swap sports though, as former Canadian rugby union international Pyke did.
"I already struggle enough with injuries on my own, I don't need a guy coming at me at 200-plus pounds," Raonic said.