MELBOURNE has unveiled a uniquely designed Indigenous Guernsey that it will pull on during this Sunday's clash with GWS at the MCG.
As part of the 2019 Toyota AFL Sir Doug Nicholls Round, the Demons will be proudly wearing the never-before-seen strip to celebrate the Indigenous culture in Australia.
Mary Young, a local artist from Santa Teresa, had the honour of designing the red and blue masterpiece.
"It makes me proud and also the community, especially my families," Young said.
"The design around the neck is based on a boomerang and reflects the traditional Melbourne Football Club design.
"Circles are group of warrior men. The design down the side represents Country. The design at the bottom symbols lines and links between us all."
Melbourne has had a rich history of Indigenous players at the club, with Toby Bedford, Jeff Garlett, Neville Jetta, Jay Kennedy Harris and Steven May currently on the men's list, and Aliesha Newman on the women's.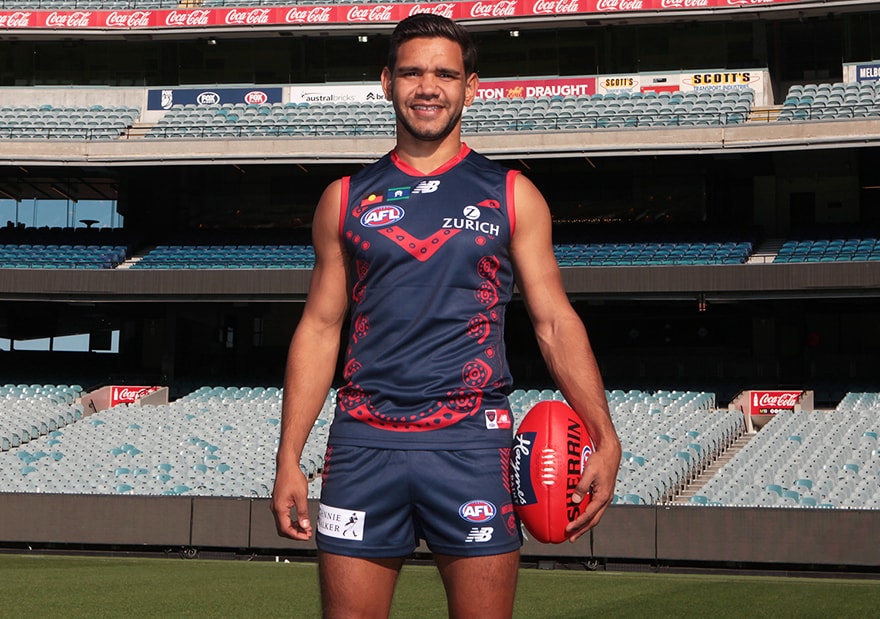 With great pride in this strip, the Demons will be wearing it again in Round 18 when it plays in Alice Springs, representing their strong connection with the Indigenous community in the Northern Territory.
Justin Box, Country Manager of New Balance Australia, says he is humbled to be a part of Melbourne's Indigenous Guernsey.
"At New Balance, we've been a sponsor now for nine years with the Melbourne Football Club, and we're really proud of this Indigenous Guernsey we get to make each year for the club and to respect the culture of the Indigenous community," Box said.
"It's an awesome jumper that makes you proud to be involved with the Melbourne Football Club."
This unique Melbourne jumper will be available for purchase in adult and youth sizes via the Demon Shop, with a portion of the proceeds from all sales going directly towards the club's Indigenous Program.
Continuing the club's contribution to the Indigenous community, Melbourne is also proud to be re-grassing the Santa Teresa Oval in 2020 – an on-going project to support the Northern Territory.
Click here to purchase this 2019 Indigenous Guernsey.