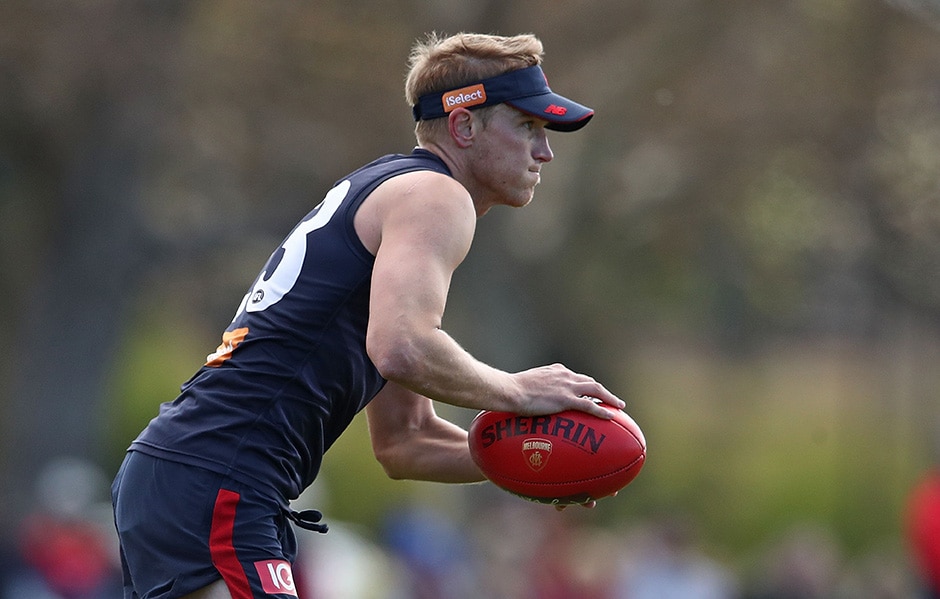 It wasn't just a role to keep me at the club, it was one that was needed.
Bernie Vince
BERNIE Vince will help fast-track the development of Melbourne's first and second-year players to ensure they are ready to play as quickly as possible after being drafted.
The retired Demon started in his new leadership and Next Generation Academy ambassador and mentoring role during the week and attended the club's induction camp for the draftees and new recruits in the Northern Territory from Wednesday-Friday.
Vince, 33, decided three weeks ago to accept the position that was offered to him by football manager Josh Mahoney with talks starting almost immediately after the defender announced his retirement in late August.
"That's part of my role, to make sure that when these first and second-year guys do get a crack at AFL level they are well prepared and understand how we (the Demons) want to play," Vince said.
The Demons had three players from the 2017 NAB AFL Draft make their debuts in 2018, with Bayley Fritsch (23 games) and Charlie Spargo (18) becoming important parts of the team.
Harrison Petty (one game) displayed strong form at VFL level as a key defender, while Oskar Baker was in the frame to play until he suffered a serious hamstring injury.
Vince said the club had identified the need for a person to help upskill its young players on the required workrate an AFL player must possess, the education needed to learn the club's game plan and what being a Melbourne player means.
Vince will work closely with head of development Matthew Egan in the new role, coming into the club two days a week on Tuesday and Wednesday.
The former Crows and Demons player will also continue as the director of Pride Real Estate, which is based in Prahran, which is something he pursued later in his football career.
"It wasn't just a role to keep me at the club, it was one that was needed," Vince said.
"It was all pretty fresh to start with and I went away and had some time away and I always felt like I wanted to keep a connection with the footy club.
"I wanted to make sure it was the right role for me and went away and had a good think about it and I decided I wanted to come back."
Vince played 229 AFL games – 129 with Adelaide from 2006-13 and 100 with the Demons from 2014-18 – and being fresh out of the game, he still understands what is needed to make it at the level.
The Demons' 2018 draftees include Tom Sparrow (Pick No.27), James Jordon (No.33), Aaron Nietschke (No.53), Marty Hore (No.56), Toby Bedford (No.75) and Kade Chandler (rookie).
The Demons also have two Category 'B' rookies on their list with Austin Bradtke (basketball) and Guy Walker (cricket) coming from different sports.
"Every kid wants to play round one of their first year, that's just natural," Vince said.
"But you want to make sure that they're in really good form and playing their best football when they do come in because otherwise it's unfair on them to pick someone before they're ready."