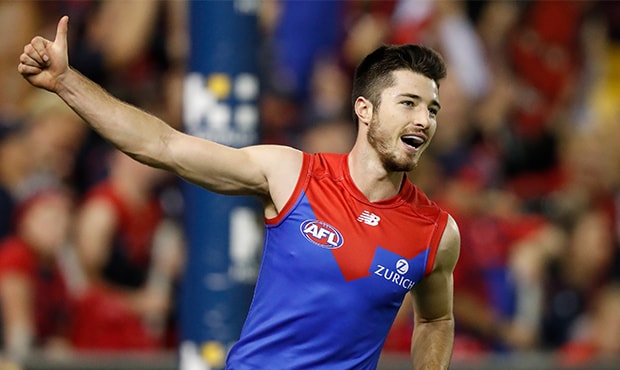 I didn't realise it would come up this quick. To have done it generally pretty quick, it's something that I'm really proud of. It's something I'll do (reflect on) at the end of the season
Alex Neal-Bullen
IN THE lead-up to his 50th AFL game, Alex Neal-Bullen says 2018 has been "a challenging and enjoyable year" so far.
Speaking to Melbourne Media, Neal-Bullen said he was determined to make the most of every opportunity for the rest of the season.
"We've had a lot of highs and some lows so far," he said.
"But in saying that, I'm really excited about the next seven weeks bring.
"Whatever happens after that, we'll wait and see."
After playing 19 matches in 2017, Neal-Bullen has featured in every game, so far, this year. He has also kicked a career-best 18 goals this year.
Neal-Bullen said he would have several family members travel from South Australia for his 50th game.
Drafted at No.40 in the 2014 NAB AFL Draft, Neal-Bullen said he hadn't reflected on his milestone or the season so far.
"I didn't realise it would come up this quick. To have done it generally pretty quick, it's something that I'm really proud of. It's something I'll do (reflect on) at the end of the season," he said.
"Every week goes that quick and you don't get a lot of time for reflection.
"After singing the song or being in a team meeting after a loss, you quickly start to focus on the next week. That's what makes the season go quick, but hopefully we're reflecting on something successful at the end of this year."
But in nominating his highlights at the club so far, Neal-Bullen mentioned to famous Melbourne wins of the modern era.
"The best win I've had was that West Coast one last year, when Tommy Mac's (Tom McDonald) shoe on the ball got us the win," he said.
"That was closely followed by my second game, which was down in Geelong.
"That was a huge experience – playing in a significant game like that and not really knowing the history of not winning at Geelong in 10 years, was great.
"To contribute with a few goals made me realise that I can contribute to this footy club."
Neal-Bullen said premierships were his number one aim, but becoming a leader of the club is also among his plans.
"Team success is my No.1 goal, but individually I want to develop into a player that each week everyone knows exactly what they're going to get from me," he said.
"I think I'm on my way to doing that.
"I also want to have a leadership role with the players – then I'd walk away from happy from the game."